Swiss International Air Lines relaunched its nonstop flight from Singapore to Zurich in May after a four-year hiatus. Although Swiss still had a presence in Southeast Asia with flights out of Bangkok and Hong Kong, consistent demand for a nonstop flight from Singapore made the airline reconsider. The decision has proven to be a success with an average of 85 to 90 percent of the seats being filled on the route.
By Christi Hang
Admittedly smaller than other European airlines, Swiss International Air Lines said its size is also its strength. The airline looks to gain more passengers with a focus on better customer service and playing up its distinct culture. Swiss currently operates 150,000 flights annually to 74 destinations worldwide, including its return to Singapore. DestinAsian reviews the newly launched business class service from Singapore to Zurich.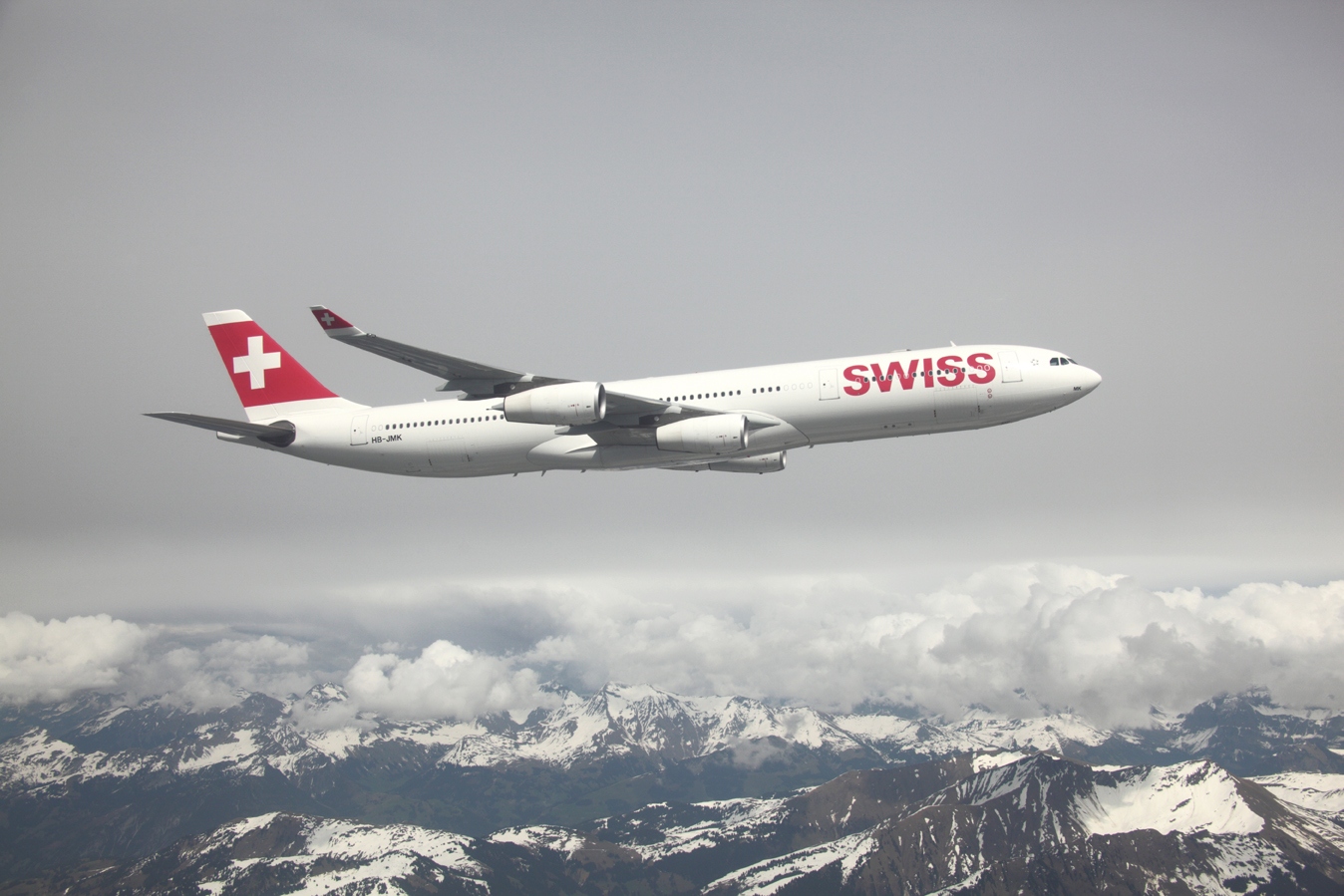 The Specifics: The Singapore-Zurich route is served by an Airbus A340-300 with 47 seats in business class. The cabin features a 1-2-1 and a 2-2-1 seat configuration, which Swiss said allows for a number of different traveler configurations such as a lone traveler, business partners hoping to work during the flight, or couples. Swiss also mentioned that it's undergoing a long-term fleet renewal and that its A340s will be replaced with Boeing 777s by 2016. LX 179 departs from Singapore at 11:10 p.m. and arrives in Zurich at 6:10 a.m. the next day. Conversely, LX 178 leaves Zurich at 10:45 p.m. and lands in Singapore at 5:15 p.m. the next day. Business-class passengers are allowed to check in two pieces of luggage weighing 32 kilograms each and two carry-ons weighing up to eight kilograms each.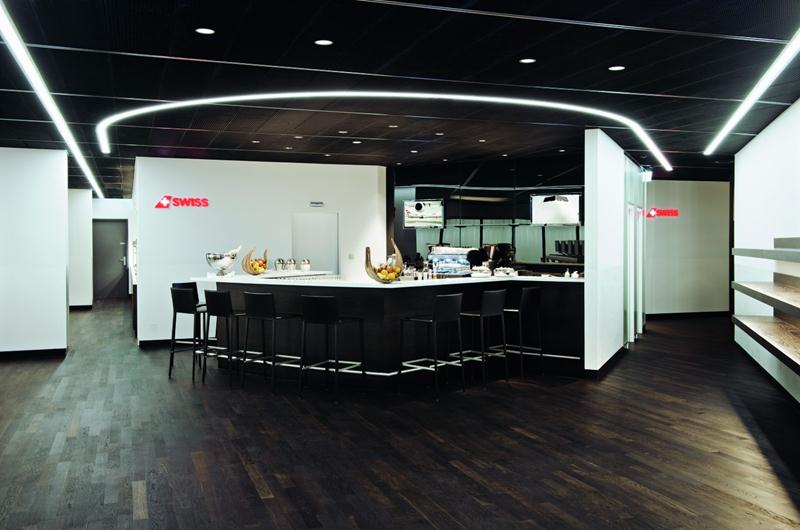 Before Take Off: In Singapore, business-class passengers are welcomed to the SilverKris Lounge, as both airlines are Star Alliance members. With its wireless Internet and PC terminals; considerable hot food buffet including Asian offerings, soups, Western dishes like pasta, and vegetarian options, and a cold food buffet that had sandwiches and even sushi and cold soba noodles; showers suites with towels, amenities, and blow-dryers; and extensive beverage selection that range from nonalcoholic drinks to beer and liquor to wine and sparkling wine the lounge makes for a great last look before embarking on the 12-hour flight. In Zurich, the 1,100-square-meter Swiss Business Lounge is stylish and even boasts the world's longest serviced lounge bar, which extends 27.5 meters. It also provides computer terminals and Wi-Fi, but its food and beverage offerings are much more limited than in Singapore. Interestingly enough, Swiss also has an arrivals lounge for passengers at the Zurich Airport looking to freshen up or to just get their wits about them after landing. The Arrivals Lounge has three bedrooms, twenty shower suites, meeting rooms, Wi-Fi and computer terminals, and food and drink options. Arriving early in the morning, there was a basic breakfast buffet laid out (bread, cheese, scrambled eggs and other hot foods), but the most impressive part was the bar that served fruit juices and coffee made fresh upon ordering.
After boarding the aircraft, passengers will find wooden hangers and cabin crew members ready to take their coats, while amenities kits await in their seats. Although the contents are to be expected (sleep mask, ear plugs, socks, toothbrush and toothpaste), it's the packaging that is noteworthy. From Singapore, passengers receive limited-edition metal tins embossed with Swiss airline imagery, while from Zurich, there are handsome amenities kit by young, local brand, Qwstion, which also includes Swiss coughdrops Ricola and socks in the airline's signature red hue. After settling in, cabin crew members come around with hot towels and a choice of water, juice, or champagne—a nice touch right before taking off.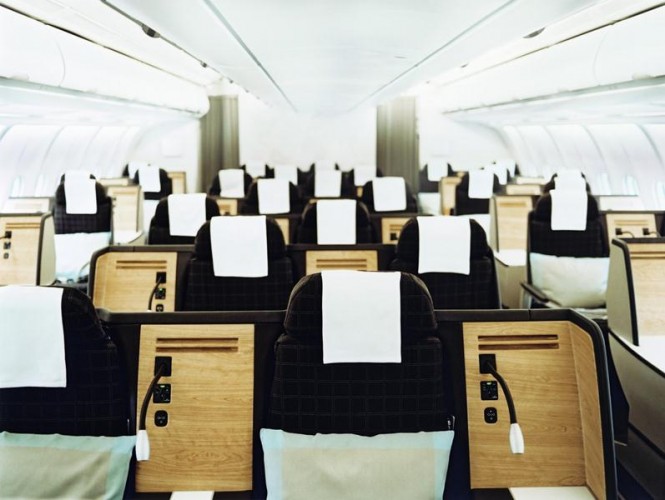 The Seats: The Swiss seats, measuring 52.1 centimeters wide and able to convert into a two-meter fully flat bed, are comfortable and innovative. There are three preset seat positions—take off and landing, lounge, and lie-flat bed—that can be adjusted to different degrees so passengers can find just the right angle for them during the flight. Passengers can also adjust the firmness of the seats with just a push of a button thanks to Swiss' air cushion seats. There is also a massage function, which is nice for long-haul flights. Passengers can also look forward to a comfortable trip aided by the cozy lined blanket and down-feather pillow. Also notable is the cutout located in front of most of the seats that allows them to go into lie-flat mode by tucking under the seat ahead of them. The color combination of the dark seat fabrics and light-wood consoles are a nice touch and give the whole cabin a sophisticated look. A major drawback is the usability of the consoles. The tray tables are awkward to maneuver and lock into place. Also the remote control location is well hidden and the side-table light is tricky to engage.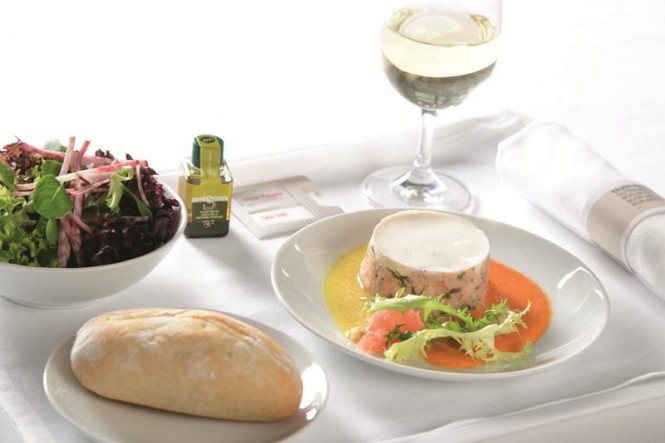 The Food: A big part of Swiss' focus on customer service and attention to detail takes place in its culinary program, particularly its Taste of Switzerland concept, which features a regularly rotating menu created by the nation's best chefs and spotlights different regions of the country. Currently, the culinary spotlight is on the canton of Neuchâtel, with meals created by the Beau-Rivage hotel and wine options from that area: a Domaine de Chauvigny Bevaix 2012 and a Pinot Noir Neuchâtel 2011/2012. In December, a new menu will be introduced featuring another area. Unfortunately, since the Zurich-Singapore is a night flight, passengers will miss the majority of the concept. The business-class menu is still stocked with many distinctive Swiss touches though and the seasonal Swiss specialties, such as the veal ragout, spatzle and savoy cabbage or the Alpler macaroni, are the best on the menu. The star of the menus though is Swiss' well-curated wine offerings. The ever-changing list not only always features fine Swiss offerings in red and white, there are also carefully selected choices from the rest of Europe and a champagne offering. The end of the meal service ends on a nice note with cabin crew members coming around with a box of Swiss chocolate.
The Service: Although it didn't feel like the Swiss cabin crew's customer service was more detailed or pleasant compared to other carriers, it was extremely efficient and polite, which is always appreciated.
Our Insider Tip: When booking, try to get yourself into a single seat with extra arm rest space and privacy, dubbed "the throne" by Swiss fans. But act fast as they are the most popular seats in the cabin.
Christi Hang flew business class as a guest of Swiss International Air Lines.