From mala hot pot served in traditional inns to brunches in quaint, design-centric cafés, the booming Chinese city has it all.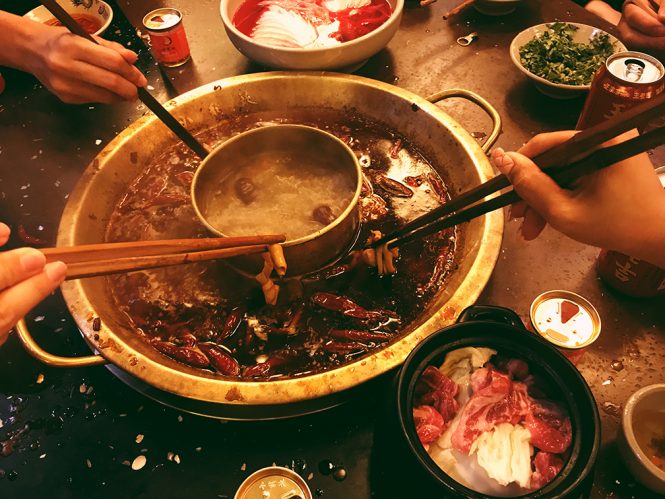 1. Traditional mala hot pot at Xiao Long Kan
Famed hot pot chain Xiao Long Kan has outlets all around the world, but where better to enjoy it than at its birthplace, Chengdu? Specializing in Sichuan-style hotpot, the restaurant draws both locals and travelers who hanker after a taste of its authentic mala, a fragrant and numbingly spicy broth. Its outlet at Chunxi Road is unique in that it resembles a traditional Chinese inn, with bolt doors and wooden stools. If dining in a group, go for the yuan yang guo, a split pot featuring both mala and a non-spicy chicken broth. Must-orders include pig stomach, mala beef, potato noodles, and more.
More information here.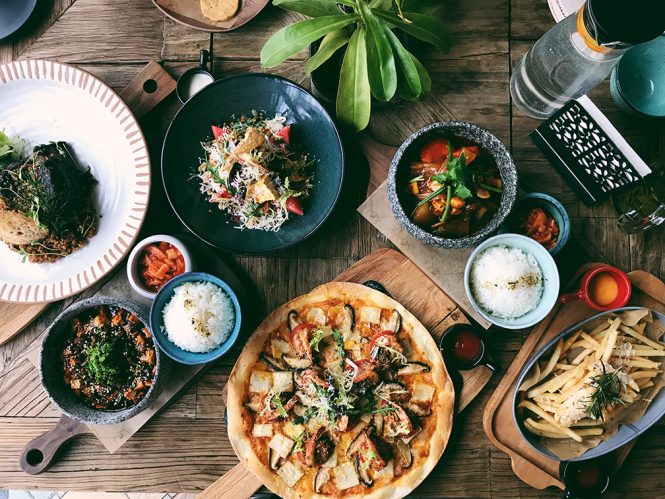 2. Brunch at Goodwood 
Boasting a total of 31 outlets, Goodwood is undeniably one of Chengdu's most well-loved café chains. That said, its popularity has not diminished the quality of its delicious eats, which take inspiration from the café scene in Australia while offering a local twist. Caffeine lovers eyeing their next cup of joe will be spoiled for choice by the locally brewed coffees — the smooth-as-silk yet robust flat whites and lattes won't disappoint. The menu features a good mix of Western-style brunch items such as thin-crust pizza and Sichuan favorites like mapo tofu served over rice. Food aside, the café is welcoming and light-filled, complemented by lush foliage, artistically mismatched furniture, and driftwood hung in place of chandeliers.
More information here.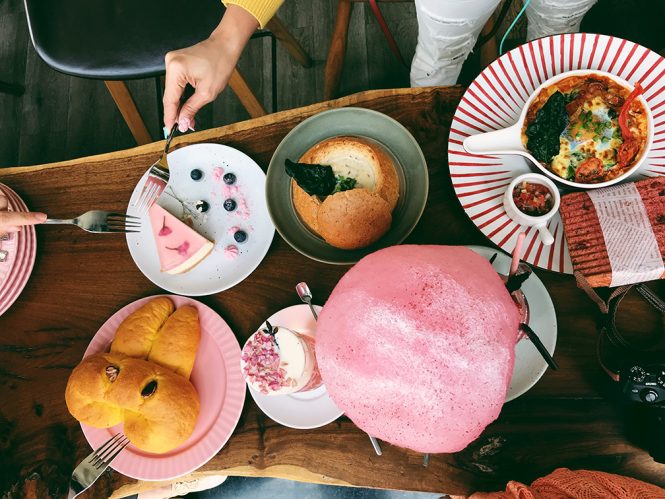 3. Pastries and baked goods at Artisan Kitchen
Catapulted to fame thanks to local bloggers who flock to its photogenic space, Artisan Kitchen offers an intimate dining experience with cozy nooks and picturesque window seats. Here, freshly baked goods peek out from behind glass counters, beckoning hungry diners with the likes of artisan breads, seasonal cheesecakes flavored with cherry blossoms, chocolate ganache cakes, and more. For brunch, order the delicious baked eggs, which come layered with Sichuan spices — dip the toasted brioche into the molten mess and enjoy. Finally, don't forget to whip the camera out for the popular strawberry smoothie: topped with cotton candy, it's an Instagram-worthy treat.
More information here.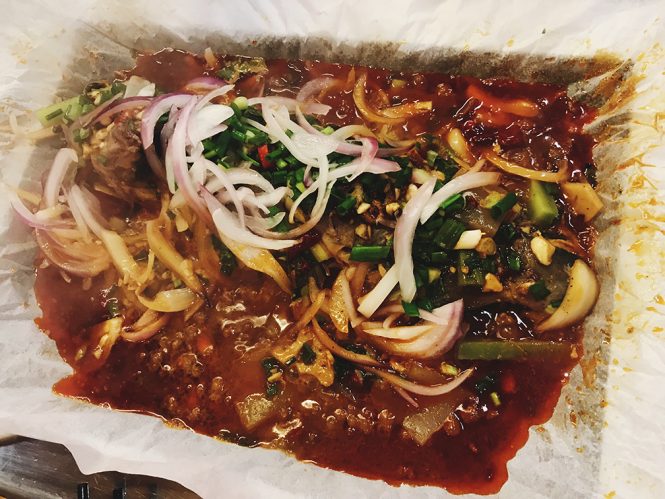 4. BBQ grilled fish at Wan Zhou Kao Yu
The star at Wan Zhou Kao Yu is a simple yet comforting dish of freshly grilled snapper cooked in a parchment paper bag filled with fragrant spices and vegetables like lotus root and potato. Perfect to enjoy at any time of the day, and especially popular for supper, the barbecue-grilled fish is exceptionally fresh yet tender. Coated in a fragrant layer of chili oil, the flesh fell apart at a probe of our chopsticks. To experience this dish like the locals, be sure to enjoy it with a bowl of piping hot rice and a can of cooling herbal tea.
More information here.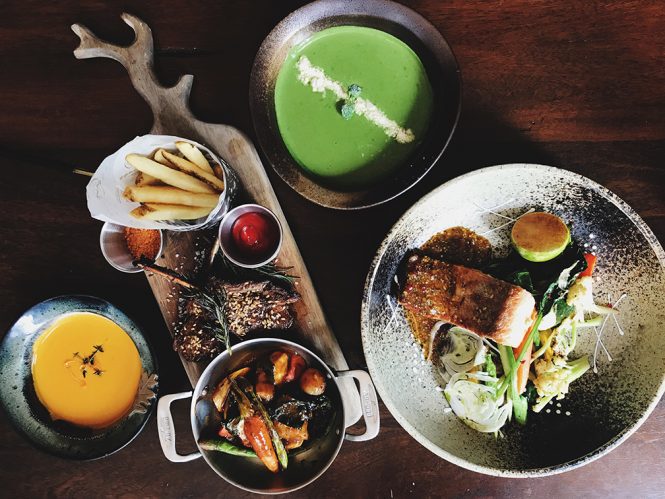 5. Healthy, organic dishes at Good Grain 
For all of its famously spicy and greasy dishes, one might be hard pressed to find healthy dining options in Chengdu — but that's not always the case. Good Grain, a well-established café is popular among the well-heeled and health-conscious for its wholesome, organic, and delicious food. With a focus on grain-based dishes, the café serves hearty and texture-filled rice bowls made with millet, barley, wild rice, and more. Those craving for something more substantial will enjoy the lamb chops, which are coated with in-house spices and baked to flavorful perfection. Soup lovers will appreciate the unassuming pumpkin soup, which turned out to be wonderfully creamy and naturally sweet.
More information here.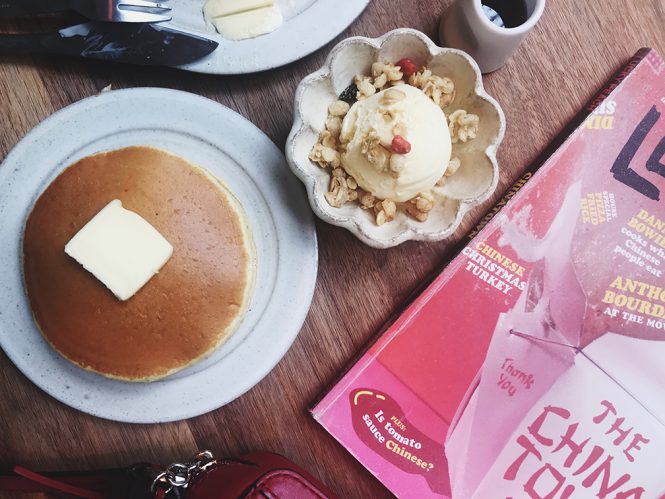 6. Pancakes at Wu Zao Xiao Shi
On China's popular Dianping lifestyle and restaurant-review website, one name constantly tops the list when it comes to Chengdu's most popular cafés. A hidden gem nestled in a residential estate, Wu Zao Xiao Shi is a lifestyle café with a sister retail shop next to it. The shop's quaint yet unpretentious ambience is only second to its well-curated products, which include independent magazines, mugs, tote bags, and other beautiful handicrafts. Bearing a similarly cozy décor as the shop, the homely café serves excellent pancakes that are light yet fluffy, perfect with a dollop of freshly churned butter or a scoop of vanilla ice cream.
More information here.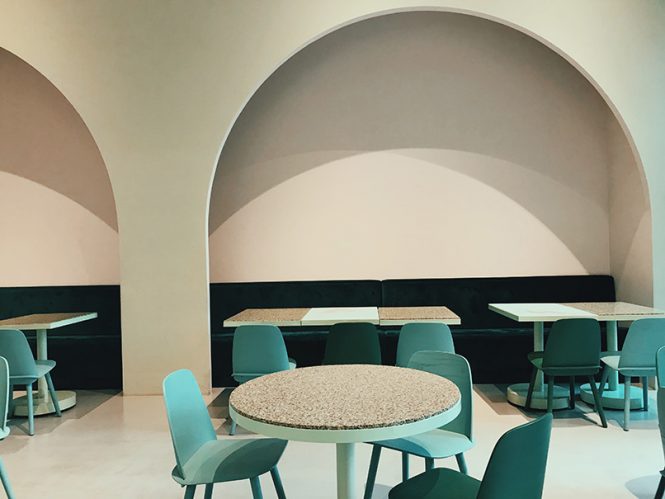 7. Desserts at The Budapest Café
Fans of Wes Anderson's movies will have a field day at The Budapest Café, a coffee house painted with a color palette that's inspired by The Grand Budapest Hotel. Founded by a young and well-to-do Chengdu native and designed by Melbourne-based design studio Biasol, the photogenic space features symmetrical arches, a long marble bar, a mezzanine level, and more. Set against a charming backdrop of muted greens and pastel pinks, the café's menu is simple, running the gamut from brunch staples to simple desserts like strawberry pancakes. In a nutshell, come for the photos, but don't expect too much from the food.
More information here.
8. BBQ skewers at Kao Master
When dining out in Chengdu, it's hard to miss signs that read chuan chuan, essentially a local term for grilled skewers of meats and vegetables marinated in Sichuan peppercorn spices and chili oil. Consider a meal of chuan chuan the quintessential Chengdu experience, as it's meant to fuel social gatherings and late-night get-togethers. When at Kao Master, make a beeline for their grilled skewers, which come in a mind-boggling variety of chicken, pork, beef, seafood, and offal. To soothe the palate after all the spicy meats, go for the grilled eggplant, which is a gooey, delicious mess.
More information here.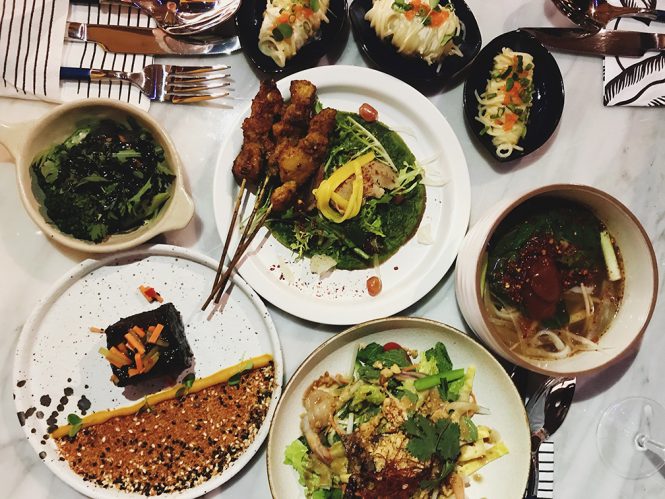 9. Modern Asian cuisine at Good Haven
Housed in a three-story building at the intersection of Chun Xi Road, the newly launched Good Haven looks set to be Chengdu's answer to modern Asian dining. Inside, the space beckons with floor-to-ceiling views of its urban surrounds, cozy seating areas accented with gold brass and timber, and a rooftop garden at the top floor. Singaporean chef Michael Ng has created dishes inspired by traditional recipes from Thailand, Singapore, and South Korea and given an unmistakable touch of Sichuan spices. Try the sous vide beef with napa kimchi and Sichuan-Thai chicken in the chilies, best paired with the refreshing gin-based Pretty Women cocktail.
More information here.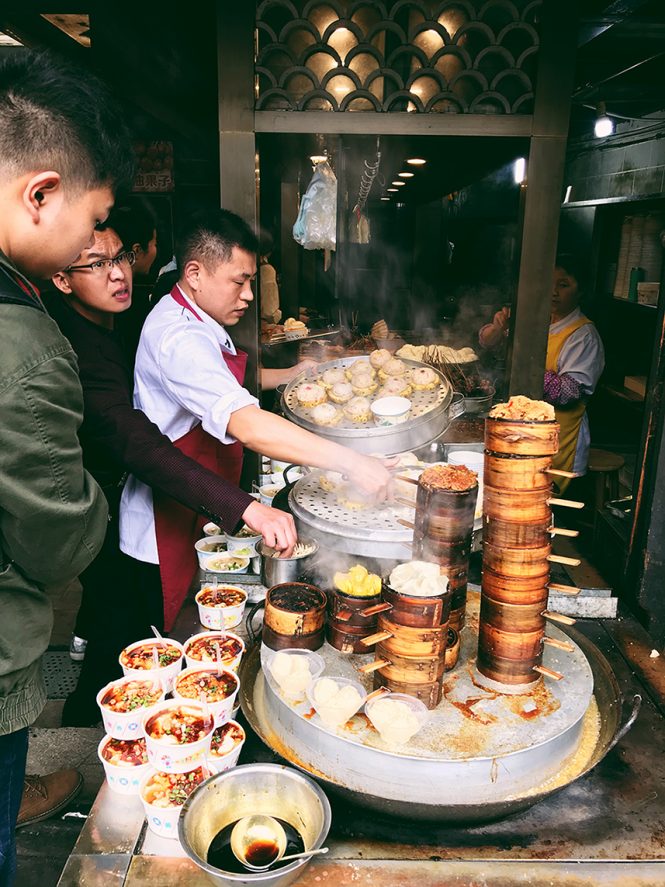 10. Street food at Kuanzhai Alleys
The Kuanzhai Alleys, which stand for wide and narrow alleys, is one of the top three historically preserved districts in Chengdu. Comprising three parallel ancient alleys and 45 courtyards, they are a microcosm of the city's rich history and culture. While strolling down the alleyways, be sure to make pit stops at the many street food stalls, which serve traditional delights such as spicy mapo tofu, sliced beef tripe in chili oil, dan dan mian (wheat noodles with minced pork), and more. Other must-dos include hanging out at the Chinese teahouses, which are situated within the breezy courtyards or shopping for traditional arts and crafts from the various vendors.
More information here.