Romantic getaways beckon in the form of remote lodges in the mountains, private sea-facing villas, and restful retreats in spa resorts.
1. Capella Ubud, Bali
Bangkok-based resort architect Bill Bensley has fashioned the place as an imaginary encampment of 19th-century European settlers, with each tent named for a camp trade (e.g. Architect, Cartographer, Baker) and sumptuously fitted with carved Balinese doors, big four-poster beds, dimpled teak floors, vintage knickknacks, hand-hammered copper tubs, and private plunge pools clad in river stones.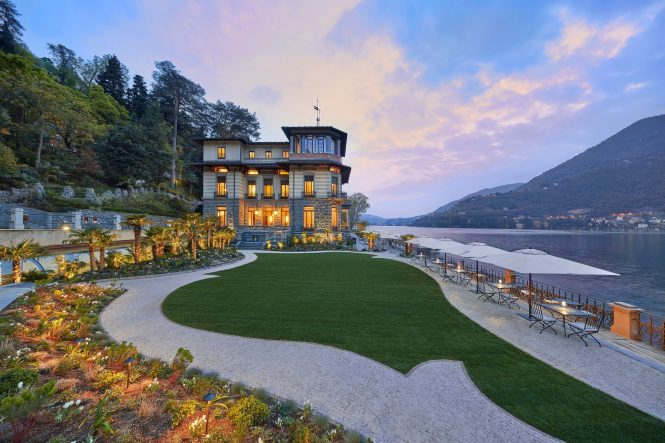 2. Mandarin Oriental, Lago Di Como, Italy
Nestled in a centuries-old botanical park on the sunlit shore of northern Italy's Lake Como, Mandarin Oriental, Lago di Como offers 52 elegantly appointed suites, 21 guestrooms, and two spectacular private villas. Guests will be treated to sweeping views of Lake Como and lush gardens, along with rooms that blend modern Italian elegance with subtle Asian-inspired details.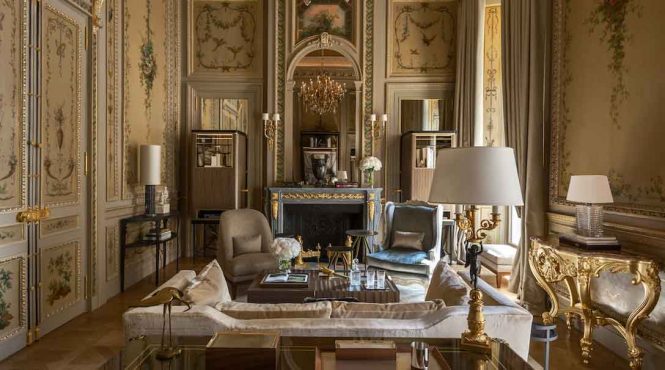 3. Hotel de Crillon, Paris, France
The perfect embodiment of Parisian residential style, the 146-room palatial structure has had a storied history of hosting artists and celebrities such as Charlie Chaplin and Isadora Duncan. Its facade was designed by Ange-Jacques Gabriel, who was commissioned by King Louis XV in 1754. Following a refurbishment in 2017, the property now features a 14-meter pool, as well as a Rosewood Spa, whose interiors were designed to evoke the feminine form.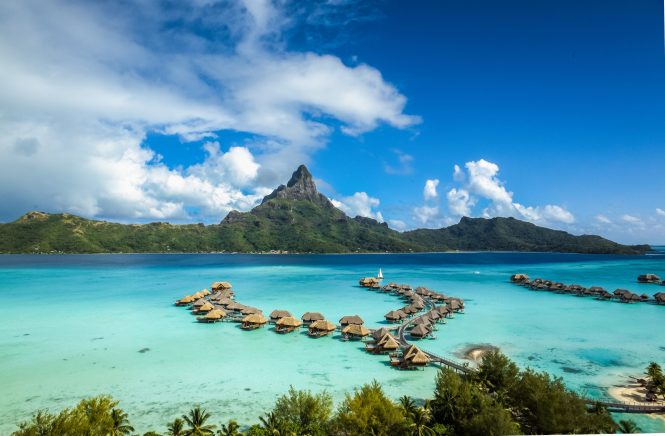 4. InterContinental Bora Bora, French Polynesia
Picture this: Stepping off the deck of your luxury over-water villa into the warm embrace of a tranquil lagoon. At InterContinental Bora Bora, guests can enjoy activities ranging from scuba diving to sunset cruises on the surrounding reefs. Meanwhile, a spot of pampering beckons at the property's award-winning spa. Designed for guests to experience romance in the South Pacific, the 88-room hotel offers weddings in the glass-bottomed chapel and candlelit dinners beneath swaying palm trees.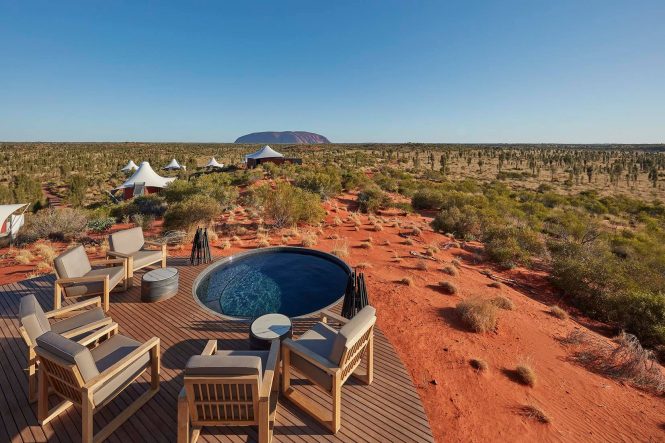 5. Longitude 131 Ayers Rock, Australia
As Australia's only accommodation offering views of both outback icons, Uluru and Kata Tjuta, Longitude 131 is truly one of a kind. At the luxury camp, guests can embark on signature excursions exploring the World Heritage-listed wilderness and become acquainted with the backstory of the desert landmarks. Meanwhile, they can also enjoy all-day dining, an open bar with French champagne, and more.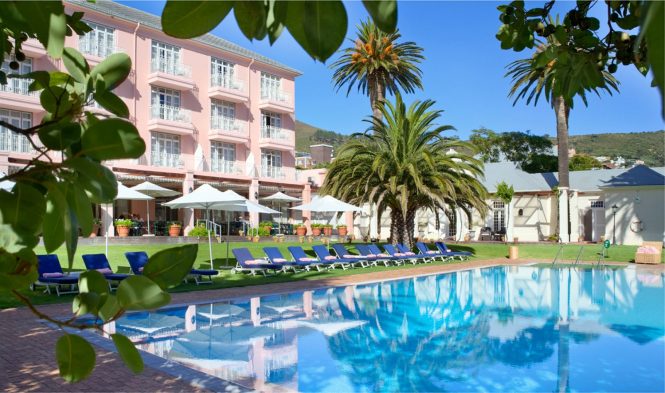 6. Belmond Mount Nelson Hotel, Cape Town, South Africa
You'll find this hotel at the foot of Table Mountain, painted in a distinctive shade of pink for peace in 1918. Guests will be transported to a bygone era thanks to the property's exquisitely restored interiors, which also feature quirky modern touches. Fun and immersive activities await here, from a painting master class to a rejuvenating treatment at the Librisa Spa.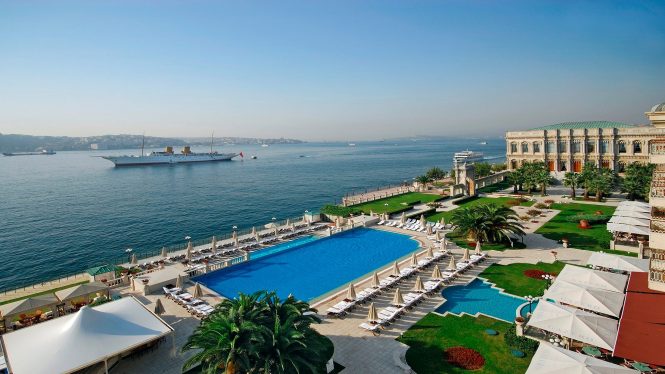 7. Çırağan Palace Kempinski Istanbul, Turkey
Centered on a genuine 1860s-built Ottoman palace, Çırağan Palace Kempinski Istanbul is home to 310 rooms, including 279 rooms and 20 suites in the main hotel section and 11 suites in the restored imperial palace section. Exclusivity is key here, with the hotel being Istanbul's only one accessible by car, yacht, and helicopter. Among the amenities, a favorite is the winter-heated infinity outdoor pool, which gives one the feeling of floating on the Bosphorus.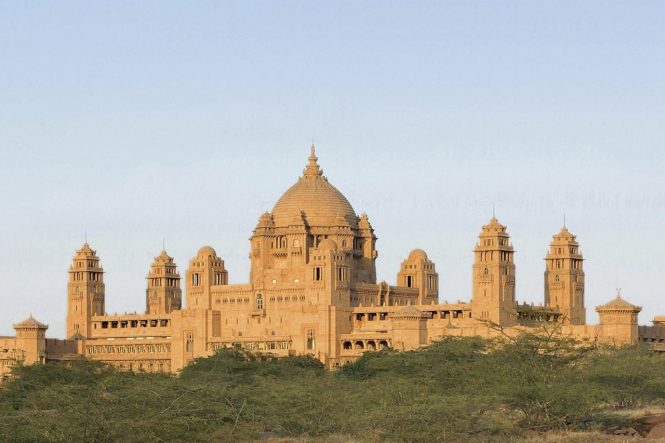 8. Umaid Bhawan Palace, India
Experience a slice of Rajasthan's heritage when you stay at Umaid Bhawan Palace, which was built between 1928 and 1943. Home of the erstwhile Jodhpur royal family and currently the world's sixth-largest private residence, the palace is set amid lush gardens with dancing peacocks and boasts a subterranean Zodiac Pool. Guests will feel right at home in the 70 art deco-style rooms and suites, which all come with butler service.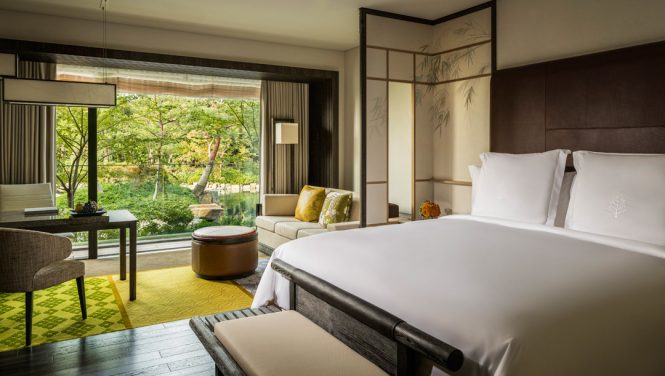 9. Four Seasons Hotel Kyoto, Japan
This hotel occupies a prime site on the edge of the beautiful Higashiyama mountain range, just steps from key tourist sites such as Kiyomizudera and Sanjusangendo temples and the Kyoto National Museum. Despite this central location, the property retains the air of a secluded luxurious private villa, with its 123 immaculate guest rooms, two restaurants (the Brasserie and Sushi Wakon), and spa nestled in leafy forests and bamboo groves, facing an 800-year-old pond garden.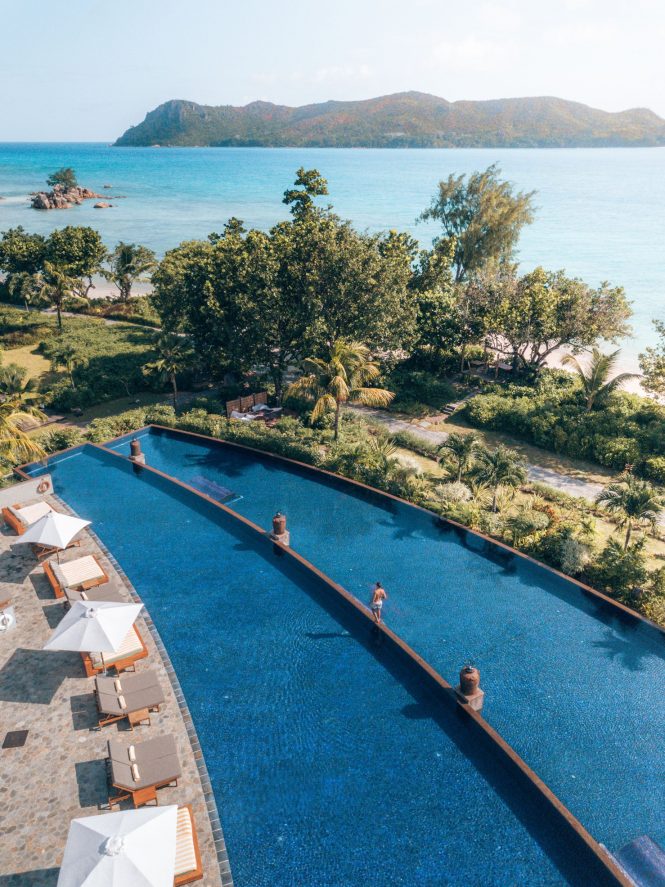 Located on the idyllic Praslin island, Raffles Seychelles features exquisite villas with private plunge pools. A beach paradise awaits here, characterized by powdery white sand and opal-hued ocean. Understated luxury is par for course—from the attentive Raffles butler service to gastronomic experiences, and treatments at the award-winning Raffles Spa.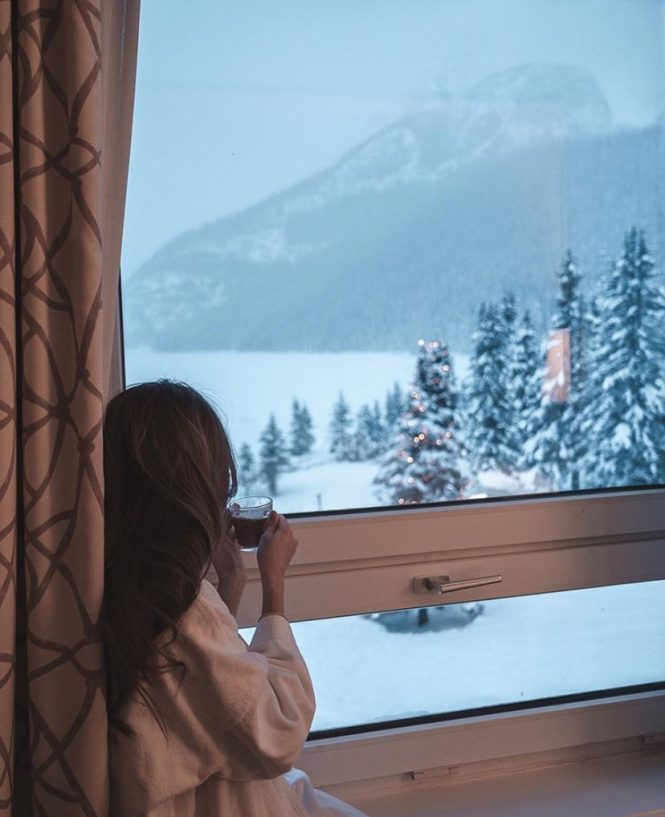 11. Fairmont Chateau Lake Louise, Canada
When at Fairmont Chateau Lake Louise, expect to wake up to breathtaking views of Lake Louise and the surrounding Canadian Rocky Mountains. Elegant and polished, the 539-room luxury resort in Banff National Park makes the ideal base to explore the myriad natural wonders on its doorstep. Guests will be able to unwind in the well-appointed guestrooms, luxurious suites, and specialty rooms.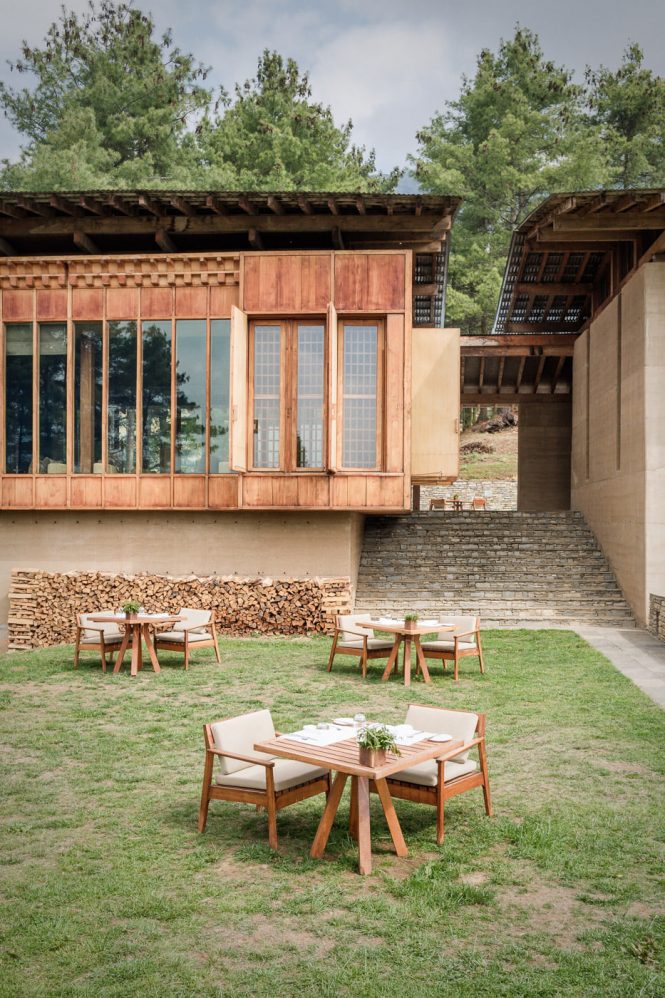 12. Amankora Bhutan
Tucked away in little-visited Phobjikha Valley near the village of Gangtey, the eight-suite Amankora Gangtey is located on a forested knoll with scenic views of the 16th-century Gangtey Goemba monastery. The hotel is a part of the Black Mountains National Park wildlife reserve and lucky guests might catch sight of the 300 endangered black-neck cranes that visit each winter. Rooms here feature king-size beds, traditional wood-burning stoves, and banquette window-seats.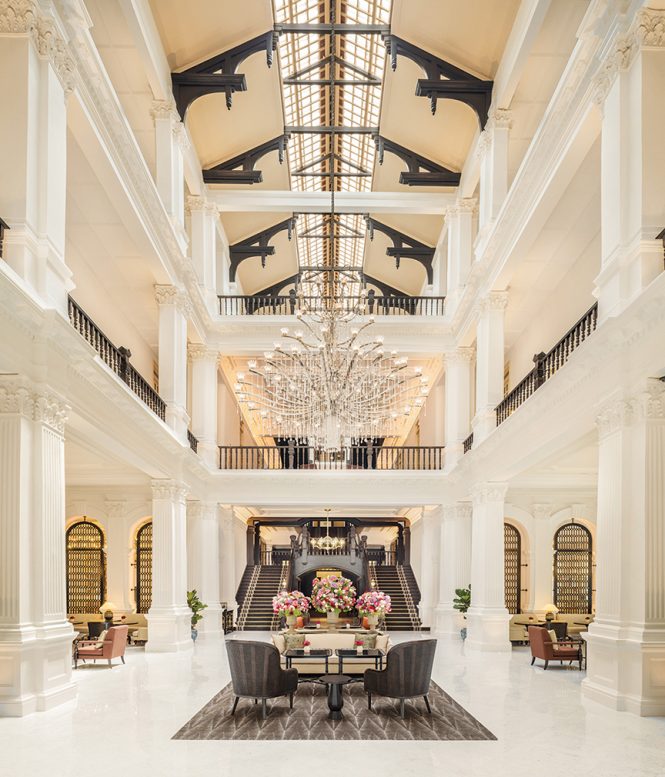 Following a two-year facelift, the Lion City's storied grande dame has never looked better. Its soaring lobby—Joseph Conrad, one of many famous past guests whose image is now embossed on the rooms' leather key card holders, once described it as being as "airy as a birdcage"—shines once more, a white cocoon capped by a huge crystal chandelier that hovers over polished marble flooring and coppery screens. The 115 lofty suites are a particular treat. Here, Champalimaud layers creamy hues and Peranakan-inspired floor tiles with capacious four-poster beds and minimalist abstract art.
14. Hoshinoya Guguan, Taiwan
The surroundings of this Taiwanese hot-spring hotel are suitably soothing, with a landscaped water garden of babbling streams and bamboo-clad pathways backdropped by forested hills—join a morning qi gong yoga session for an extra dose of zen. The resort's architecture has been kept muted and clean-lined so as not to distract from the natural beauty that envelops it, with floor-to-ceiling windows throughout the 50 guest rooms (each equipped with a private thermal soaking tub) providing sweeping views of the valley.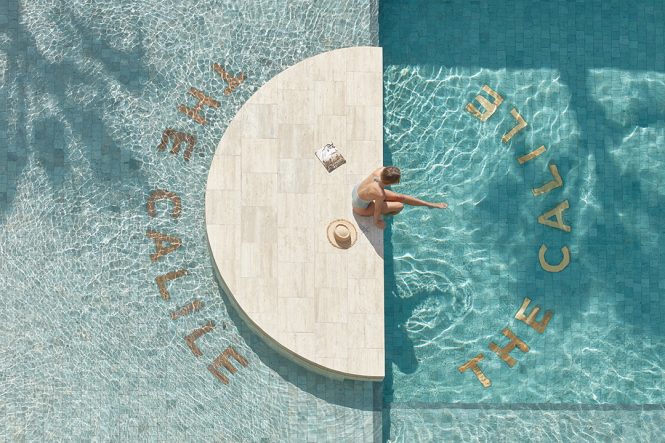 15. The Calile Hotel, Australia
The Calile cuts a dramatic form across Brisbane's skyline, its self-described "soft brutalist" building of white curves and arches designed to celebrate the balmy weather and tropical vibe for which this part of the country is known. Locally based architectural studio Richards and Spence crafted breezy hallways with open-air nooks to link the 175 guest rooms, which come in a trio of pastels: blush, eggshell blue, and mint.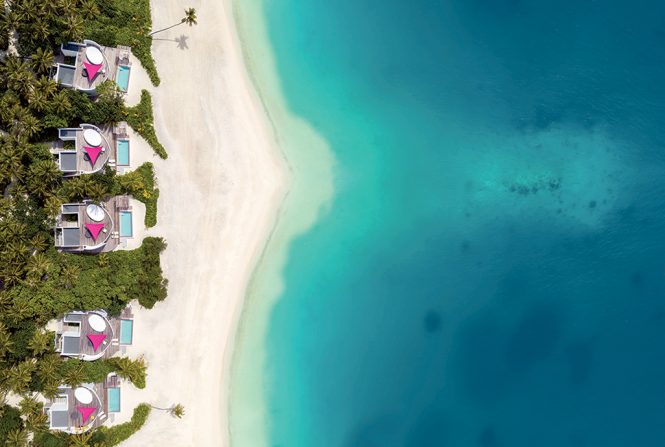 16. LUX* North Male Atoll, Maldives
The vibe at the LUX* brand's sophomore Maldivian property is contemporary South Beach, with 67 white-walled, deco-esque villas that curve and gleam like the hull of a luxury yacht. There's not a thatched roof in sight. Isabelle Miaja, the Franco-Spanish interiors maven who helped realize the project, says she wanted it to feel like the sort of place James Bond might stay were he to visit the islands. That translates to sexy bespoke furnishings and cheeky pops of color, plus huge bathrooms equipped with tubs that look like a bisected dinosaur egg. Villas are either on the beach or perched above the lagoon; either way, you'll get a private infinity pool and rooftop sundeck.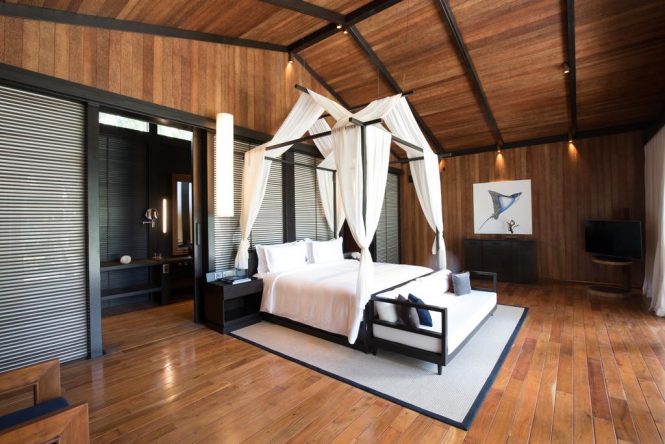 17. Taj Exotica Resort & Spa, Andamans, India
Ensconced in a secluded cove on India's remote Havelock Island, the Taj group's outpost brings five-star luxury to one of Asia's most beautiful stretches of sand. Radhanagar Beach remains unmarred by seafood shacks, trinket sellers, or many tourists, and the Taj Exotica's 50 luxury villas—built on stilts with curved thatch roofs that nod to the huts of the Andaman Islands' indigenous Jarawa tribe—fit the vibe perfectly. Interiors feature wood floors, timber walls, and gorgeous canopied beds, with wraparound verandas for snoozing away the afternoons.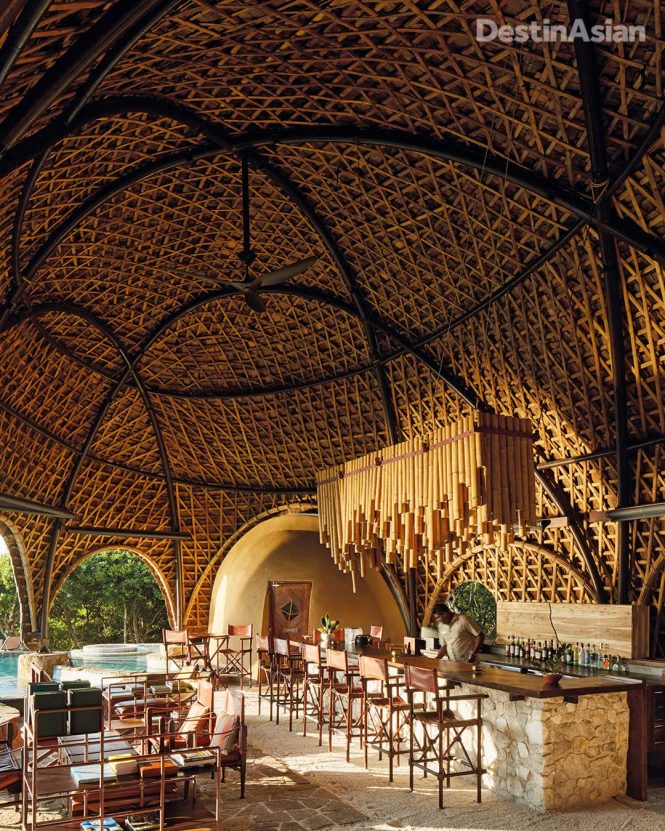 18. Wild Coast Tented Lodge, Sri Lanka
Set above a boulder-strewn shoreline near the entrance to Sri Lanka's Yala National Park, the 28 cocoon-like tents are arranged in paw-shaped clusters around water holes where wild boar and langur monkeys can be spotted having a morning drink. Inside, the suites are roomy and restful under their taut, high-ceilinged membranes of white PVC, with hand-woven rugs, campaign furniture, freestanding copper bathtubs, and gauze–draped beds providing serious creature comforts.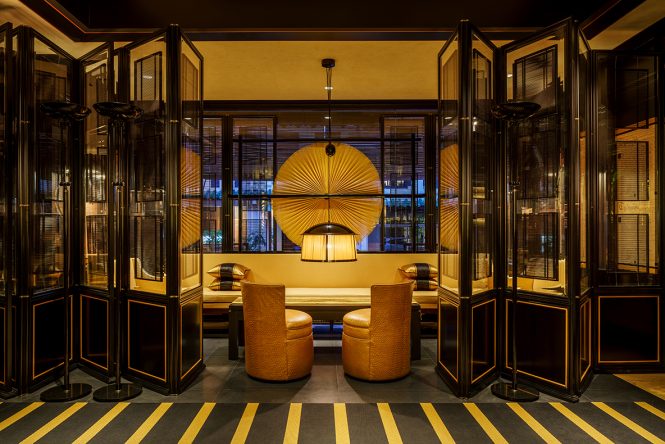 19. Six Senses Duxton, Singapore
The 49-room boutique hotel—set in a row of eight adjoining mid-19th-century shophouses in a charming fin de siècle stretch in Chinatown—is the perfect canvas for interior designer Anouska Hempel's fondness for dramatic room-sets. Kudos, though, to architect Faye Moya for her sensitive spruce-up of the old Berjaya Hotel, which preserves the building's period mix of Corinthian columns, Portuguese shutters, and timber fretwork. Inside, Hempel wields her palette brush with control as she mixes black-lacquered panels with bold yellow furnishings and lipstick-red accents.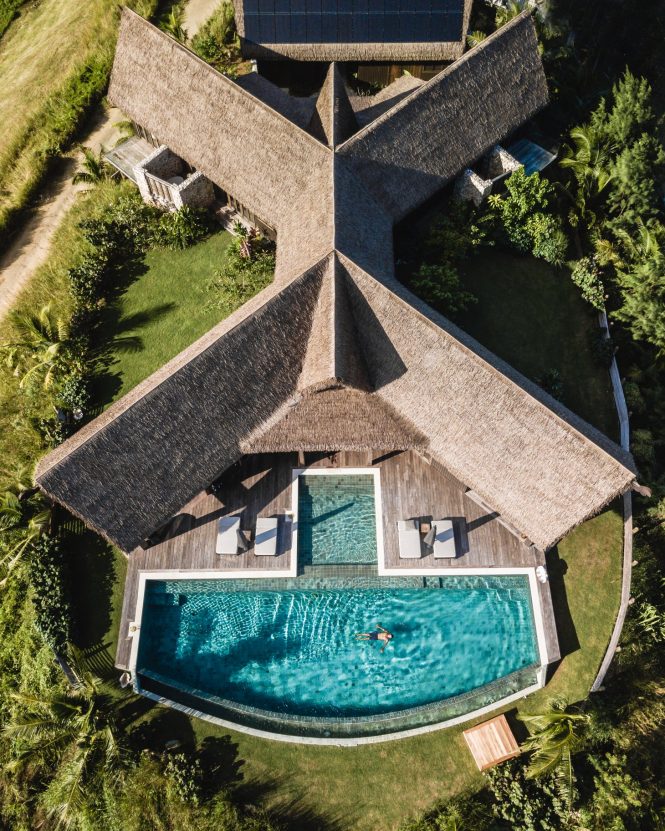 20. Six Senses Fiji, South Pacific
Few resort brands mix exotic escapism with a sensitive local design quite like Six Senses, and the Bangkok-based hotel group's Fiji outpost is no exception. For starters, it is 100-percent powered by one of the largest solar microgrids in the South Pacific. It also has its own reverse osmosis plant and water refinery, as well as a farm for vegetables, fruits, herbs, and a pet pig named Sid. The eco-credentials extend to the 24 one- and two-bedroom pool villas, which incorporate sustainable local materials.