A three-in-one trip combining south-coast indulgence with a stay in Sri Lanka's cool tea hills and the untamed allure of a safari lodge strikes a perfect balance between serenity and adventure.
Photographs by Martin Westlake.
An acrid cocktail of sweat, urine, and what smelled like overripe durian washed over us like one of the Indian Ocean breakers we could hear rumbling in the distance.
"Ah, we are lucky, this elephant is in musth," said John Wilson, our enthusiastic young guide on this afternoon's game drive in the coastal fringes of Yala National Park. "That smell is pure testosterone—he's in his prime and ready to mate."
The pachyderm in question was a funky 40-year-old bull standing upwind from our safari vehicle in the shade of a wild tamarind tree. John, a Sri Lankan half that age who speaks with a posh accent picked up from his school days in England, explained that musth is the annual mating period when adult male elephants' testosterone jumps to 60 times normal levels, seeping out from glands behind their eyes and spiking their urine with extra pungency. Our elephant, his cheeks moist with dark secretions, his hind legs stained shamelessly with pee, appeared to be in a hormone-induced trance; not for nothing was the word musth derived from the old Persian for "intoxicated." Finally, catching the scent of three females at a nearby wala (water hole), the big fellow lumbered off across the scrubby plain, a lascivious twinkle in his eye.
This unexpected encounter occurred midway through a six-night trip organized by Resplendent Ceylon, the hospitality arm of Dilmah Tea, Sri Lanka's premier tea brand. Run by Malik Fernando, whose father, Merrill, founded Dilmah in 1988, the company made its first foray into the hotel business 13 years ago with the debut of Ceylon Tea Trails, a quartet of luxuriously refurbished colonial-era tea planter's bungalows in the highlands of Bogawantalawa Valley. Unfortunately, that was soon followed by the collapse of the 2002–05 ceasefire in Sri Lanka's civil war, which raged on for another four years. "It was a real struggle," Fernando told me over the phone from Colombo. "We had great feedback but not enough guests; we only just managed to keep our heads above water."
How times have changed. These days, you're advised to book well in advance to secure a room at Ceylon Tea Trails; demand is such that a fifth bungalow was added to the portfolio in 2016 (the same year, incidentally, that saw tourism arrivals to Sri Lanka top two million for the first time ever). By then Fernando had already opened a luxe, purpose-built resort called Cape Weligama on the south coast and begun work on Wild Coast Tented Lodge, which opened last November on the edge of Yala.
Each is a destination in its own right; they also happen to be the only Relais & Châteaux properties in Sri Lanka. But taken together, they're a trifecta of sorts that allows you to experience three very different sides of the island on a circuit that Resplendent Ceylon catchily markets as "Tea, Sea, and Safari." Guests can also take comfort in the knowledge that the company channels 10 percent of its profits into the Fernando family's MJF Charitable Foundation and Dilmah Conservation, initiatives that support dozens of community and conservation projects across Sri Lanka. I booked a spot as soon as I could.
Head to the Hills
First up on the itinerary was Tientsin Bungalow. Built in 1888, this is the largest and oldest of Ceylon Tea Trails' five former planter's residences. It's also the most remote, nestled amid undulating tea hills about half an hour's drive beyond the eastern end of the Castlereagh Reservoir, around which the other bungalows are situated. How long it must have taken those early planters to reach these hills I can only imagine; our drive from Colombo stretched out for five hours, though away from the coast, the scenery became increasingly pleasant. As the grade steepened, palms and bamboo gave way to stands of towering albizia and fragrant cinnamon trees. Above the 800-meter mark, all was lush and green and dewy; a signpost outside the market village of Watawala laid claim to the highest rainfall in the country. At Kithulgala, we stopped to stretch our legs at a sprawling old rest house above the Kelani River, just downstream from where David Lean shot the climactic scenes in his 1957 classic The Bridge on the River Kwai.
Finally, and with some relief, we pulled into Tientsin Bungalow. Extensively renovated last year, it's utterly charming, with colonnaded verandas, original pine floors and teak trim, and six high-ceilinged suites fitted with fireplaces, four-poster beds, and clawfoot tubs. (I also found earplugs on my bedside table, to be used should the Hindu temple in the village below become too clamorous. It didn't.)
Each room bears the name of a different Scottish planter who once lived here—Moir, Fraser, Meares—and is hung with sepia-toned photos and printed engravings depicting scenes from the days of British rule. Given the colonial vibe, I'd half expected to be sharing the place with a bunch of old Britons with a taste for Raj-era relics. Instead, my fellow guests included two young families and a honeymooning couple from Italy, whom I got to know over pre-dinner drinks in the bungalow's cozy sitting room.
The Italians had just come back from a daytrip to Kandy; one of the dads was planning a night climb up Adam's Peak, the country's holiest mountain. As for me, I was content to spend my short stay here reading a book around the pool, wandering the surrounding tea fields, and admiring Tientsin's extensive gardens, which brim with amaryllis, heliconia, morning glory, and begonias. And eating. The cool air at 1,400 meters above sea level gave me a keen appetite, and I devoured every dish put in front of me—one night, a succulent pork cutlet with orange sauce and couscous; another, a selection of vivid Sri Lankan curries.
As the weather was fine, all meals—including afternoon tea—were served alfresco on the bungalow's checker-tiled front terrace, which looks out to a lawn studded by a willowy bottlebrush tree. It's a fine vantage point from which to survey the barbets, bulbuls, babblers, and other birds that flit about the property. But it's the crows you have to look out for—one had the audacity to steal a croissant right off my breakfast table (not that I can blame him: the pastries were delicious).
Into the Wild
Safari-wise, I hadn't expected much from the wilds of Sri Lanka's southeast, or at least nothing to compare with my experiences in South Africa and Zambia. But Yala National Park delivered a surprising wealth of fauna—and an equally unexpected surfeit of safari vehicles.
A wildlife sanctuary since the turn of the last century, Yala is the second largest of Sri Lanka's national parks, encompassing nearly a thousand square kilometers of monsoon forests, grassy plains, and coastal wetlands. It is home to elephants, sloth bears, wild water buffalo, and the highest density of leopards anywhere in the world. Ease of access from the tourist beaches of the south coast also means it's the most visited park in the country, and the last few years have seen a mushrooming of safari resorts around its southwestern fringes. The latest—and smartest—is Wild Coast Tented Lodge, which opened last November above a boulder-strewn shoreline in Yala's buffer zone.
It's an entirely different beast than Resplendent Ceylon's tea bungalows. Some four hours or so after leaving Tientsin, I was led into a big domed restaurant pavilion made of bamboo latticework sheathed in reclaimed teak shingles. Arched openings framed views of the Indian Ocean; an adjacent dome housed a quartz-gravel-floored bar. Equally otherworldly yet organic was my tent for the next two nights: one of 28 "cocoon" suites arranged in clusters around water holes. Shaped vaguely like a plump caterpillar and covered in a taut, high-ceilinged membrane of white PVC, it was roomy and restful, appointed with hand-woven rugs, campaign furniture, a freestanding copper bathtub, and a wonderfully comfortable gauze-draped bed. Judging from the porthole windows and brass fittings and exposed copper piping, one suspects Captain Nemo might have had a hand in the design too.
The lodge's main attraction, of course, is the wildlife, and you don't have to even leave the grounds to see some. Wild Coast, I was told pointedly at reception, is an open property, meaning there are no gates or fences to stop animals from wandering through. This also means guests are discouraged from walking its paths at night without an escort, and from leaving their doors open lest their suite be ransacked by a pack of langur monkeys. Elephants have been spotted drinking from swimming pools; I woke one morning to the sound of wild boars snuffling around the water hole outside my tent.
But this is nothing compared to what awaits you in Yala. Heading out with four other guests on the afternoon of my arrival, we encountered not only the bull elephant in musth, but also herds of axis deer, mongooses and macaques, troops of langurs, plenty of birdlife—bee eaters, painted storks, Sri Lankan junglefowl (the national bird), Malabar pied hornbills—and a three-meter-long mugger crocodile sunning himself by the edge of a marsh. John, our guide, cheerily discoursed on the mating habits and behaviors of each creature we saw with encyclopedic detail. Less cheerily, he decried the "jeep jams" that occur as a result of too many vehicles (as many as 600 a day) being allowed into the park. "Some days, it can be bumper-to-bumper for a kilometer to see one animal," John said. "It's just not sustainable."
The animal everyone wants to see is the leopard, Sri Lanka's apex predator. They're elusive, but this section of Yala, with its open savanna and patchy deciduous forest, is considered the best place in the country to observe them.
Sure enough, a call came in over the radio and the driver slammed his foot on the gas pedal. A leopard had been spotted. Joining a convoy of a dozen other vehicles, we sped off down the track, kicking up clouds of red dust in our wake. But to no avail: the big cat had disappeared into the bush by the time we arrived. I had to content myself with the sight of his fresh paw prints in the mud.
We were back early the next morning to try our luck again. This time, John promised to take us farther north and away from the crowds to where he hoped we might encounter another of the park's treasures: a tusker. While Yala is home to upwards of 300 elephants, only 10 have tusks, so the chances of seeing one are slim. We came across a tusker half an hour after passing through the park gate.
John was thrilled. "This is Gemunu! We call him the 'Clown Prince of Yala' because of all his antics. He's really the most charismatic tusker in the park, and probably the most documented elephant on the island." Alas, Gemunu's charisma didn't spare him from an attack by a larger tusker earlier this year. He survived the battle, but lost a tusk in the process, leaving him with a lopsided appearance. Still, he was a majestic beast.
And while leopards continued to elude us, we did get to watch an equally elusive sloth bear mosey through the underbrush toward us. It wasn't long before a bunch of other safari jeeps showed up, but before they did, for a couple precious minutes, we had him all to ourselves.
Seaside Serenity
From Wild Coast, the drive west to Cape Weligama took about two and half hours—by the standards of my transfers thus far, a mere blink of the eye.
It's a beautiful resort and a fitting crescendo to the trip, spread across a sloping, palm-strewn headland that rises 40 meters above the Indian Ocean. Arranged around shared swimming pools in clusters of two or three, the terra-cotta-roofed villas here sport a crisp mod-Asian look courtesy of Thai architect Lek Bunnag. I was told they are the largest accommodations in the country, and I don't doubt it: my bathroom alone must have been 50 square meters, complete with a walk-in shower that converted to a steam room.
I contemplated staying put and ordering room service for the duration of my stay, but there were too many distractions. One was the resort's main pool, a picturesque crescent of water at the tip of the headland where you could get your money's worth just staring out at Weligama Bay. Another was the Ocean Terrace restaurant, with its towering wooden pillars and amethyst-hued walls and supremely fresh seafood—think jackfish tacos, cinnamon wood–smoked tuna, and a phenomenal seafood platter that has been known to lure day-trippers from Colombo.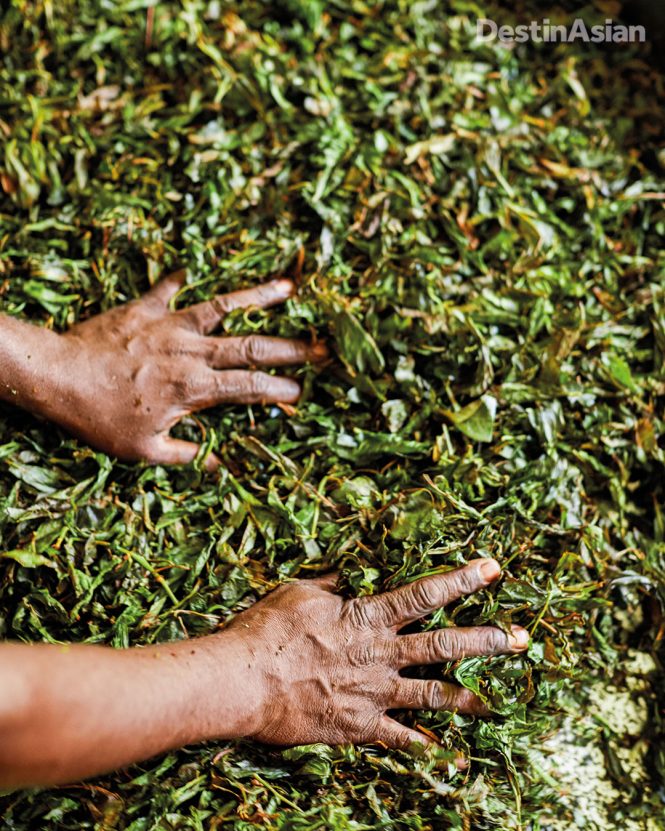 Cape Weligama is also home to a well-equipped activities center. Managed by local outfitter Borderlands, it offers whale watching and sea kayaking when the season is right. When the water's too rough, you can explore nearby villages by bike or, as I did, paddle a kayak down a lily pad–fringed river in the company of monitor lizards and gray herons.
With Sri Lanka firmly on the road to recovery, Fernando is pushing ahead with plans to grow Resplendent Ceylon's footprint. The next resort in his portfolio will open in late 2020 near Sigiriya, a fifth-century rock fortress in the heart of the so-called Cultural Triangle of ancient Buddhist and Hindu ruins. I'm guessing the expanded circuit will be called "Tea, Sea, Safari, and Antiquity." And yes, I'll be booking a spot as soon as I can.
The Details
Priced at US$4,196 (including taxes) for two, Resplendent Ceylon's six-night Tea, Sea, and Safari package comprises two nights each at a Ceylon Tea Trails bungalow, Wild Coast Tented Lodge, and Cape Weligama. Stays are fully inclusive except at Cape Weligama, where Ocean Villa accommodation is on a bed-and-breakfast basis; at Wild Coast Tented Lodge, the package includes daily game drives. Transfers by road or air are available on request. Valid until October 1, excluding the July 16–August 31 peak season (94-11/774-5730).
This article originally appeared in the June/July 2018 print issue of DestinAsian magazine ("A Sri Lankan Trifecta").