The Indonesian capital offers plenty of surprises for foodies, including creative riffs on local cuisine and dishes with fusion flair.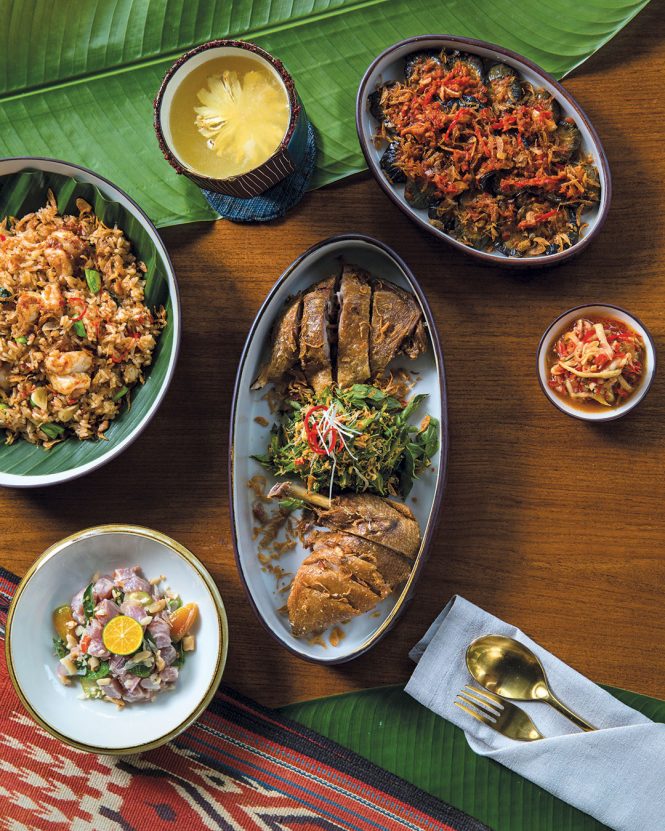 1. Kaum
Following the brand's debut in Hong Kong and Bali, the Jakarta flagship of this modern Indonesian restaurant by the Potato Head Group has taken up residence in the old-money neighborhood of Menteng. At Kaum, two restored colonial-era bungalows and an industrial-chic glass house provide the backdrop for a mouth-watering array of dishes gathered from across the archipelago, all made with ingredients sourced from local, small-scale producers. Must-tries include turmeric-rubbed grilled fish served with Manadonese dabu-dabu sambal, chargrilled wagyu satay, and the North Maluku specialty gohu ikan, or raw skipjack tuna tossed in coconut oil and calamansi lime juice.
2. Momozen
The newest in a quartet of bars and restaurants at The Plaza Office Tower is Momozen, where French-inflected Japanese fare is served with a side of expansive city views from its 46th-floor perch. Dishes here are as easy on the eyes as they are the tongue, with delicate tempura-style yuba frog legs ringed by drops of black mayonnaise, garlic puree, and spinach coulis; while the somen noodles feature an aromatic blend of black truffle, caviar, and kombu. Another boon for truffle enthusiasts is the spring chicken stuffed with truffle oil–scented rice.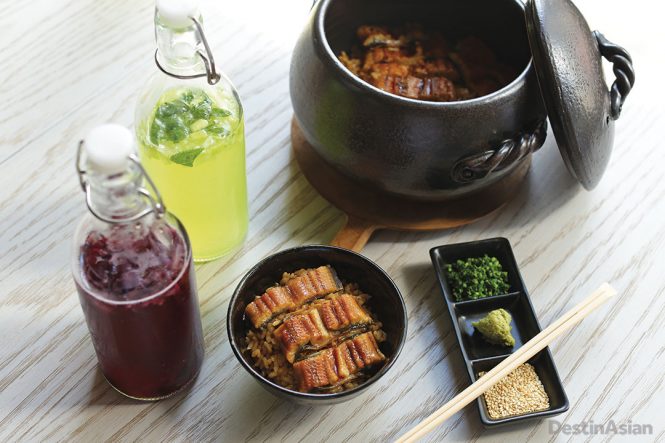 3. Heritage by Tan Goei
Menteng is the place to go for home-style Indo-Dutch cuisine, thanks to the reopening of a family-run restaurant that launched in the Central Javanese city of Semarang in 1950, before relocating to Jakarta a decade later. The business is now helmed by chef-owner Albert Boedhi Tjahjono, a grandson of the original founders, and from the kitchen he dishes up classics such as ox tongue steak in mushroom sauce with blanched vegetables, served sizzling on a hot plate; stamppot, or homemade meatballs on silken-smooth mashed potato with gravy; and a huzarensla potato salad topped with honey mustard dressing and a soft-boiled egg.
4. Birdman
At this buzzy izakaya in the Sudirman Central Business District, austere interiors put the focus squarely on chef Takashi Iwasawa's elevated pan-Japanese comfort fare, with crowd-pleasers like Osaka-inspired pork okonomiyaki topped with egg yolk and shavings of smoked tuna, tender chicken skewers in creamy nanban sauce, and dashi-infused unagi claypot rice. Big enough to be shared between several people, the latter has ample portions of grilled freshwater eel served with sesame seed, diced chives, wasabi, and sweet soy sauce to taste. Make sure you leave room for the indulgent Hokkaido Otaru cheesecake, whose creamy filling comes wrapped in pillow-soft sponge and icing sugar.
This article originally appeared in the December 2017/January 2018 print issue of DestinAsian magazine ("Raising Jakarta").