Kid-friendly? Check. Fun for the whole family? Check.
Bintan makes an ideal destination for those planning to take their brood on an unforgettable vacation.
Here, resorts offer family-friendly facilities, while the island is packed with a wide range of activities like mangrove tours, cultural sightseeing, and animal encounters to keep everyone occupied.
To make the best of your trip, here are four ways to enjoy a fun-filled family holiday.
1. Bliss out at your resort
Contrary to popular belief, fun isn't found only in the great outdoors. Within the comfort of your chosen resort, the little ones can make new friends from all over the world while engaging in fun activities. Parents need not crack their heads for ideas on how to entertain their kids as play arena are readily available.
The Jungle Gym in Bintan Lagoon Resort is perfect for children aged three to ten, where they can go on slides, crawl in tubes, and experience fun obstacles. Creative activities are also available in Nirwana Gardens' NABLEZ Kids' Club, which offers balloon sculpting and face painting.
In Club Med Bintan Island, children can join age-specific clubs and participate in activities such as cooking and dancing classes or deplete some of their overflowing energy by mastering a flying trapeze. Furthermore, the baby corner at the resort's main restaurant thoughtfully provides baby food and equipment to prepare their meals.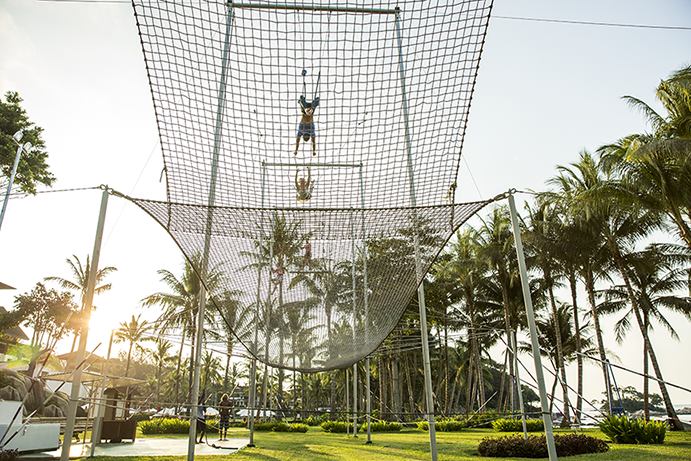 With spacious suites and a Kids Club, Angsana Bintan is another family-friendly resort worth considering. It offers a comfortable stay complemented by warm hospitality and beachfront views.
As the kids enjoy themselves, parents can enjoy well-deserved personalized treatments at the award-winning Angsana Spa. Marine wildlife lovers can educate themselves on conservation efforts by engaging in turtle release and coral replanting activities at the in-house Conservation Lab. Plus, guests can head to the Marine Centre for water-sports or the 18-hole scenic golf course of Laguna Golf Bintan for a well-deserved game.
A hot spot for watersports is the Crystal Lagoon located beside The Canopi resort in Chill Cove @ Treasure Bay Bintan. Here, guests can partake in activities for all ages, from stand-up paddling to kayaking, and even wakeboarding and bumper boats. Ironman wannabes can challenge themselves with the Jetovator (flying water bike) and experience the sensation of being propelled into the air. Kids will love the mini electric ATV, bouncy castle, and inflatable bear water slide. For those who prefer to stay dry, electric scooters and two-wheeler personal transportation are available for rent.
2. Explore your natural surroundings
An eco-tour of the natural mangrove forest along Sebung River is a good way to reconnect with Mother Nature in the company of your loved ones. Not only is the tour available throughout the day and night, it is also suitable for all ages.
Participants will be accompanied by a guide who will enthusiastically share knowledge about the local flora and fauna. We recommend bringing along a pair of binoculars so as to observe closely wildlife creatures such as snakes, monkeys, and even monitor lizards among the mangrove roots. Equally, if not more adventurous, is the night tour. While cruising the river, guests will be treated to magical views of glowing fireflies and the starry night sky.
For another chance to get up close and personal with wildlife, visit Safari Lagoi Bintan and Eco Farm. The former is home to a variety of rescued and endangered animals such as Komodo dragons, sun bears, birds and orangutans. A stroll at the Eco Farm will also be an eye-opener for the little ones who can learn about how fresh fruits and vegetables are planted and harvested. Alternatively, interact with elephants at Nirwana Gardens' Jumbo Park.
3. Immerse yourself in local culture
For a truly memorable family vacation, take a trip around the island and learn more about its rich culture and heritage. Guests can visit Panglong Village to catch a glimpse of the lives of the Orang Laut (Sea Gypsies) and witness their livelihood by the sea. Thereafter, they can head to Grotto Santa Maria to explore the trail of the 14 Stations of the Cross, which are beautifully carved in limestone and lead up to a small idyllic chapel. Along the beautiful east coast of Bintan, there's Pizzeria Casa Italia, an Italian restaurant, which serves thin crust, handmade wood-fired pizza with a local twist.
Experience the hustle and bustle of the morning markets in Tanjung Pinang, the capital of the Riau Islands. Apart from trying local delicacies, travelers can also exchange culinary tips with friendly store owners. Shop around Tanjung Pinang City Center, a newly opened mall with a hypermart or even catch a movie if time permits.
Another must-visit is Pulau Penyengat, an offshore island from Bintan that is rich in history. The island tells the story of the royals who once ruled the Riau-Linga Sultanate and can be accessed by a pompong (water taxi) from Tanjung Pinang. Learning history gets even more fun for the younger ones with a breezy becak (motorized trishaw) ride which takes them from one historical site to another. Highlights include palace ruins, royal mausoleums and the impressive Sultan of Riau's Grand Mosque all adorned in hues of yellow and green. Across the island sits Senggarang Village, a former settlement of ethnic Chinese that was built over the sea and is now home to a collection of the oldest temples in Bintan. The Banyan Tree Temple, in particular, is an amazing sight to behold.
4. Embark on night-time adventures
The best part about family vacations is bonding with the family even as the night falls. For those ending a day of sightseeing, head for dinner at the Cangkir Hawker Centre at Rimba Jaya before checking out the nearby night market for the famous pisang keju (fried banana) or Loco Est. 2016, a container café selling Taiwanese shaved ice concoctions.
Families can take the free shuttle bus from resorts to Plaza Lagoi and enjoy a relaxing night out at the lively Lagoi Bay Lantern Park, which displays colorful lanterns of marine and land creatures. To wind down the evening, take a leisurely ride on the odong odong (small cycling car with music and lights), before heading back to the resort for a good night's rest.
With an abundance of family-friendly activities, lush landscapes, and interesting cultures, Bintan is no doubt a choice holiday destination for all.
This article was brought to you by Bintan Resorts.