Asia's highly anticipated food and wine festival returns for its 22nd year with gourmet affairs, masterclasses, exclusive WGS menus, and more.
There're no qualms about Asia's burgeoning food scene—marked by Michelin-starred establishments, mouthwatering street food, and gastronomy fairs.
But for true blue gourmands, World Gourmet Summit (WGS) is the crème de la crème.
From April 2 to 29 this year, Asia's most highly anticipated food and wine festival returns for its 22nd year running with gourmet affairs, masterclasses, events, and exclusive WGS menus at award-winning dining establishments in Singapore.
Themed "The Discovery WGS", the festival will whisk diners off the beaten track and allow them to experience some of the world's lesser known and exciting cuisines, presented by a stellar line-up of culinary stars representing countries from Asia, Eastern and Central Europe, and America.
If you're feeling spoilt for choice, here are six not to be missed events: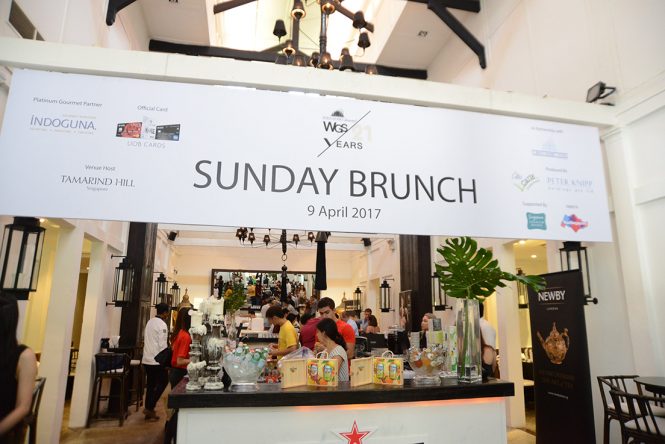 1. WGS The Discovery Brunch
Where: Tamarind Hill
When: 8 April
The best in the F&B industry comes together for one of the biggest gourmet parties of the year in a highly anticipated Sunday brunch. This is an affair for the most discerning of food lovers, with world-class cuisines and beverages in the spotlight.
2. Hommage à Paul Bocuse with Julien Royer
Where: Odette
When: 11 April
For another year running, one of Singapore's most acclaimed chefs, Julien Royer, brings his deep knowledge of his native cuisine to the table in a comprehensive heritage dinner served on his home turf, Odette. Diners are in for an exquisite exploration of French cuisine.
3. UNGA Event
Where: CHIJMES
When: 15 April

Following the resounding success of last year's inaugural UNGA event, this year's event will turn the cluster of restaurants and bars into a gourmet marketplace. Up to 40 stations will be manned by top experts to share information on products on offer. An excellent outing for foodies and families alike, UNGA promises to be a deliciously memorable experience.
4. The Hungarian Tasting Table
Where: La Brasserie, The Fullerton Bay Hotel
When: 16 April
This unique Hungarian dining experience is presented by Chef Péter Szabó of Budapest's highly acclaimed La Parilla. Chef Szabó is known for crafting dishes that are considered art on the plate and made from lesser-known ingredients. Diners are in for an unforgettable culinary experience with the robust flavors of Hungarian cuisine.
5. Poland Finest Gastro-journey
Where: Wooloomooloo Steakhouse
When: 17 April 

Enter Artur Moroz, one of Poland's top chefs and owner of Bulaj, a restaurant located on the idyllic seaside of Sopot. A supporter of the "Slow Food" movement, Mr. Moroz fervently believes in sourcing ingredients from local suppliers and promoting healthy living through his food. Diners can expect to enjoy an exploration of Polish culinary culture through one of its most ubiquitous staples: geese.
6. Culinary Masterclass & Luncheon feat. Kevin Thornton
Where: Miele
When: 17 April
Irish celebrity chef, television personality, and author Kevin Thornton will be here to share his vast culinary expertise. Diners ought to be prepared to push their taste experience beyond the walls of the restaurant in this masterclass and luncheon that promises to be nothing less than deliciously entertaining.
DestinAsian is a media partner of World Gourmet Summit.