A look at the science behind nature's greatest light show and how to boost your chances of seeing it.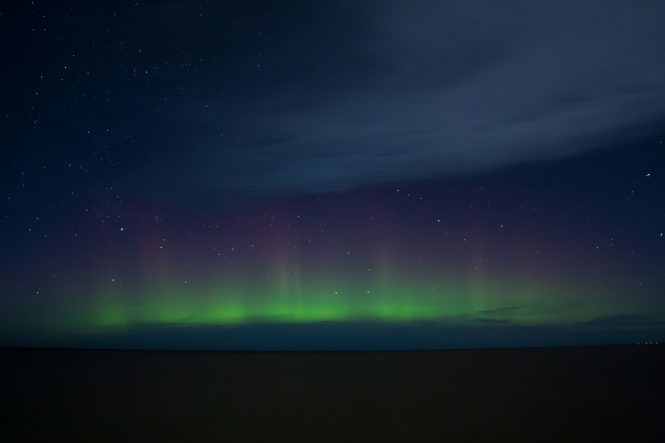 The Northern Lights have fascinated us since time immemorial. According to the traditional beliefs of native Alaskans, the shimmering colors above them in the winter sky are dancing ancestors; if you listen carefully, they say, you can hear them singing. Swedes once thought the phenomenon represented celestial shoals of fish, while Norse mythology associated it with Bifröst, the rainbow bridge connecting the realm of man and of gods. The scientific explanation of the aurora borealis, as the lights are also known, is no less fantastical.
"They are storms from the sun that take roughly two days to reach Earth and interact with our planet's magnetic fields and its atmosphere," says Neal Brown, a former NASA scientist based in Fairbanks, Alaska. "The solar storm is guided in along the magnetic field lines to give an electrical discharge, a bit like a neon sign, with the molecules and atoms in the earth's atmosphere. So, we see greens, blues, and reds."
Like a wilderness safari, a trip to see the Northern Lights is increasingly making an appearance on the must-do lists of adventurous travelers. But just as there is never a guarantee of seeing lions or rhinos on a safari in Africa, there's no 100 percent assurance of spotting the aurora above the arctic tundra of Alaska, Canada, or Scandinavia.
However, improving your odds can be relatively straightforward. Start off by setting aside more time to see the aurora. Go for just one night and clouds might block your view, but stay for three and you'll have a better chance of having at least one unobscured night.
Another factor to think about is the changeable weather conditions where the land and sea interact. "I would recommend a location where there is a stable inland climate. So in the United States somewhere like Fairbanks in Alaska and in Norway a place like Alta," says Fred Sigernes from the University Centre in Svalbard, Norway. "Or take a boat trip and hunt for clear skies at sea."
Then there's the issue of when to go. The Northern Lights are always "on," but you'll only see them at certain times of year when it's dark enough, with the sun at least ten degrees below the horizon. Late August to early April is a good window, but within that frame there are periods of heightened activity, particularly the equinoxes in spring (March) and fall (September).
According to Sævar Helgi Bragason, an Icelandic astron-omy educator based in Reykjavik, the best time of night to see the aurora borealis is around 11 p.m. "The reason is that it is close to magnetic midnight, which means that we are tilting toward the magnetic tail of the Earth's magnetosphere. That's when the particles from the solar wind come streaming in toward the poles. But of course, it can appear right when it gets dark and later in the night too."
Even in winter, any city with light pollution from street lamps is going to hamper viewing, so try and get out into the countryside where it's really dark. From Tromsø in northern Norway, a number of boat operators will take you out to sea, while the Norwegian ferry company Hurtigruten runs 12-day aurora cruises in the winter season, when you might glimpse the lights as well as orcas and humpback whales at the same time. In Finnish Lapland, you can sleep under the stars in a glass igloo near Rovaniemi. And just over an hour's drive from Fairbanks, Alaska, Chena Hot Springs Resort allows you to poach away in a Jacuzzi while the aurora plays overhead.
Experts caution against following the oft-talked-about 11-year solar cycle, with peaks and troughs of aurora viewing: in theory, good viewing years and bad viewing years. While it's true that there is statistical evidence to show highs and lows over an 11- to 12-year period, in reality it's the difference between "excellent" and "good" rather than "good" and "bad." Bragason says it's a common misconception that the aurora disappears during low activity: "You hear things like 'last chance to see the Northern Lights,' which is just plain wrong."
But you could still travel all that way and not see anything. So to avoid disappointment, perhaps the best approach is to look at Northern Lights viewing as a bonus on an otherwise already satisfying winter holiday. Focus on the bigger picture and appreciate what's already there: a crisp, clear dark night sky is amazing in its own right, whether or not the aurora borealis makes an appearance. For those of us living in heavily light-polluted cities, the sight of the stars and the Milky Way revealed in all their glory is still hauntingly beautiful.
This article originally appeared in the December 2017/January 2018 print issue of DestinAsian magazine ("With Flying Colors").