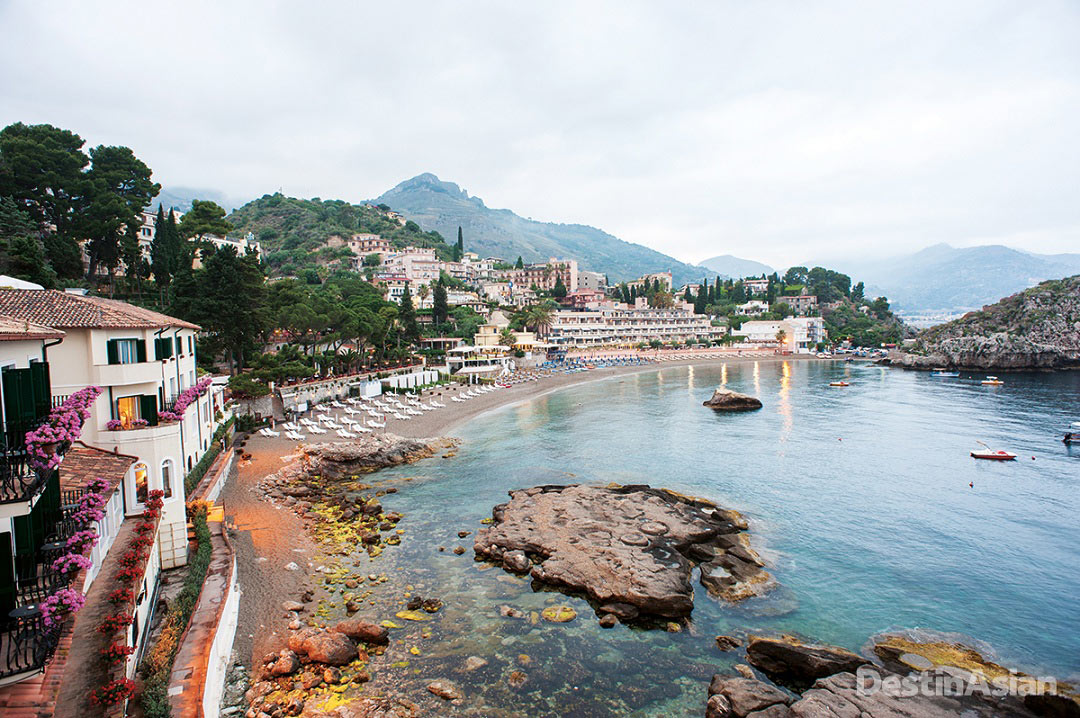 Braving the roads of this ancient Mediterranean island is well worth the effort, especially when the itinerary includes a clutch of small, stylish hotels that steer guests toward some of Sicily's best food and wine.
Looming above Sicily's east coast, Mount Etna has erupted more than 200 times since records started in 1500 B.C., making it one of the most active volcanoes on earth. Classical mythology holds that this is the work of Typhon, the father of all monsters, who was entombed under the mountain by Zeus and forever left to menace the world with regular outpourings of fire and ash. The latest eruption, a short but spectacular outburst of lava, occurred in May. But it's an explosion of a very different sort that has brought me and my husband to Etna's slopes at the start of this weeklong Sicilian road trip. Boutique winemaking is booming on Italy's largest island, and perhaps nowhere more so than right here on this volcano.
Our guide is Alessandro Pugliese, the enthusiastic sommelier at the Belmond Villa Sant'Andrea, a swanky seaside hotel below the medieval town of Taormina. Originally from Calabria, Pugliese became love-struck with Sicilian wines after discovering the coterie of winemakers that had turned away from the mass-produced plonk the island is known for in favor of crafting artisanal reds and whites from native grapes. He showcases these at the Sant'Andrea, but for a first-hand experience, Pugliese has brought us to Etna's northern flank to visit the Graci estate, whose ungrafted vines and old stone warehouse lay abandoned before banker-turned-vintner Alberto Graci bought the property in 2004. Planted on rich black volcanic soil between 600 and 1,000 meters
above sea level, the vineyards here grow only endemic grape varieties: Nerello Mascalese, Carricante, and Catarratto. Graci's 2013 Arcuria, a white wine made from a blend of the latter two, is all mineral notes and honeysuckle, but it's no match for the 2009 vintage that the winery generously opens for us—they only have 20 bottles left.
That evening at Villa Sant'Andrea's candlelit seaside restaurant, dinner is paired with more unique Sicilian wines. First up is a crisp white from Pantelleria, a tiny Italian island between here and Tunisia that is so windy viticulturists have to dig trenches so the vines don't fly away. Then comes a Marsala from the legendary Marco De Bartoli winery in the west. Fortified, Marsala wines are usually sweet. This one is anything but; dry and astringent, it is a perfect match for the grouper carpaccio and paper-thin slivers of salty lard that emerge from the kitchen.
Our next hotel is a half-hour drive away along narrow country roads that skirt Sicily's east coast. On one side is the dazzling blue of the Mediterranean; on the other, Etna broods under wisps of cloud. Sitting plump on the volcano's lower slopes near the town of Zafferana Etnea is Monaci delle Terre Nere, an agriturismo (farm that takes guests) with 16 hectares of olive
groves and citrus trees and vineyards, as well as 20 stylishly furnished guest rooms tucked into 
the estate's salmon-hued 19th-century villa and outbuildings. But the main reason we chose Monaci (as with all the hotels on our itinerary)was for its unique insight into Sicilian traditions. Here, that means a cooking class with one of the hotel's chefs, who shows us how to make  pasta and bread with timilia, an ancient wheat variety that fell into obscurity with the rise of processed flour in Sicily. Supplemented by herbs from the kitchen's organic farm, the results are fragrant and delicious, even if my arms throb afterward from all the kneading.
It must be said: Sicily's notorious and no-apparent-speed-limit roads, more often than not incongruously signposted, don't exactly scream "relaxed driving holiday." But nor is there a viable or affordable alternative to seeing the island. It is with this in mind that we use Monaci's proximity to Etna and the relatively subdued switchback road that crosses the volcano's southeastern slopes for some driving practice. Midway up we stop to stretch our legs. While it is possible to trek or catch a cable car 
to the upper crater zone and peek into Etna's blazing red belly, we're content to admire the arid, ocher moonscape on the mountain's flanks, where a succession of cinder cones dot the otherworldly terrain.
There are countless reasons to brave the roads that lead to Modica, our next stop. A Baroque gem hugging a steep-sided ravine, the town offers an extraordinary setting as well as stunning local food. There's also Casa Talía, a group of once-abandoned stone houses in Modica's old Jewish quarter that Milanese architect Marco Giunta discovered while on holiday here in 2001. Deciding to convert them into a boutique hotel, he and his wife Viviana Haddad (also an architect) quit their jobs and began the painstaking process of restoring the ancient dwellings, which are arranged around a Mediterranean garden. Now chicly furnished, each of the 10 rooms has retained its original stone walls, while bamboo ceilings and hand-painted tile floors nod to Sicily's North African influences. But it is the views of Modica's historic center from our terrace that take the cake: a labyrinth of cobbled lanes, dust-colored villas, piazzas, and the noble cathedrals of St. George and St. Peter.
From Modica, it is an hour's drive to Noto, 
the grandest of southeast Sicily's eight UNESCO-
listed Baroque towns. Giunta suggests we take
the "old road," and I'm glad we heed his advice. The quiet rural lane winds through a pastoral countryside of olive groves and wheat fields framed by adorable drystone walls.
They say there are two things you should never do when hiring a car in Sicily: one, agree to a size upgrade; and two, choose a vehicle that is shiny and scratch-free. Not knowing this at the time, we did both. Rebuilt after a massive earthquake in 1693, Noto was never designed to accommodate vehicles, especially not our Fiat 500, a veritable tank by Italian standards. The town is a complex maze of one-way streets and insanely tight corners where many an unwary driver has left paint on the walls. And then there's the 10-point turn we have to execute to get into the courtyard of Seven Rooms Villadorata, our home for the night.
Noto's most stunning hotel occupies the southern wing of the Nicolaci Palace, built in the 18th century by a local tuna magnate. Dilapidated, the palazzo had no running water or electricity when Cristina Summa, a former tourism official who spent her childhood summers at her grandmother's house in Noto, took it over in the late 1990s. There are now seven spacious guest rooms with tile floors, wrought-iron balconies, and exotic tapestries, as well as a breezy breakfast terrace with views that sweep over Noto's church towers all the way to the sea. Manna, the delightful ground-floor restaurant, serves an all-star lineup of premium Sicilian ingredients in gorgeous dishes like lamb couscous and bread crisps with aubergine cream and mackerel fillet. And the communal drawing and reading rooms—plus a kitchen stocked with complimentary minibar items—make it feel like you're staying in the apartment of a wealthy friend, which was Summa's aim. "We want our guests to experience a modern-day version of the Grand Tour," she says.
The next day, our trusty, still-scratch-free Fiat brings us to Agrigento and our last stop, the 200-hectare olive, almond, and wheat farm Azienda Agricola Mandranova. One of Sicily's most loved agriturismo hotels, Mandranova was never intended to be for tourists; rather, they became an economic necessity while Giuseppe di Vincenzo set about making "the best olive oil in the world."
Leaving a successful banking career in 
Milan, di Vincenzo returned to Sicily in 1995 to revive his family's farm, a sprawling property of rolling hills and ancient stone buildings that sits beside the roar of a busy highway. Throwing out the rule book, along with many unproductive trees, he sought to understand the true essence of olive oil—and how, through heat, sunlight, chemical extraction, and the time between the harvest and press, most of what we buy in the supermarket is actually rancid. It is this story that di Vincenzo tells guests on daily tours, weaving in more than a few anecdotes and theatrics along the way.
Pleasures abound at Mandranova: lounging by the cactus-lined swimming pool; sampling the blood-red fruits of a century-old mulberry tree; partaking in boozy, convivial communal dinners. But tasting the farm's rich and herbaceous olive oils, their flavors pure and unadulterated, might just be worth a visit in itself.
"Complex, cultured, deep—this is the oil of the gods," di Vincenzo tells me over the din of traffic. "Sicily all summed up."
THE DETAILS
Getting There
The main airport in eastern Sicily is at Catania, with regular services from Rome and other European cities. Both Hertz and Avis have rental counters at the airport.
Where to Stay
Azienda Agricola Mandranova
Palma di Montechiaro; 39/393-986-2169; doubles from US$135.
Belmond Villa Sant'Andrea
137 Via Nazionale, Taormina Mare; 39-942/627-1200; doubles from US$432.
Casa Talía
1/9 Via Exaudinos, Modica; 39-932/752-075; doubles from $168.
Seven Rooms Villadorata
53 Via C.B. di Cavour, Noto; 39-931/835-575; doubles from US$214.
The remaining hotels can be booked via U.K.-based Mr & Mrs Smith, which offers small treats like bottles of wine and olive oil with each stay. Rooms at Monaci delle Terre Nere start from US$158; Casa Talía from US$158; Seven Rooms Villadorata from US$201 and Azienda Agricola Mandranova from $127. See mrandmrssmith.com
This article originally appeared in the October/November print issue of DestinAsian magazine ("On a Sicilian Spin").