The plant is utilized in everything from essential oils and balms to traditional herbal compresses.
Rich in antioxidants and anti-inflammatory compounds, and long harnessed in Asia for its healing properties, cannabis has returned to forefront of alternative therapies in Thailand thanks to the recent decriminalization of certain parts of the plant. Guests at selected Anantara properties around the kingdom will soon get to enjoy a series of brand-new spa treatments that showcase its myriad benefits from calming the mind to pain relief.
Ideal for jetlagged travelers, the 90-minute Restful Slumber Journey is a wind-down treatment that begins with a soak in a cannabis salt bath. Tired limbs are then kneaded in a full-body massage using either cannabis-lavender oil to reduce redness and puffiness or cannabis-rice milk to improve skin elasticity and moisture retention. The treatment ends with a cup of cannabis tea to relax the mind and body, preparing guests for a good night's sleep.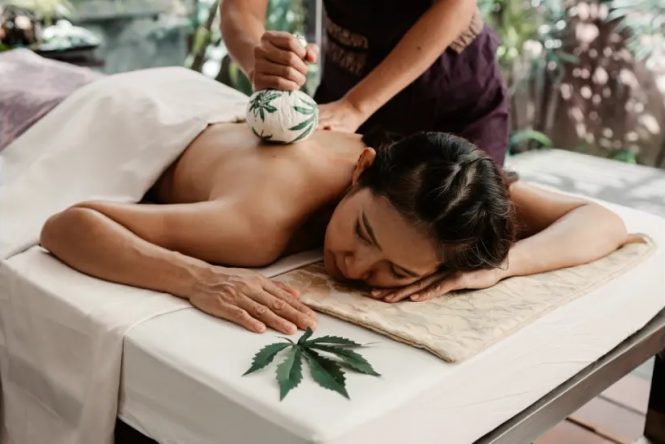 Meanwhile, the Cannabis Stress-Release Journey promises to relieve back and neck pain using cannabis in the form of herbal and essential oil. Therapists use a cannabis-infused Thai herbal compress ball (luk pra kob) to tackle muscle knots and tension along the spine, inducing deep relaxation while improving the spa-goer's postural alignment and blood circulation.
The final option is the Head to Toe Calming Journey, recommended after a long day of sightseeing or a vigorous Muay Thai session. Beginning with a cannabis foot soak ritual to combat swelling and water retention, the treatment progresses to a scalp massage with cannabis-infused coconut oil to release tension. Foot reflexology is combined with cannabis balm, traditionally used by Thais to reduce congestion and muscle tension, to relieve deeper pains and repair damaged skin.
The new menu of cannabis spa treatments will be available at several Anantara Spas across Thailand, including those at Anantara Siam Bangkok Hotel, Anantara Riverside Bangkok Resort, Anantara Chiang Mai Hotel, and Anantara Bophut Koh Samui Resort.
More information here.