Featuring hotel-grade facilities and recreational spaces, these serviced residences offer a delightful base for guests of all ages in two of Asia's most exciting cities.
Oakwood Residence Hanoi
Business and leisure travelers bound for Vietnam's buzzing capital will find a blissful sanctuary at Oakwood Residence Hanoi. Situated in the affluent West Lake (Tay Ho) District, the property puts you close to the excitement of the big city when you want it, but also feels suburban enough so you can relax in peace when you don't.
With 262 elegantly furnished serviced apartments, the residence caters to relocating expatriates, independent travelers, as well as multi-generational families, whether they are seeking short or long stays. It offers a safe environment with full service, where guests' needs will be anticipated with friendly familiarity. Planned activities help residents of all ages engage with the local culture. The property's extensive range of facilities include an inviting residents' lounge, a restaurant and bar, fitness center, children's play area, as well as Hanoi's very first all-season infinity pool fitted with a retractable glass roof.
In the guest apartments, each unit comes with a fully equipped kitchen, washer and dryer, high-speed internet, and the amenities one would expect of a hotel. Guests can also take advantage of services including round-the-clock guest relations and security, housekeeping, laundry and dry-cleaning services, as well as activity programs to help residents integrate into their new environment and community.
If you're heading to Hanoi in the next few months, the Advance Purchase Offer at Oakwood Residence Hanoi promises up to 42 percent off Best Flexible Rates when booking 14 days in advance, with perks such as complimentary breakfast, early check-in, and late checkout.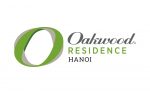 Oakwood Residence Saigon
Situated in Ho Chi Minh City's District 7, amid the fast-growing new urban center of Phu My Hung, Oakwood Residence Saigon stands out for its fully furnished serviced apartments with thoughtful amenities. The pet-friendly residence comprises 237 elegant units ranging from studios to three-bedroom apartments, perfectly suited to business executives staying for several months, travelers on a solo trip, or those on a family break with their four-legged companions. Each apartment is equipped with features such as a washing machine and dryer, fully stocked Western kitchens, and entertainment systems, while hotel services range from housekeeping to 24-hour customer care and security. Residents can rest easy knowing that Oakwood Residence Saigon maintains the highest standards of safety and cleanliness in accordance with the Oakwood Clean360 program.
And there are plenty of ways to unwind without leaving the property. A large outdoor swimming pool and separate children's pool allow guests to cool off during the day, while a barbecue area is just the place for friends and families to gather. Furthermore, whether burning calories or savoring a good book, a stay at Oakwood Residence Saigon doesn't mean breaking everyday routines, thanks to its state-of-the-art fitness center and a spacious lounge.
Short-term guests and long-stay residents will find a vibrant neighborhood right on their doorstep. Phu My Hung offers a wealth of dining options, as well as unique coffee shops, bars, and boutiques catering to an interesting mix of locals and expats that is rarely found elsewhere in the city. Oakwood Residence Saigon also promises easy access to the CBD and the city's most popular attractions, making for a convenient yet supremely comfortable stay in the commercial heart of Vietnam. Better yet, unmissable perks await those who book the newly launched Save for Safe Travel offer.