Limited-edition products include a bomber jacket and tote and duffel bags, all with a vintage look.
Indonesia's 76th Independence Day celebrations may already have passed, but residents of the country can still mark the occasion thanks to a collaboration between flag carrier Garuda Indonesia and Jakarta-based fashion and lifestyle retailer The Goods Dept. The tie-up has seen the launch of a special collection of wearables and accessories in a vintage style adorned with the Garuda Indonesia logo used from 1970–1985, when the national airline was branded Garuda Indonesian Airways.
In a statement, Garuda Indonesia's President Director Irfan Setiaputra said he hoped these items could instill a spirit of nationalism while inspiring Indonesian makers to create their best work. Anton Wirjono, the Founder and CEO of The Goods Dept, added that The Goods Dept and Garuda Indonesia shared a commitment to showcase high-quality local products made by Indonesians.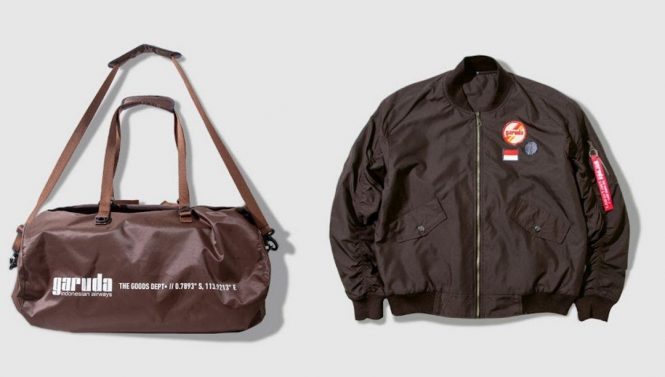 The most eye-catching piece of merchandise is a unisex bomber jacket decorated with emblems on the front (including an Indonesian flag and a Garuda logo in the original orange and red color scheme) and a flight tag on the left sleeve. Other limited-edition items on offer include a tote bag in two different models and colors, a brown duffel bag, and keychain tags. All are available for purchase online via the website of The Goods Dept and GarudaShop.
It's not known if inventory will be added when all the products are sold out, though this could be an alternative source of revenue for the ailing carrier, which faces a complete restructuring in the months ahead. Top officials at Garuda have previously outlined commitments to downsize its fleet by 50 percent and cut all but the most profitable international routes, in line with the central government's wishes to focus on domestic passenger services and cargo operations.