Above: The Mo Chu river dissects the Punakha Valley.
The 29-room Uma by Como, Paro, in Bhutan has been a firm favorite of visitors to the mountainous kingdom—and the September 15 opening of Uma by Como, Punakha, a sister property towards the head of the Punakha valley, should be good news to both returning guests and new visitors.
Designed by Cheong Yew Kuan, the creative force behind the Shambhala Estate and Como Uma in Ubud, Uma Punakha is a continuation of his previous themes—natural light floods interiors that have been designed with nuance, simplicity, and a measured sense of their surroundings. Over-sized beds and wood-burning stoves punctuate the lodge's neutral tones and hand-painted Bhutanese wall designs.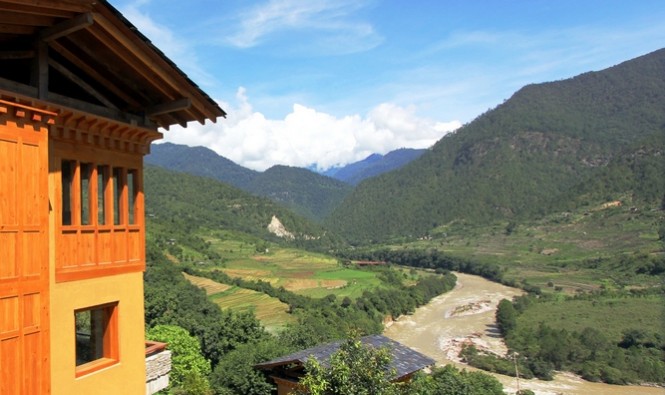 The road up to the lodge may be long and winding, but it is rewarding. A bird's eye view of the valley below awaits—terraced fields fan out around glacial melt at the confluence of the Mo Chu and Po Chu rivers.
Uma Punakha's open-plan restaurant, Bukhari, will showcase local and seasonal ingredients alongside Bhutanese delicacies, while the lodge will also have a Shambhala Retreat, with one treatment room featuring a traditional Bhutanese hot stone bath.