The Doha-based carrier is now aiming to serve 52 destinations by the end of May, with that number rising to 80 by late June.
In line with passenger demand and the expected relaxation of entry restrictions around the world, Qatar Airways has announced the gradual reintroduction of suspended routes on five continents over the next two months.
The leading Gulf carrier is banking on an expected rebound in short-haul travel, the gradual resumption of business trips between major global cities, and pent-up demand to visit family and friends overseas after months of lockdowns. According to an official statement, Qatar Airways will focus initially on strengthening connections between its hub in Doha with the global hubs of its partner airlines around the world, including London, Chicago, Dallas, and Hong Kong. Routes to major business and leisure destinations such as Madrid and Mumbai will be added as entry restrictions are lifted in their respective countries.
By the end of May, the airline plans to grow its network back to over 50 destinations, resuming services to cities such as Manila, Amman, and Nairobi. A further expansion is set to take place by the end of June, with the aim of having 80 scheduled destinations across Europe, the Americas, the Middle East and Africa, and the Asia-Pacific region. The statement goes on to say that "many cities will be served with a strong schedule with daily or more frequencies."
Qatar Airways has maintained flights to at least 30 destinations globally throughout the coronavirus crisis, getting more than one million travelers home through Doha while transporting 100,000 tonnes of aid and medical supplies to especially affected regions. The latest information on service alterations and operational routes can be viewed on the airline's Covid-19 travel alert.
Scroll down for the full list of destinations Qatar Airways is planning to operate by the end of June, subject to regulatory approval:
Africa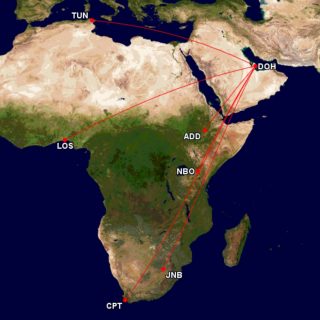 Addis Ababa (ADD)
Cape Town (CPT)
Johannesburg (JNB)
Lagos (LOS)
Nairobi (NBO)
Tunis (TUN)
Americas
Chicago (ORD)
Dallas (DFW)
Montreal (YUL)
São Paulo (GRU)
Asia-Pacific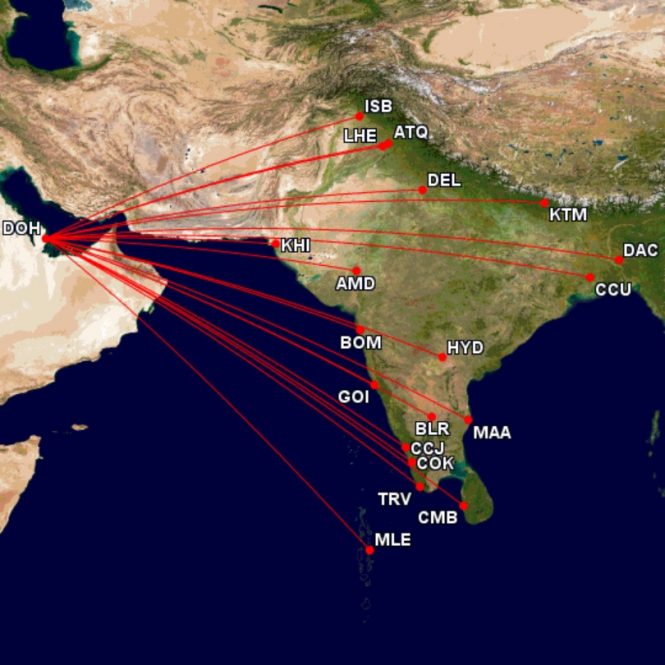 South Asia
Ahmedabad (AMD)
Amritsar (ATQ)
Bangalore (BLR)
Calicut (CCJ)
Chennai (MAA)
Colombo (CMB)
Dhaka (DAC)
Goa (GOI)
Hyderabad (HYD)
Islamabad (ISB)
Karachi (KHI)
Kathmandu (KTM))
Kochi (COK)
Kolkata (CCU)
Lahore (LHE)
Male (MLE)
Mumbai (BOM)
New Delhi (DEL)
Trivandrum (TRV)
East Asia, Southeast Asia, and Australia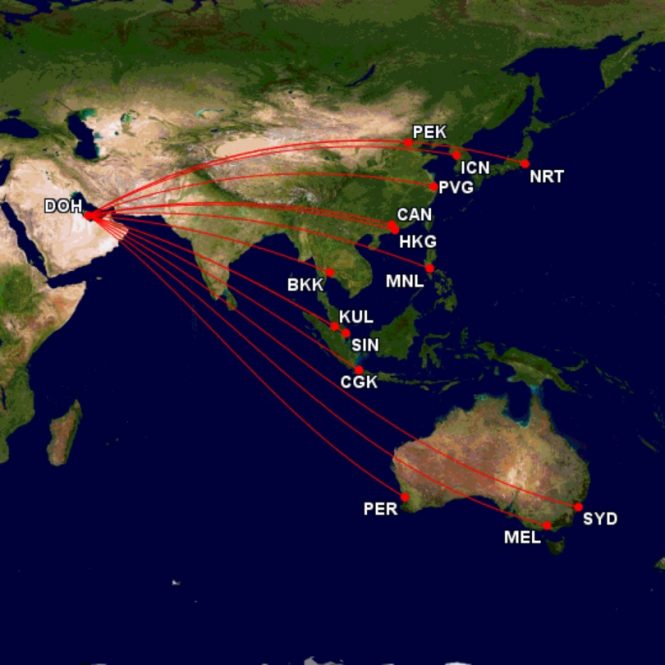 Bangkok (BKK)
Beijing (PEK)
Guangzhou (CAN)
Hong Kong (HKG)
Jakarta (CGK)
Kuala Lumpur (KUL)
Manila (MNL)
Melbourne (MEL)
Perth (PER)
Seoul (ICN)
Shanghai (PVG)
Singapore (SIN)
Sydney (SYD)
Tokyo (NRT)
Europe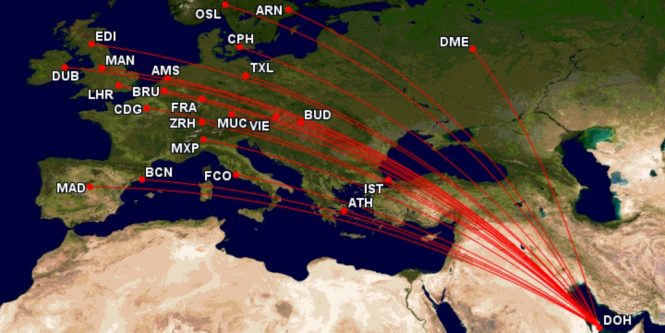 Amsterdam (AMS)
Athens (ATH)
Barcelona (BCN)
Berlin (TXL)
Brussels (BRU)
Budapest (BUD)
Copenhagen (CPH)
Dublin (DUB)
Edinburgh (EDI)
Frankfurt (FRA)
Istanbul (IST)
London (LHR)
Madrid (MAD)
Manchester (MAN)
Milan (MXP)
Moscow (DME)
Munich (MUC)
Oslo (OSL)
Paris (CDG)
Rome (FCO)
Stockholm (ARN)
Vienna (VIE)
Zurich (ZRH)
Middle East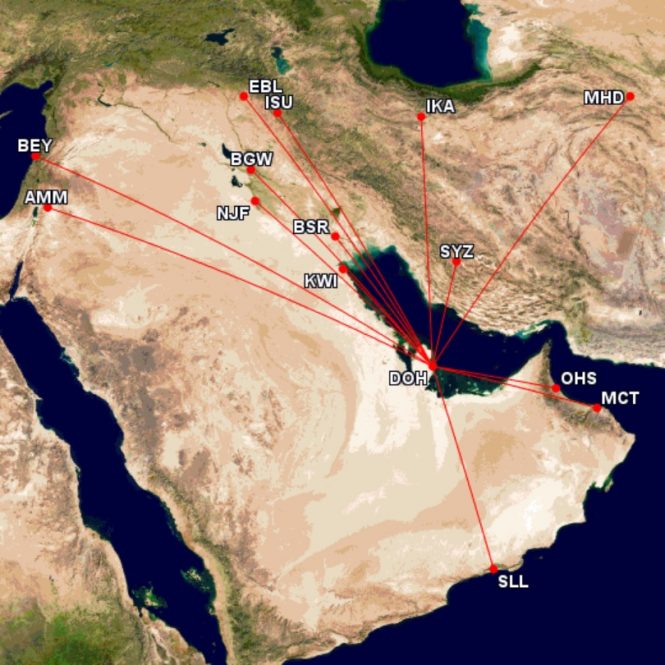 Amman (AMM)
Baghdad (BGW)
Basra (BSR)
Beirut (BEY)
Erbil (EBL)
Kuwait (KWI)
Mashhad (MHD)
Muscat (MCT)
Najaf (NJF)
Salalah (SLL)
Shiraz (SYZ)
Sohar (OHS)
Sulaymaniyah (ISU)
Tehran (IKA)