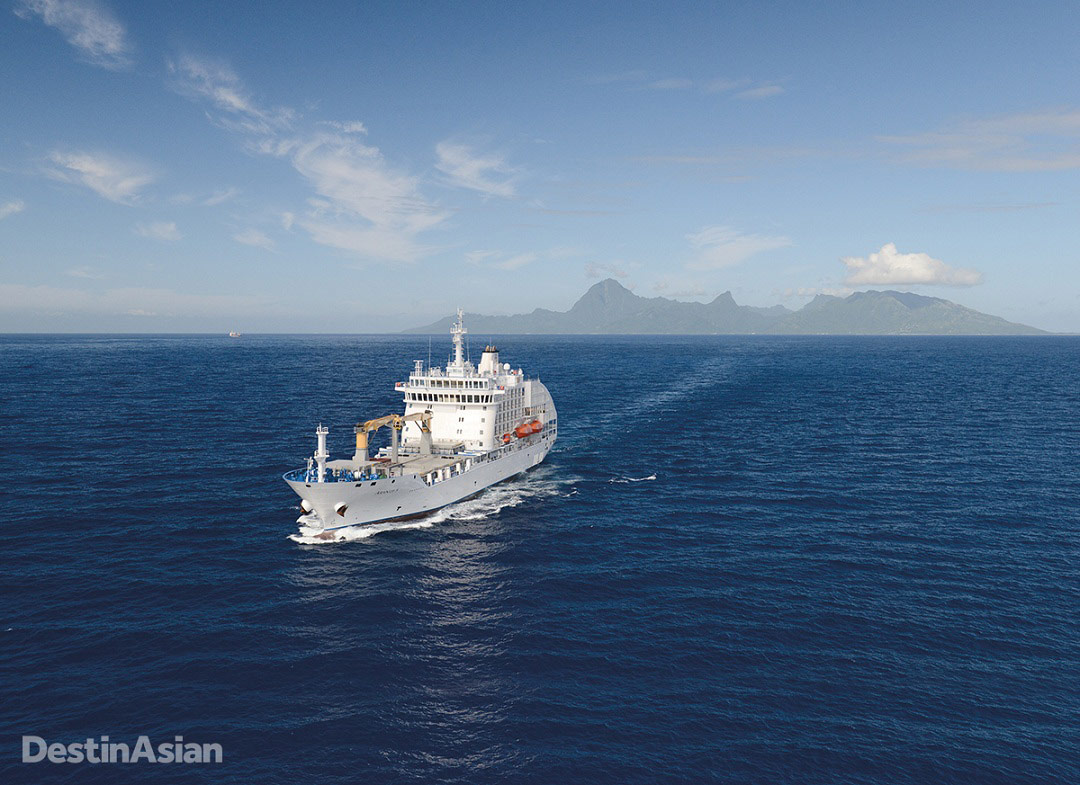 Carrying cargo and passengers across the watery expanse of French Polynesia, the Aranui 5 is the latest in a line of ships to provide a low-key sojourn through the Marquesas Islands.
"Very fierce" is how Mahalo Pahuatini, a muscled 61-year-old mariner covered head to toe in tattoos, describes the conditions aboard the original Aranui, an old German-built freighter converted into a cargo-cruiser to run supplies and intrepid passengers from Papeete to the Marquesas. That was more than 30 years ago. How times have changed.
Owned by the Chinese-Tahitian Wong family, whose Compagnie Polynesienne de Transport Maritime has run ships in these waters for three generations, the version of the Aranui that I'm on—Aranui 5—is a real treat. It's not over-the-top luxurious, but it's certainly no scow, with more cabins (103) and facilities (including four bars and an inviting outdoor swimming pool) than any of its predecessors, not to mention expert lecturers who edify passengers during the 14-day voyage.
Mind you, the real reason to join this cruise is the rich culture and traditions of the Marquesas, and the intimate connection the ship affords with the local communities. From Papeete, the capital of French Polynesia, Aranui 5 sails for 1,300 kilometers via the low-lying Tuamotus to reach the Marquesas' six inhabited islands, bringing with it the trappings of modern life, from imported foods to fridges, cars, and even speedboats. On the return journey it picks up sacks of copra, citrus fruit, fish, and barrels of noni fruit before steaming back to Papeete via Rangiroa Atoll and Bora Bora. Over the years, the various Aranuis have become the archipelago's main transportation and economic link. It's a 
fitting role for a ship whose name means "the Big Highway."
Our first Marquesan landfall is Nuku Hiva, Mahalo's home island and the place where Herman Melville jumped ship as a young whaler in 1842. In his first novel, Typee, Melville wrote of Taiohae Bay: "No description can do justice to its beauty … an expanse of water not unlike in figure the space included within the limits of a horse-shoe." This remains true today; no high-rises or luxury resorts mar the Marquesas, where, Melville waxed poetic, "Perpetual hilarity reign[ed] … There seemed to be no cares, griefs, troubles, or vexations."
Yet this idyllic outpost of South Seas serenity wasn't always so tranquil—from their first contact with Europeans, when up to 200 Marquesans were killed by Spanish explorer Álvaro de Mendaña in 1595, the islands were on a collision course with the West. In 1842 they were forcibly annexed by French Admiral Dupetit-Thouars; depopulation due to war and diseases ensued, with Marquesans declining from 80,000 to 2,000 inhabitants by the early 20th century. Along with conversion to Christianity, colonialism threatened to eradicate the local culture.
However, today's 8,000-plus Marquesans have managed to safeguard their traditions in spite of foreign interlopers and the influence of the West. Singer, dancer, and choreographer Rataro Ohotoua, who composed and performed Survivor Marquesas' music, is a central figure in the islands' vibrant renaissance.
His home base—and my second Marquesan port-of-call—is Ua Pou, "the Pillars," referring to the isle's dramatic basalt peaks. Robert Louis Stevenson once described those towering above Hakahau Bay as "pinnacles of some ornate and monstrous church" that "stood there, in the sparkling brightness of the morning, the fit signboard of a world of wonders."
Once ashore, I find Rataro at a canoe-house on the black-sand beach, teaching a group of elementary through high school students. Like a coach prepping for the big game, he stands before a chalkboard, marking diagrams and demonstrating paddling techniques for an upcoming inter-island competition. After class boys and girls carry single-hulled and double-hulled canoes to the bay and skillfully paddle out, like their island-hopping ancestors before them.
"The territorial government hires me to teach paddling so our youth do not steal or murder," Rataro says. After experiencing the traffic jams of Los Angeles and the urban density of Paris while on tour, the paddler-performer has no doubt that he prefers the quiet pleasures of the Marquesas. "I like coconuts, bananas, barbecued fish. Life in Ua Pou goes well. Here, the 
 artist has time for the spirit, for sensation, to appreciate the sky and sun." I learn that he commutes daily to the beach on foot or bicycle from the mountain home he shares with his wife Tanya and their five-year-old daughter.
Rejoining my fellow passengers at Hakahau's Handicraft & Cultural Center, I watch a nearby performance of traditional dancers accompanied by pahu drummers and ukulele players. Females elegantly take flight for a lovely bird dance. Males burst into the pig dance with vigorous, chest thumping movements and deep, throaty utterances; the ensemble is led by a tattooed, war club–wielding youth with bracelets around his biceps, a boar's tooth necklace, and a beaded loincloth.
Once the energetic performance is over, we feast on a Marquesan buffet prepared at Chez Tata Rosalie's restaurant. Tables are laden with poisson cru (raw tuna marinated in lime and coconut milk), roasted pork and fish, shrimp, cooked bananas served with coconut milk, French pastries and more. It is one of several Polynesian banquets served during the voyage, which proves to be as much of a visual feast as a literal one.
On Hiva Oa, Polynesia's largest tiki statues outside Easter Island are found at a temple site near Puamau. But it is the legacy of two storied residents that has a stronger pull on most visitors. In the main village of Atuona, the Gauguin Cultural Center contains faithful reproductions of his oeuvre, along with a reconstruction of his thatched Maison de Jouir ("House of Pleasures"), the final home and studio where he caroused and created. A mannequin in the grounds depicts Gauguin painting above the well where he once cooled absinthe. Nearby, Jojo—Jacques Brel's restored Beechcraft Twin Bonanza—is suspended from a hanger's rafters in a museum dedicated to the Belgian songwriter. Like Gauguin before him, Brel spent much of his final years on Hiva Oa until his death in 1978.
Back on the Big Highway, Mahalo recounts his early life. Growing up on Nuku Hiva, he says, "I was always happy with my grandparents. In the mountains, I'd hunt wild goats to eat. I'd swim in the sea, speargun for fish." But he also felt drawn to the ocean, and eventually found work loading and unloading cargo on the original  Aranui. "I was a crane operator for 25 years. Now, on Aranui 5, I clean, paint …" he adds with a vigorous laugh, "… and looky looky tourists." For Mahalo has captivated many an ocean voyager over the decades—much like the Marquesas themselves.
This article originally appeared in the October/November print issue of DestinAsian magazine ("Making Waves in 
the Marquesas").