Let your taste buds guide the way as you savor these sweet and savory snacks from street vendors.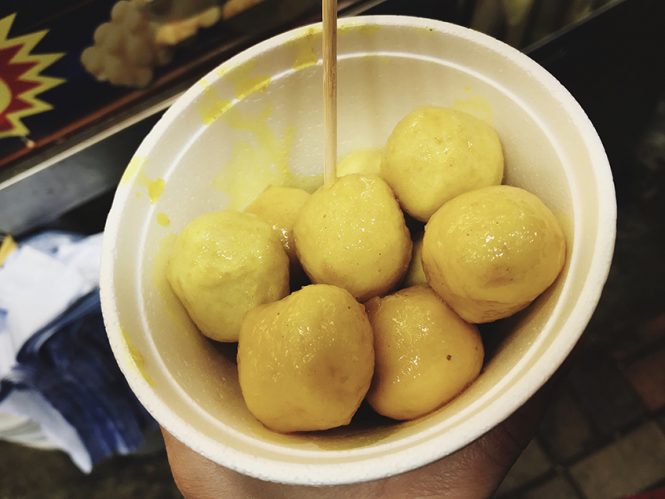 1. Curry Fish Balls
Piping hot and flavorful, skewered curry fish balls are the best way to snack as you navigate the bustling streets of Hong Kong. These golden orbs are made with minced fish meat, deep-fried in hot oil, then boiled in a moreish and spicy curry sauce that's more broth-like than thick.
Our pick: Kai Kei Snack, 41 Dundas Street, Mong Kok
2. Roasted Chestnuts
Let your nose lead the way when it comes to the winter specialty of chestnuts roasted in hot cinders, prepared on the spot from the carts of roadside vendors. Freshly scooped out from enormous cast-iron woks, they're sweet yet crunchy, with whiffs of irresistible fragrance.
Our pick: Street vendors peddling on Temple Street Night Market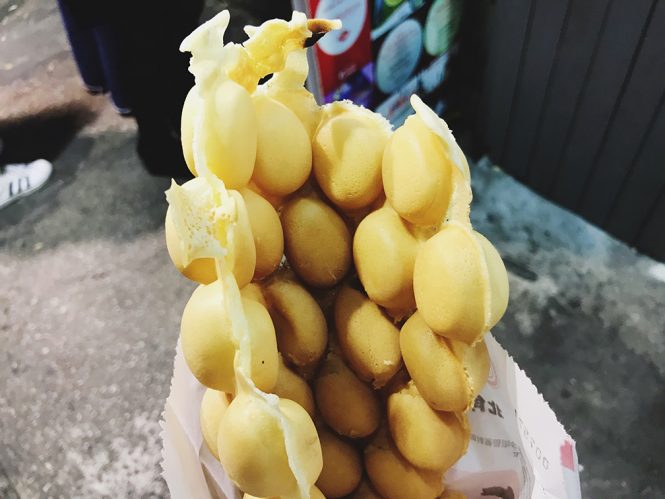 3. Egg Waffles

The traditional egglet or gai dan jai (literally mini chicken eggs) is made from a batter similar to waffles or pancakes, but is delicious all the same. When done right, the "bubbles" are crispy on the outside, with a gooey, eggy, batter-like texture within.
Our pick: Lee Keung Kee North Point Egg Waffles, 178 Nathan Road, Tsim Sha Tsui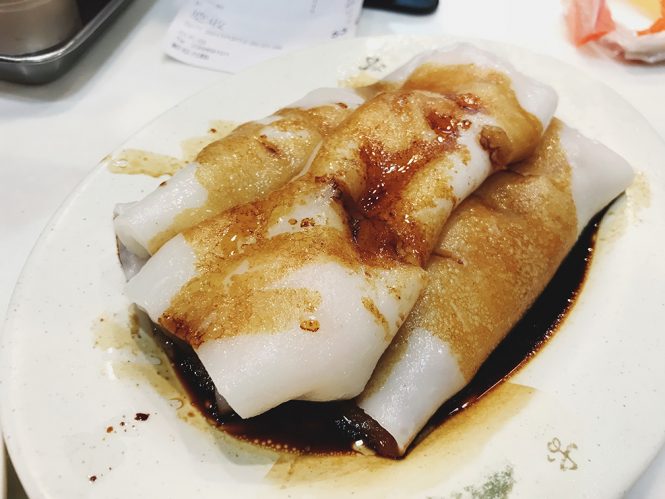 4. Chee Cheong Fun
A perennial favorite at dim sum restaurants and street food stalls, chee cheong fun are sheets of rolled up, silky smooth rice noodles. They can be enjoyed plain with a drizzle of sweet soy sauce or stuffed with fillings like char siu and prawns.
Our pick: Hop Yik Tai Cheung Fun, G/F, 121 Lam Street, Sham Shui Po
5. Pineapple Buns

Served with a slab of cold butter, the pineapple bun (known in local lingo as bor lor bao) is commonly enjoyed for breakfast. For the curious, there's no actual pineapple within—the name references the crisscross-patterned, crunchy, and sugary layer on top of the pillowy soft bun.
Our pick: Kam Wah Café, 47 Bute Street, Mong Kok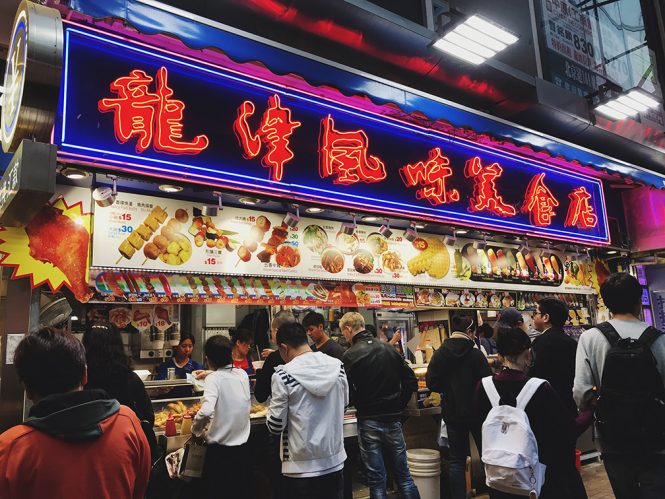 6. Egg Tarts
Egg tarts, with their glistening egg custard filling held together by a flaky crust, are perhaps Hong Kong's most iconic baked treats. These tarts, which can be a wonderful balance of textures, are best enjoyed fresh and warm from the oven.
Our pick: Tai Cheong Bakery, 35 Lyndhurst Terrace, Central
7. Fried Pig Intestines
For most street vendors, skewers of fried pig intestines are often sold alongside the likes of curry fish balls and other deep-fried snacks. As you bite into one, you'll savor the flavorful, bacon-like consistency of the outermost layer, which gives way to more succulent parts within.
Our pick: Ying Heong Yuen, 518 Jaffe Road, East Point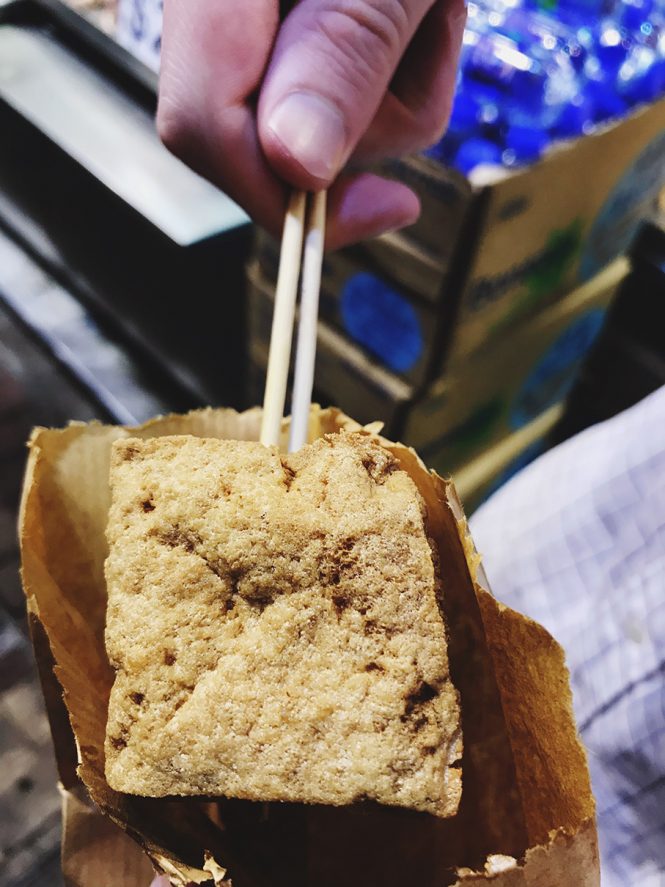 8. Stinky Tofu
When it comes to classic Hong Kong street food, stinky tofu tops the list for its distinctive, pungent smell. Once you've gotten over the scent—a result of being cooked in a mixture of fermented milk, fish, and meat—it's easy to fall in love with the perfectly crunchy and tasty tofu.
Our pick: Delicious Food, Shop 10, G/F, 30-32 Nullah Road, Prince Edward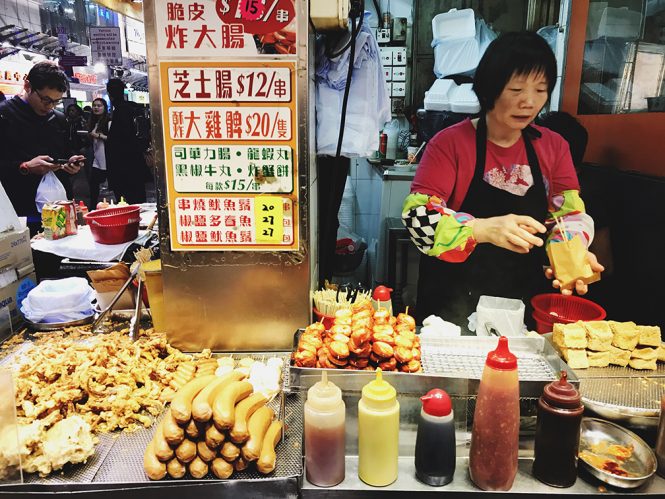 9. Grilled Squid Tentacles
While grilled squid tentacles can be rather chewy and rubbery, they're especially delicious when prepared with sauces like teriyaki, honey, and barbecue. If you're up for it, slather the tentacles with some of the stall's house-made chili sauce and tuck in.
Our pick: Fei Jie, Shop 4A, 55 Dundas Street, Mong Kok
10. Siu Mai
A popular item on most dim sum menus and street food stalls, the siu mai is a traditional steamed pork dumpling that's easily identified by its soft yellow skin. The best ones come in all sorts of variations, with toppings of crab roe, scallops, and prawns.
Our pick: Fai Kee's, 9-17 Tin Lok Lane, Wan Chai