Travelers can expect to be pampered with more legroom, double beds, designer tableware, and more.
Imagine you're staying in a luxurious hotel suite, except it's 40,000 feet in the air and en route to your dream destination.
That's exactly what Singapore Airlines' plush new cabins feel like.
Yesterday, Singapore Airlines (SIA) unveiled spanking new cabins for its Airbus A380 fleet, also its first major interior overhaul of the jumbo jet since 2007.
The new Singapore Airlines A380 will be configured with 471 seats in four classes, featuring six Singapore Airlines Suites and 78 Business Class seats on the upper deck, as well as 44 Premium Economy Class seats and 343 Economy Class seats on the main deck.
With an investment of about US$850 million pumped into the new cabins' research, design, development and installation, the airline looks set to up the ante on redefining premium air travel.
From the coveted Suites to Economy, all classes will see improved amenities and cabin facilities.
Here's a sneak peek of what to expect.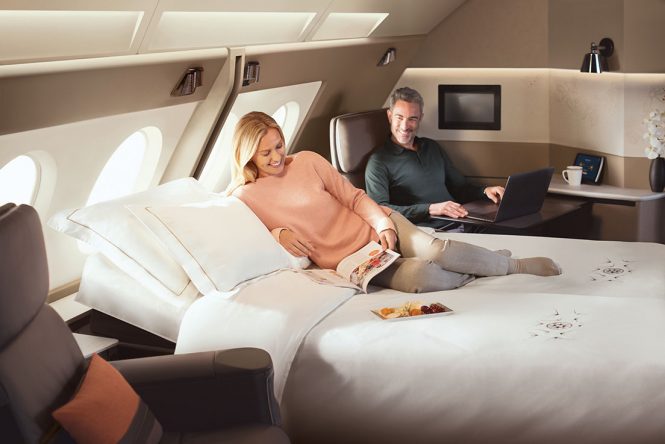 Singapore Airline Suites
The Suites are designed by Pierrejean Design Studio and manufactured by Zodiac Seats UK.
1. Even more exclusivity
With six suites tucked spaciously within the front cabin of the upper deck, travelers can enjoy a greater sense of exclusivity and intimate privacy.
2. Adjustable recline
Bid farewell to getting up and adjusting your seats as the full-flat bed now features adjustable recline, enabling customers to easily switch from lounging comfortably in the chair or resting in bed.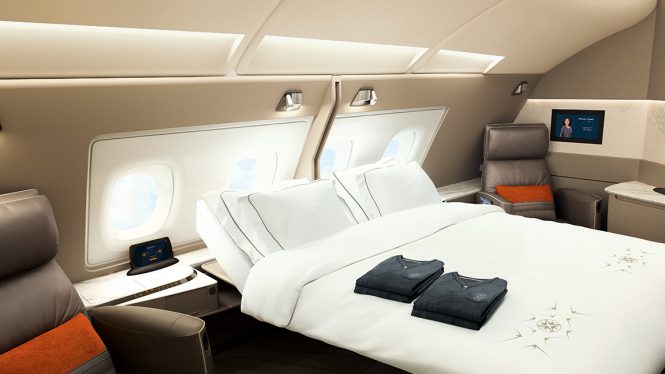 3. Cozy double beds
Traveling with your loved ones? The beds in the first two Suites of each aisle can be converted to form a double bed. A good night's rest can be expected with plush mattress bedding, two pillows and a fluffy cotton duvet, complete with embroidery crafted by the French luxury brand, Lalique.
4. Even more flexibility
Each seat is upholstered by world-renowned Poltrona Frau and fully adjustable using an electronic control side panel which can accommodate a variety of sitting and lounging positions. Plus, the swivel capability of the chair (between 135 and 270 degrees) offers a recline up to 45 degrees.
5. Personal entertainment zone
Movie marathons on long-haul flights will get even more exhilarating with a 32-inch full HD monitor that can swivel for the different viewing angles in seat and bed modes.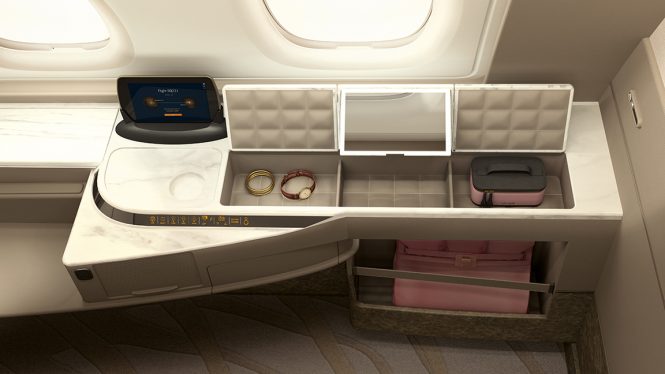 6. Your own bed room, basically
The suite also comes with a full-sized personal wardrobe, customized handbag stowage compartment, amenity box lined with soft leather, specially designed carpet and a feature wall with mood lighting.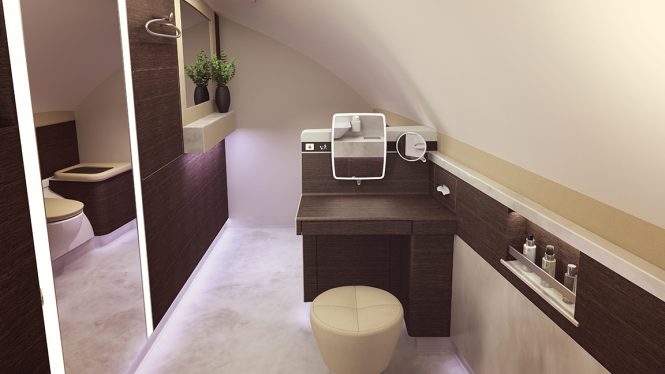 7.  Stylish lavatories

The suite life comes with two stylishly furnished lavatories, one of which has a sit-down vanity counter.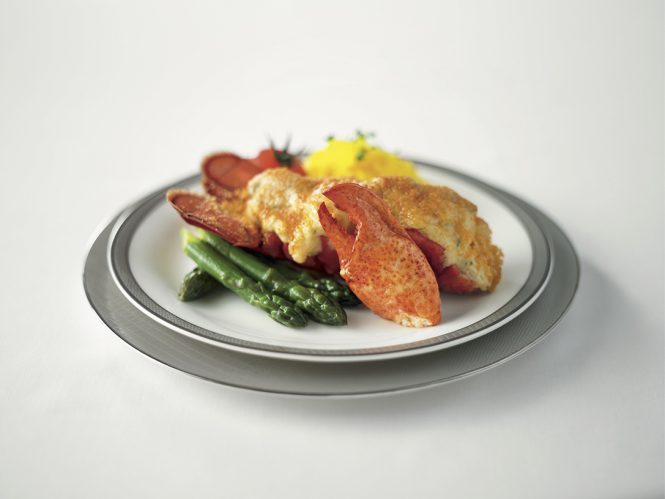 8. Dining in style
Dining experience will be enhanced with Wedgwood serviceware and Lalique-designed crystal glassware.
9. Freshen up with designer amenities
Suites customers on selected flights will receive an amenity kit with toiletries and perfumes or a unisex kit containing lifestyle items, specially designed and created under the co-brand partnership with Lalique. Highlights include his-and-hers amenity kits with fragrance, lip balm and a specially designed pouch.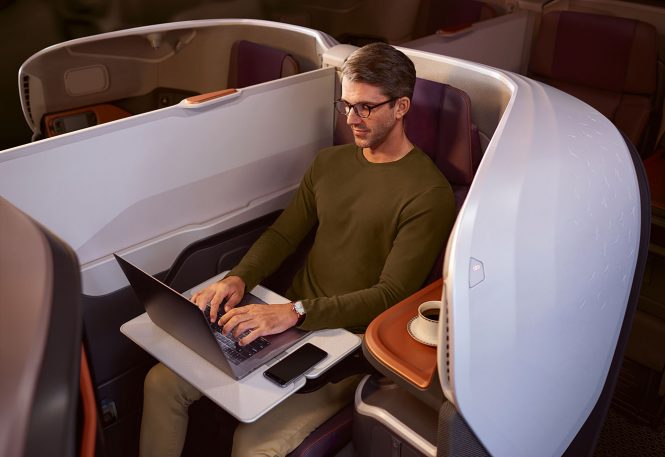 Business Class
The Business Class seats are designed by JPA Design of the UK and manufactured for Singapore Airlines by JAMCO Corporation of Japan.
1. Sun-deck or full-flat bed? Your choice.
Measuring 25 inches in width, the seat reclines directly into a comfortable full-flat bed (78 inches). Customers may also stretch out fully in a 'sun-deck' position to watch movies on the 18-inch high definition touch-screen monitor.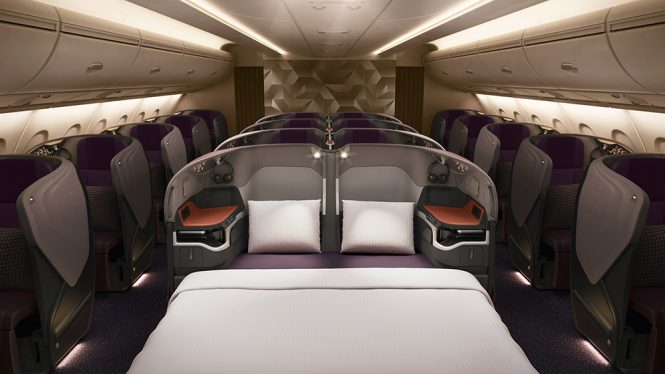 2. Cozy up in double beds
The center divider can be fully lowered to form double beds, making the two center seats an ideal choice for customers such as families traveling together. Snuggle time, anybody?
3. More storage space
The new seat has a carbon fiber composite shell structure, which creates more under-seat stowage space to accommodate a full-sized cabin bag and laptop bag or handbag.
4. Ready for work and play
Other features include a business panel equipped with USB ports and in-seat power, reading lights with adjustable brightness level, mood lighting, enlarged dining table designed for flexibility in dining positions, as well as stowage space for personal amenities.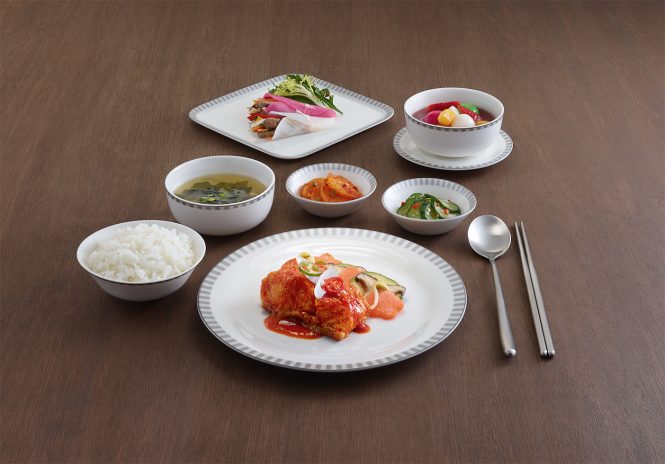 5. Refined tableware
All meals will be served on Narumi-designed chinaware.
6. Freshen up in style
Travelers can look forward to a pampering treat, with a range of Penhaligon's washroom amenities available on board such as hand lotion, facial mist, and fragrance.
7. Direct aisle access
Seats are arranged in a forward-facing, four-abreast (1-2-1) configuration that offers all travelers direct access to the aisle.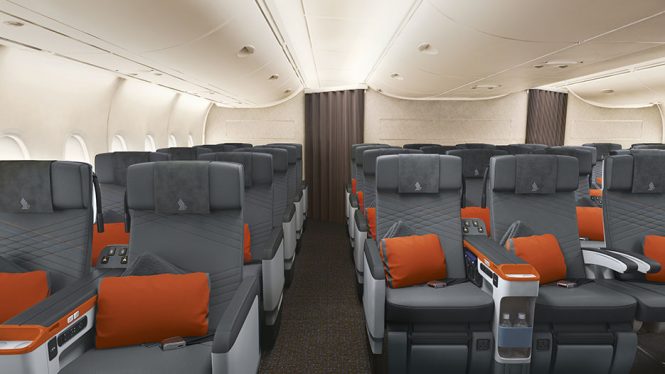 Premium Economy Class
The Premium Economy Class seat was manufactured by ZIM Flugsitz GmbH and customized by design firm JPA Design.
1. Enhanced entertainment experience
Immerse in your favorite movie with active noise-cancelling headphones and a sleek 13.3-inch full HD monitor.
2. More storage space
Other features include a full leather finishing, calf-rest and foot-bar for every seat, individual in-seat power supply, two USB ports, personal in-seat reading light, cocktail table, and more stowage space for personal items.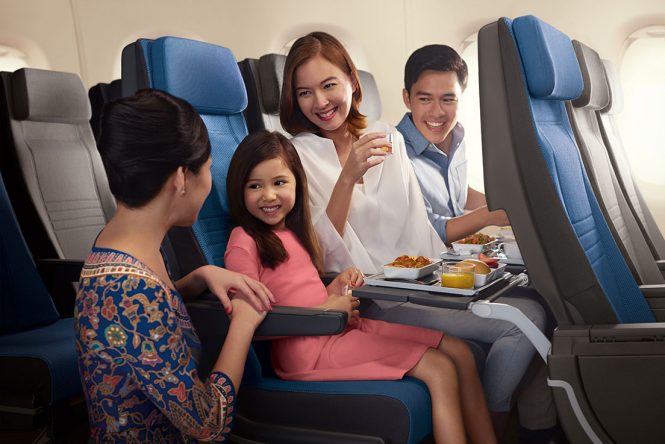 Economy Class
The Economy Class seat is designed and built by RECARO.
1. More legroom and flexibility
Travelers can stretch it out as the seats offer even more legroom and back support, with a six-way adjustable headrest with foldable wings.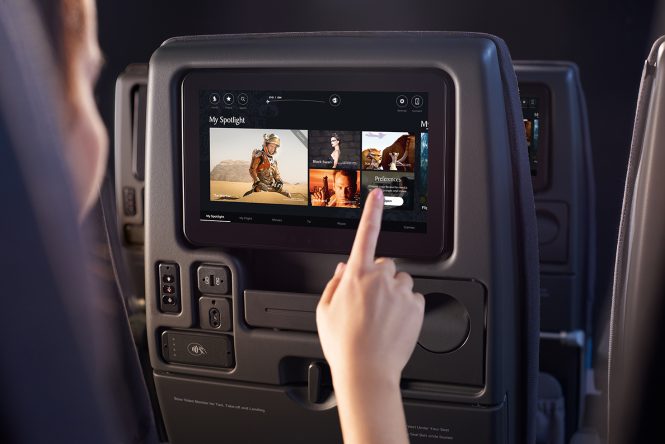 2. Better entertainment for all
An 11.1-inch touch-screen monitor eliminates the need for handsets and offers more convenience to customers who wish to catch the latest movies on KrisWorld.
3. More personal space
Other features include a patented non-intrusive reading light installed underneath the seatback screen, personal storage space for small personal items, a coat hook, in-seat power supply and ergonomically designed footrest with adjustable positions.
Find out more here.