Give yourself a boost by making the signature libations from these three hotel bars in Bali and Jakarta.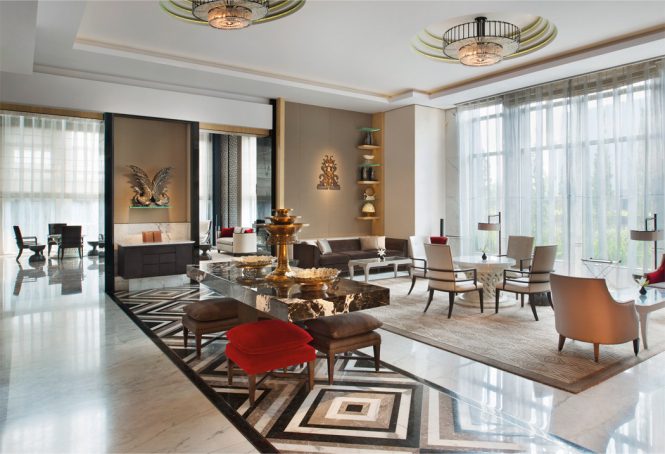 Keraton Lounge at Keraton at The Plaza
Located in the grand lobby of its namesake hotel in downtown Jakarta, the 40-seater Keraton Lounge invites diners to sample high tea during the day, and a diverse range of classic cocktails, wines, and locally inspired drinks by night. High-tea enthusiasts can pick from five different menus, ranging from traditional Indonesian to a chocolate set, while cocktail connoisseurs should try the hotel's inspired take on the Old Fashioned. This inventive tipple harnesses the delicate flavor of the pohpohan plant, whose crisp leaves are a popular ingredient for fresh salads across Java.
Pasundan Fashioned
Ingredients
3 Pohpohan leaves
1 cm Beetroot
45 ml Bourbon
22 ml Pineapple juice
15 ml Honey syrup
1 skewer Black jelly
Method
Blend beetroot and two pohpohan leaves into a smooth mixture.
Add all of the ingredients into a cocktail shaker with ice. Shake well, strain twice, and serve in an old-fashioned glass.
Add skewer of black jelly on top, then garnish with a pohpohan leaf.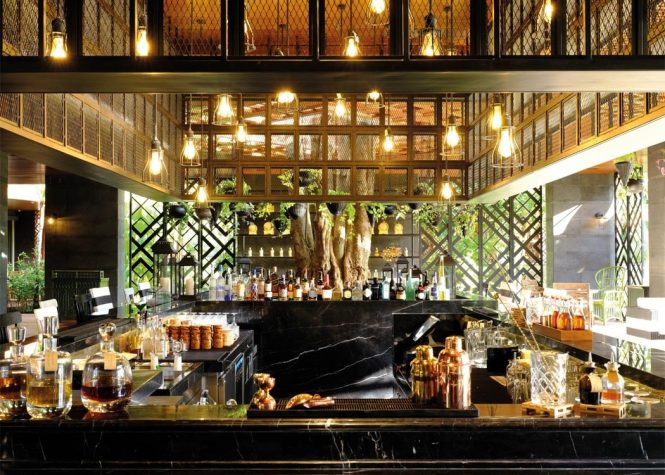 Tree Bar at Hotel Indigo Bali Seminyak Beach
Located right on the golden sands of Mesari Beach, Hotel Indigo Bali's Tree Bar is an inviting semi-outdoor space that offers organic drinks and light, healthy fare by day and chic cocktails by night. The resort has hired its own "Balixologist," infusing libations with locally grown herbs, spices, greens, and tropical fruits to bring a dose of Balinese flair to the drinks menu. Sip on tropical delights such as the Laklak Swizzle: a blend of Bacardi rum–infused pandan, spiced arak liquor, pineapple juice, coconut nectar, lime juice, and soda water; or Kopi Sik Luh, which uses turmeric and house-brewed coffee for a Bali-inspired version of the Espresso Martini. One of Tree Bar's signatures—and undoubtedly one of its more theatrical creations—is the Ginger N Rose cocktail, whose recipe is shown here.
Ginger N Rose
Ingredients
45 ml ginger-infused arak
15 ml triple sec
45 ml butterfly pea flower infusion
20 ml homemade ginger syrup
15 ml lemon juice
Lemon slice and charred rosemary sprig
Method
Except for the lemon juice, add all ingredients to a shaker full of ice and shake well.
Strain into an ice-filled glass and garnish with the lemon slice and charred rosemary.
Serve with lemon juice on the side, then pour the juice slowly into the cocktail to change its color from blue to purple.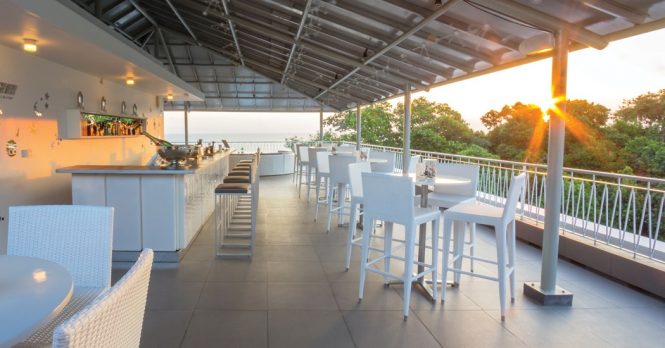 Space Champagne & Caviar at Luna2 Studiotel
At Seminyak's retro-chic Luna2, the rooftop Space bar was designed in line with the rest of the hotel's Space Age style: think themed cocktails created by Helmut Roessler shaken in rocket-shaped mixers and a replica NASA spacesuit that greets guests after they've made their four-floor ascent to the open-air patio. But the real draws here are the intimate size, selection of fine champagnes, and imported oysters and caviar—and, of course, the views over Seminyak Beach at sunset.
Houston, We Have a Problem
Ingredients
45 ml Belvedere vodka
20 ml Malibu rum
20 ml Vermouth bianco
10 ml lime juice
30 ml pineapple juice
Pineapple leaf, for garnish
Method
Pour all of the ingredients (except for the garnish) into a cocktail shaker, and shake well.
Double strain the mixture into a martini glass.
Garnish with the pineapple leaf.