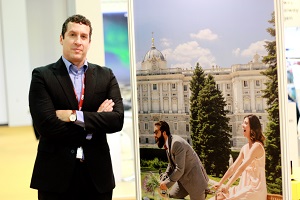 Javier Amichis Luengo on Madrid, Spain
Market manager, Asia Pacific & North America, Madrid Tourism Promotion and Development
Must Visit: Aside from popular museums like Del Prado, Reina Sofia, and Thyssen-Bornemisza, we have more than a hundred museums in Madrid which give you a good perspective of what you can find and see in our city. What is becoming popular nowadays are "gastronomic markets" which are big food halls where you can find Spanish and international gourmet cuisines. They are usually open until 2.00 a.m. every day and it's a good venue to socialize, meet friends, and have drinks. The most famous ones are Mercado San Miguel, San Anton, and San Ildefonso.
Must Eat: Plaza Mayor in Madrid is a good place to find typical Spanish dishes such as the bocadillo de calamares (fried squid sandwich) and to start your tapas tour. What I like most about tapas is that whenever I go out with friends and we order beer or wine, they are served for free. We usually hop around three to four bars or restaurants within a day and that's usually fun as you get to meet different people—locals and tourists alike.
Must Do: There are more than 40 guided tours in the city and they are available in 12 different languages. Depending on what you like, you can either take historical tours, bike tours, musical, or food tours. It's a very walkable city and everything is very well connected with different transportation options such as the metro, buses, or taxis.
Read other recommendations: