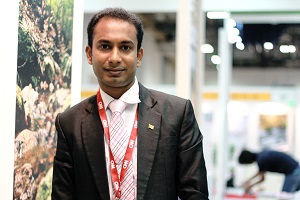 Kalpa Gunasingha on Sri Lanka
Junior marketing manager, Sri Lanka Tourism Promotion Bureau
Must Visit: In the hilly regions of Sri Lanka such as Nuwara Eliya, you will find plenty of tea factories and beautiful waterfalls. We also have the heritage town of Anuradhapura which was the center of Theravada Buddhism in the past.
Must Eat: Typical Sri Lankan dishes are always described as spicy. Try the kiribath (milk rice) which is served with lunu miris (spicy sauce)—these are staple favorites among locals.
Must Do: Check out the Esala Perahera festival in Kandy City, a colorful and elaborate celebration and historical parade of elephants and hundred thousand worshipers to pay homage to Buddha.
Read other recommendations: