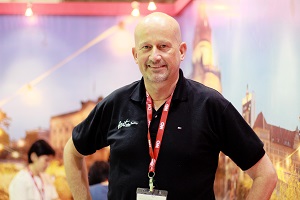 Ralf Ostendorf on Berlin, Germany
Market management director, Berlin Tourismus & Kongress GmbH
Must Visit: Berlin is a city where you can feel and see contemporary European history. The Brandenburg Gate is considered the symbol of unification of Germany and very close by is the seat of the parliament as well. If you go up to the roof terrace and dome of the Reichstag Building, you will find the beautiful sky view of the city.
Must Eat: The street food scene is emerging in Berlin and there are plenty of places where you can eat nowadays, such as the Markthalle Neun. In Berlin, we also have a big Turkish community so we have lots of places where you can buy very nice döner kebabs and falafels.
Must Do: If it's your first time in the city, take Bus Line 100 tour, which basically takes you to the most important places in Berlin. If it's the summertime, you can also take the boat tour, which gives you a different perspective of the city.
Read other recommendations: