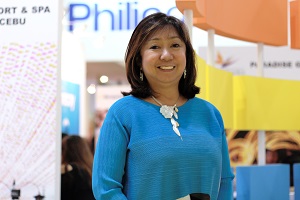 Susana Del Mundo on the Philippines
Officer-in-charge, domestic promotions department, Tourism Promotions Board Philippine
Must Visit: I love the islands of Palawan as it's not overly crowded and has a very beautiful natural setting. You can do tons of activities here, from diving, snorkeling, to eating your favorite seafood. You have various accommodation options there, too, from budget to high-end. I also love Bohol because it's rich in culture and heritage. They also have the friendliest people! Here I can always find time to relax and enjoy that feeling of being "away from it all." Bohol is also a good option for value for money.
Must Eat: The must-trys include fish or pork sinigang (our local version of the Tom Yam), adobo, and kare-kare. Filipino cuisine is a mixture of Malay and Spanish-style of cooking.
Must Do: In Manila, you will enjoy shopping both in the premium malls as well as in flea markets. For day trips, you can always visit the historical Intramuros and the walled city of Fort Santiago, spend hours at the National Museum, or drive up to the windy locale of Tagaytay.
Read other recommendations: