Looking for a stylish seaside retreat? Hit the new St. Regis Langkawi, where lush green landscaping and a blue lagoon provide a perfect backdrop—and a reason to dress up.
Photographs by Martin Westlake
Styled By Peter Zewet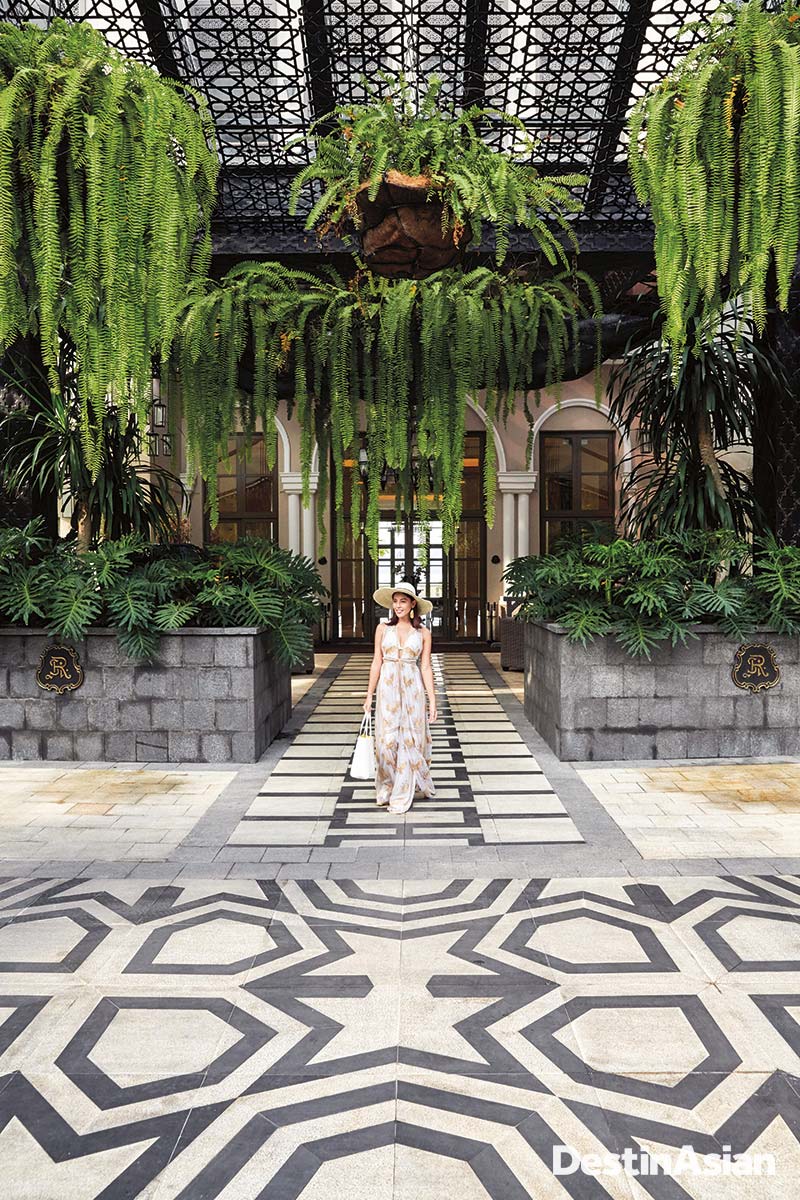 Stepping Out
It's a jungle out there—almost. The St. Regis Langkawi's dramatically landscaped entrance is meant to evoke the nearby rain forest, ferns and all. Top and pants by Diane von Furstenberg; tote bag by Kate Spade; silver earrings by John Hardy; sun hat courtesy of the resort.
Flanked by limestone hills in a cove south of the workaday port town of Kuah, the St. Regis Langkawi—the brand's debut property in Malaysia—distinguishes itself as the first all-suite resort on the island. But the compact hideaway has far more going for it than that.
Bringing what it calls "nautical Riviera chic" to this corner of the Andaman Sea, the St. Regis, designed by San Francisco–based architectural firm Gensler, is an elegant amalgam of various European and Middle Eastern influences, from its grand marbled lobby to its Moorish arcades and fretwork balconies. Accommodations include four overwater villas and 85 oak-floored suites, a quarter of which come with their own private pools, canopied daybeds, and direct access to lush tropical gardens planted by Bangkok-based landscaper and architect Bill Bensley. Those gardens in turn take you a few shorts steps to the beach, where tons of imported sand and a newly completed tidal barrier have been deployed to create a picturesque lagoon, complimenting a panorama that takes in the neighboring islands of Dayang Bunting and Tuba and the passenger ferries that run between Kuah and the Kedah mainland.
Personal butlers ensure you needn't lift a finger, while the therapists at the serene Iridium Spa can untangle any knot. And the food is top-notch, especially at Kayuputi, a thatch-roofed restaurant of whitewashed wood that perches over the lagoon. Here, German chef David Mottl turns out Asian-inspired haute cuisine—local lobster with sweet-corn risotto and citrus sabayon; cucumber-wasabi ratatouille—in a venue designed by Bensley as part beach house, part Aladdin's cave of antiques and curios that he's picked up around the region, including camel bone–inlaid teak columns from India and windows repurposed from the old Dutch embassy in Yangon. It's a remarkable space that is every bit as mesmerizing as the setting (Jl. Pantai Beringin, Langkawi, Malaysia; 60-4/960-6666; stregis.com; doubles from US$777).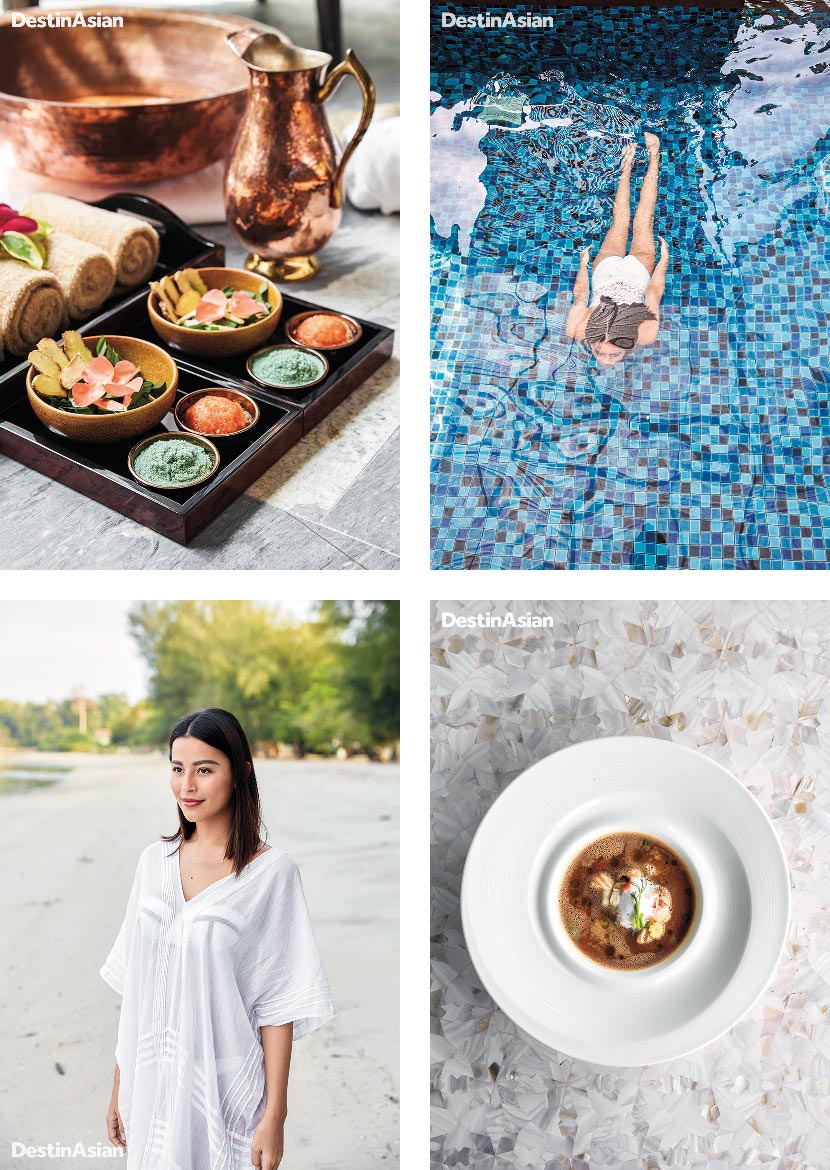 Sweet Solitude
Clockwise from top left: The ingredients for a foot-soaking ritual at the resort's Iridium Spa; cooling off in a private pool; lobster bisque at Kayuputi, the resort's Bill Bensley–designed overwater restaurant; beachside, in a cotton kaftan top by Biasa.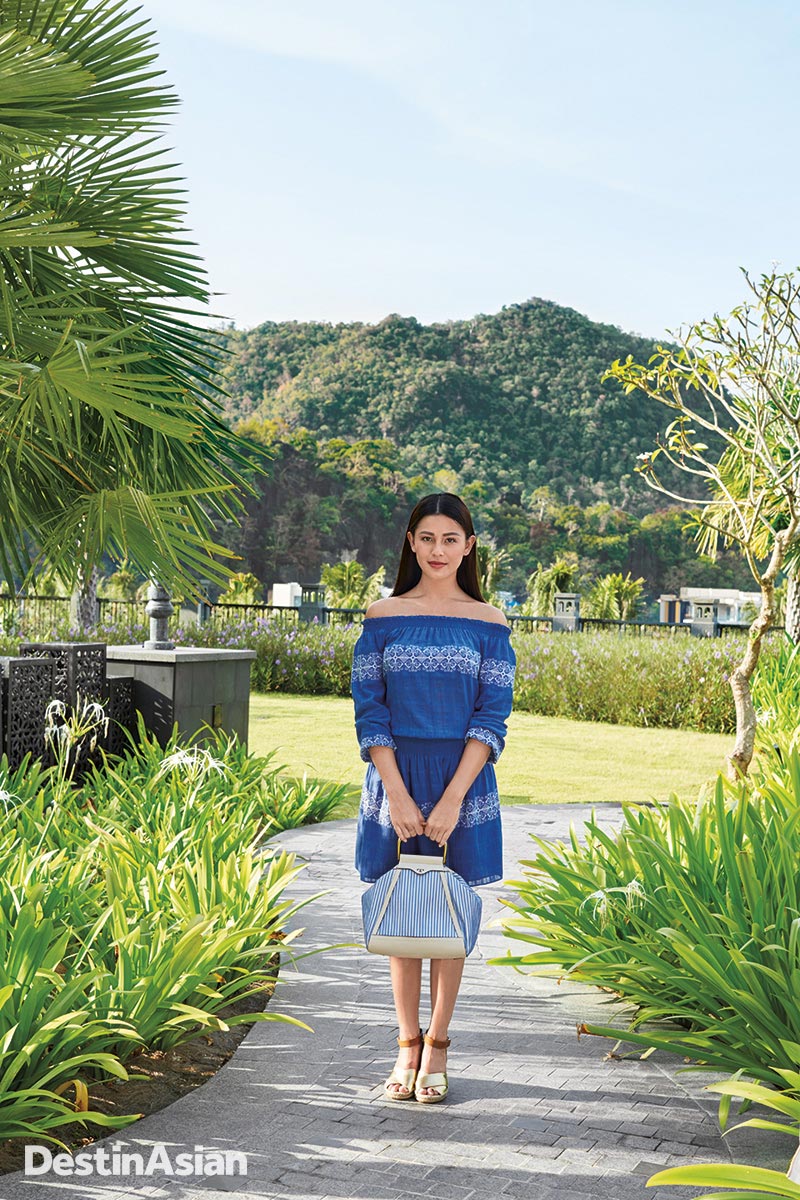 Lush Life
Out for a stroll in the resort's gardens. Dress, bag, and wedges by Tory Burch. Below: Just steps from the beach, ground-floor suites come with a private garden, canopied daybed, and pool. Bikini, model's own; sunglasses by Tory Burch.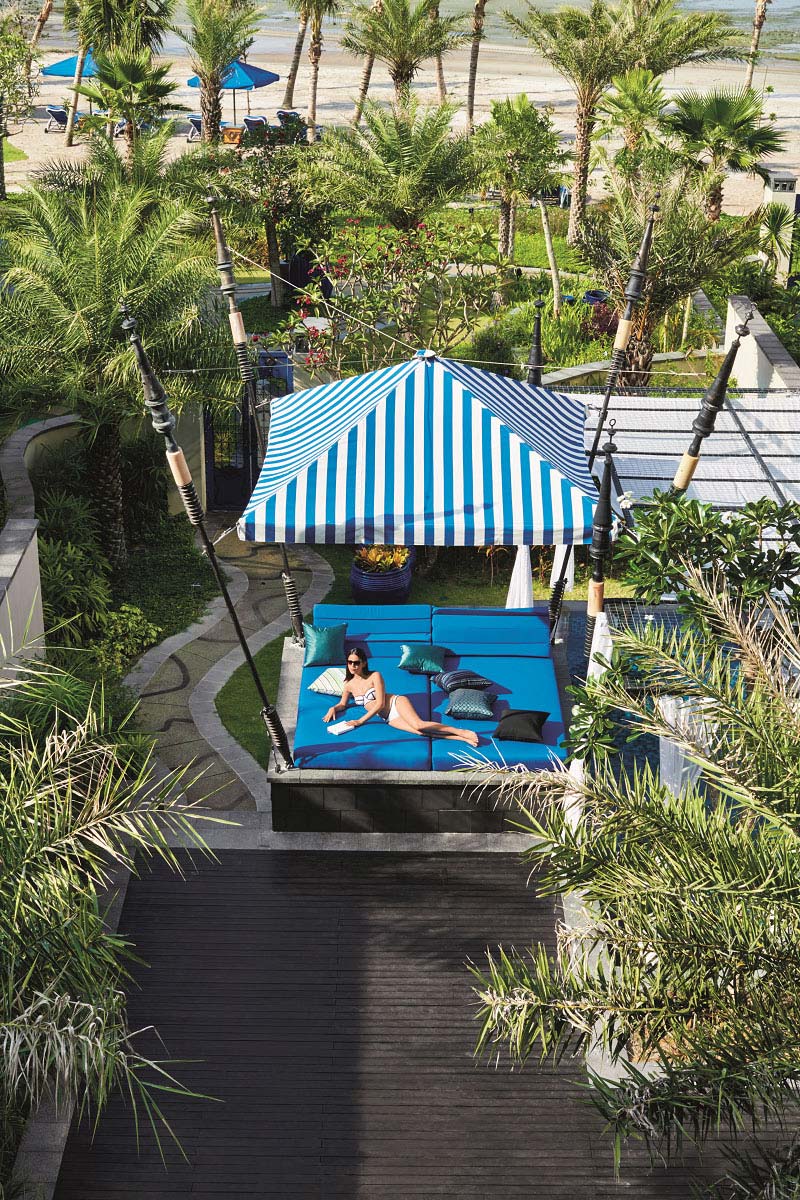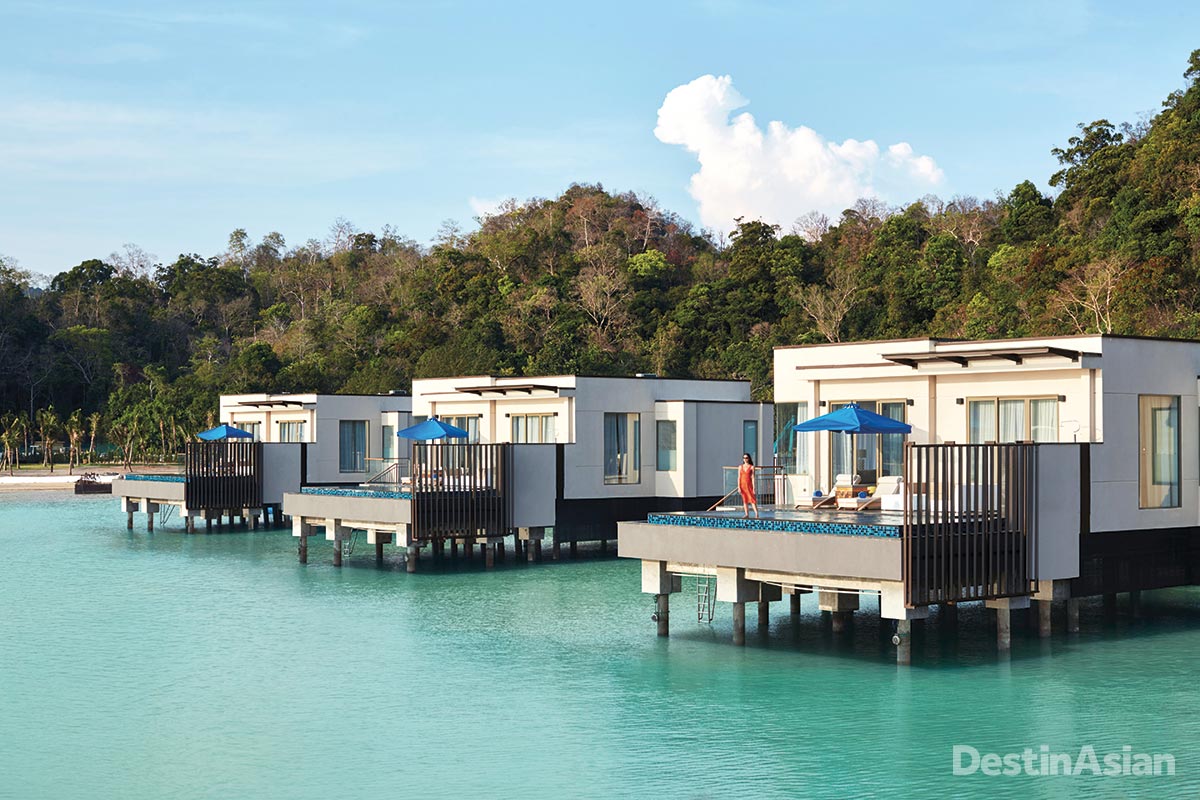 Blue Lagoon
Taking in the scenery from one of the resort's four overwater villas, each of which comes with its own pool. Dress by Diane von Furstenberg; sunglasses by Tory Burch.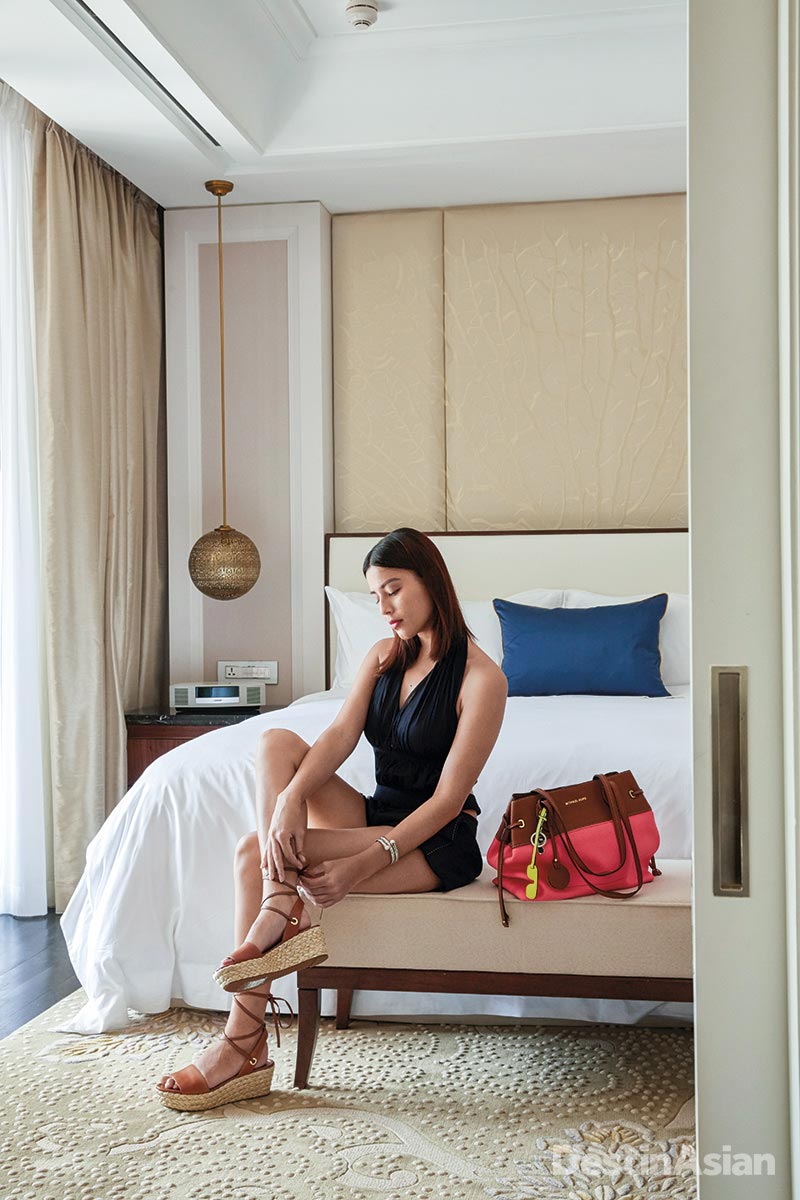 Ready, Set, Go
All beiges and soft blues, the suites at the St. Regis are as elegant as they are comfortable. Top and shorts by Biasa; bag and wedges by Michael Michael Kors; silver bangles by John Hardy. Below: Ostrich feathers and antique wooden columns from India add to the unique ambience at Kayuputi restaurant. Lace dress by Michael Michael Kors; silver earrings and bangles by John Hardy.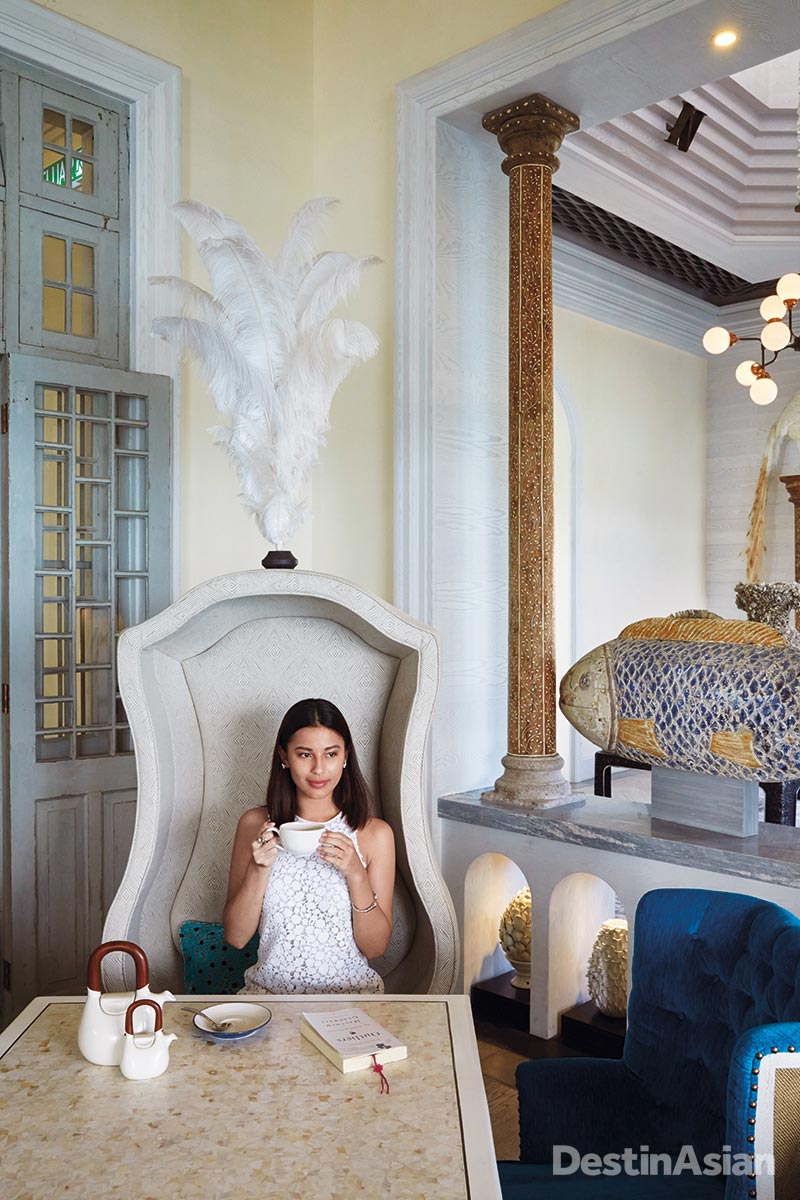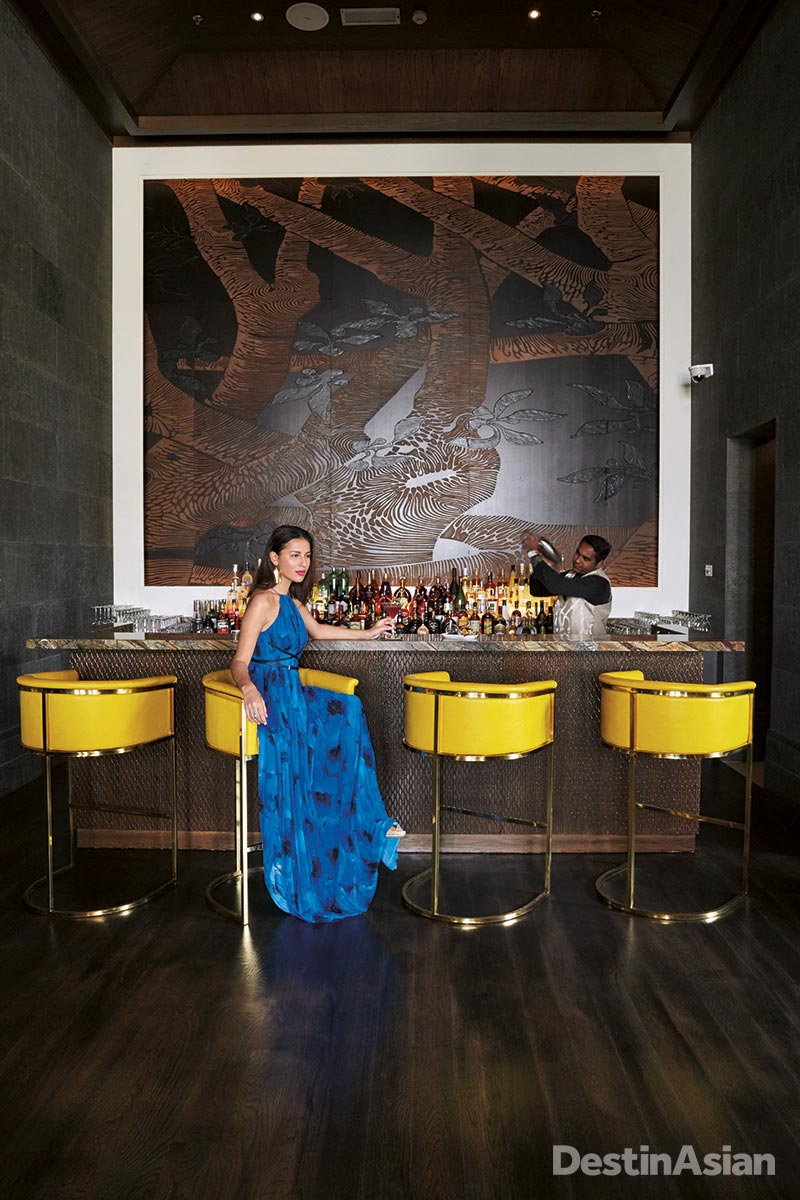 Bar Examination Cocktail hour at the St. Regis Bar. Dress by Michael Kors; silver earrings by John Hardy; wedges by Tory Burch. Below: Stilted above the lagoon, Kayuputi comes with hammock-inspired seating that is perfectly positioned for watching the sun set over Langkawi. Dress and metal bangles by Biasa; wedges by Tory Burch.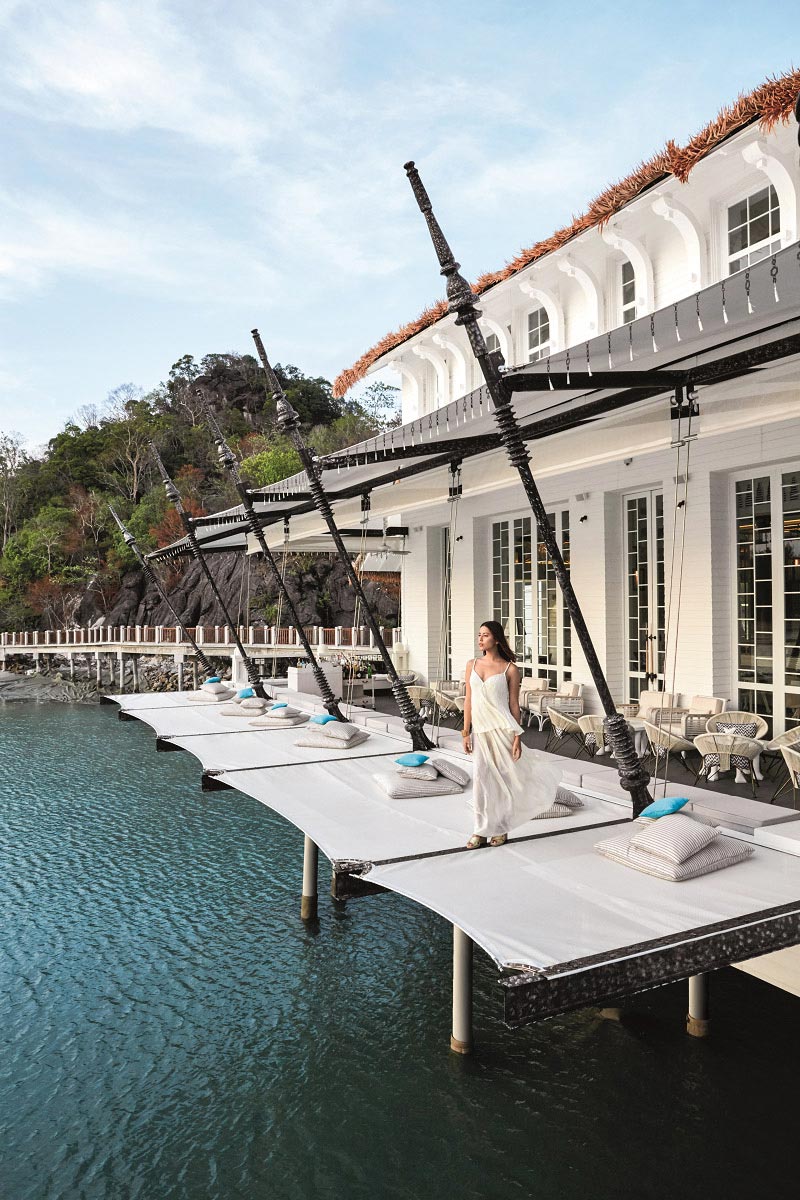 This article originally appeared in the June/July print issue of DestinAsian magazine ("In the Limelight").