Feeling cooped up at home? Two easy-to-follow recipes from two of the Bangkok-based hospitality brand's properties in the Middle East will help lift your mood and do good for your body.
Immunity Booster Turmeric Tea
The key ingredient of this soothing herbal brew available at Oman's Al Baleed Resort Salalah by Anantara is fresh turmeric. It contains bioactive compounds including curcumin, a substance with powerful anti-inflammatory properties that increases the antioxidant capacity of the body and improves brain function, fights depression, contains anti-aging properties, and boosts your immune system.
Ingredients
½ cup of fresh raw turmeric
¼ cup of fresh raw ginger
Juice of 1 lemon
3 Tbsp of honey
4 tsp of distilled water (boiled water that has cooled)
Method
1. Blend all ingredients until they become a well-emulsified paste.
2. After you've created the base, use 2 tablespoons to 1 cup of hot water; let sit for 2 minutes and add a few mint leaves for serving.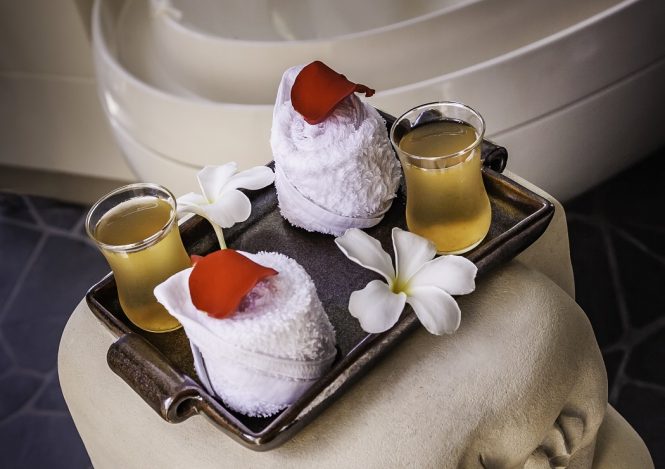 Cinnamon-Lemon-Honey Immunity Shot
Freshly prepared in-house every day, the welcome drink at the Anantara The Palm Dubai Resort in the UAE contains just three ingredients. Lemons are loaded with vitamin C, honey has antibacterial properties and its high viscosity helps form a protective barrier in the body to help fight infection, while cinnamon is high in antioxidants and has anti-inflammatory properties. In addition to being a great immunity booster, this shot also helps boost collagen to help skin stay younger looking and the combination of lemon and honey combats water retention.
Ingredients
Cinnamon bark (about 3-4 sticks per 2 cups of water)
1-2 lemons (to taste)
Honey (to taste)
Method
1. Boil cinnamon bark for 45 minutes and strain.
2. Allow to cool for a few minutes, then add fresh lemon and honey according to taste. You can store the drink in the refrigerator before serving.