Jakarta's leading contemporary art institution has now joined the #MuseumFromHome movement.
With cultural venues in the Indonesian capital closed for the moment, MACAN, short for the Museum of Modern and Contemporary Art in Nusantara, is rolling out a series of digital initiatives to bring its program to online audiences around the globe.
You can now use social media to explore the institution's permanent collection of more than 800 works representing both Indonesian and international artists. A weekly online series on MACAN's Instagram account, posted every Friday, turns the spotlight on key pieces with an audio guide by the curatorial team. In last week's instalment, assistant curator Ady Nugeraha narrated the story behind the 1964 oil painting Ngaso by nationalistic artist S. Sudjojono, who was also considered Indonesia's first modern art critic.
Museum MACAN will also be posting virtual walkthroughs of its current exhibitions, "Melati Suryodarmo: Why Let the Chicken Run?" and "Julian Rosefeldt: Manifesto" on its IGTV and Youtube channels. The former introduces Suryodarmo, an acclaimed Indonesian performance artist, through significant works spanning more than 20 years of her career. Meanwhile, Berlin-based Rosefeldt's 13-channel film installation traces the history of the manifesto and its role in avant-garde artistic movements via 10-minute monologues performed by Australian film star Cate Blanchett.
The walkthrough videos will be complemented by interviews with the artists and commentary on exhibition highlights by museum staff. The most recent artist Q&A posted to Instagram saw Suryodarmo answering questions from MACAN's followers on topics ranging from her body of performance work—which includes long-durational pieces lasting up to 12 hours—to her favorite dish.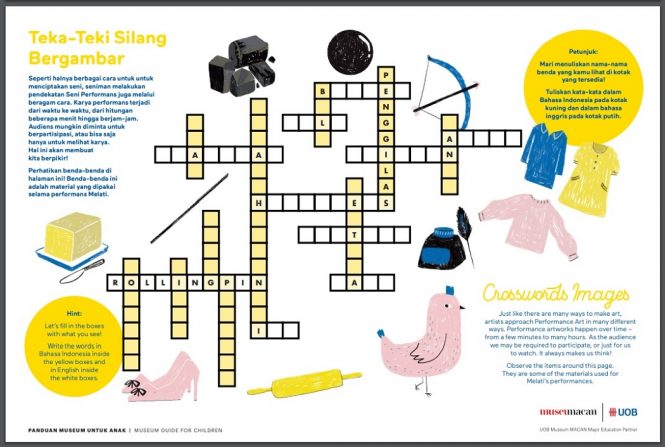 Art-lovers with smaller kids will find a growing compilation of ready-to-print activity guides (written in English and Indonesian) on the museum website. Colorfully drawn animals and easy-to-follow exercises make the concept of performance art easily digestible, and the sheets will keep the little ones entertained with crosswords, connecting the dots, and lessons aimed at developing their critical thinking skills. The coming days and weeks will also see the launch of craft workshops for parents and children to follow, teaching families to use common household ingredients and materials to create art for these extraordinary times.
Visit Museum MACAN for more information.