As a venue for researching the use of Indonesia's homegrown coconut-based liquor arak in fine cocktails and teaching bartenders and guests about mixology with local botanical ingredients, Akademi—the bar at PTT Family's brand-new Bali hotel Katamama—certainly lives up to its name. Head bar consultant Dre Masso gave us some notes on its mission.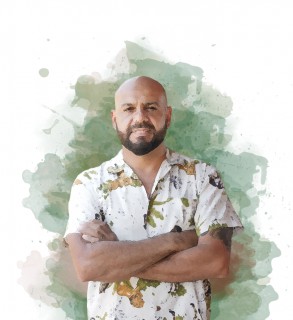 BRIGHT IDEA I'd been suggesting that PTT Family build a dedicated training and research center for its cocktail department. When we were discussing ideas for Katamama's bar, the group's CEO suggested we turn my thought into a functioning bar that would involve guests too.
ARAK ON TRACK Arak isn't well known internationally, and most of it in Indonesia is small-batch and homemade. We decided to source ours from a distillery to ensure quality. But I'm sure it won't be long before more bartenders embrace it and premium arak gets on the market.
ACQUIRED TASTES Our team is constantly on a quest for new flavors through foraging and visiting farms and traditional markets. I was just introduced to the tamarind plum, which is only harvested every four years in Java. We'll be there for the next harvest, this June.
STUDY PLAN Akademi has an open floor plan, and this is the third time I've worked at a bar with this layout. I love that guests can not only see everything the bartender is doing but, here, also stand next to the bartender and make their own drinks. It speaks to the bar being a learning lab for the art of mixology.
This article originally appeared in the June/July print issue of DestinAsian magazine ("Shaking Things Up").