Long before the spades of beach clubs and luxury resorts started sprouting up on the shores of Seminyak, Melanie Hall had purchased beachfront property in Bali with the intention of building her ideal family home. In 2007, the idea manifested itself into the opening of the visionary pop-art influenced Luna2 Private Hotel, a five-bedroom residence with the services of a hotel but the exclusivity of a private home. Now, after six years, her second property, Luna2 Studios, has debuted just beside the original with its own uniquely Luna2 design. We catch up with the jet-setter who splits her time between London, Singapore, and Bali to hear about her recs for the island she called home for two years.
By Rachel Will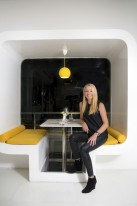 What experiences have inspired you to create the Luna2 brand? My father, Alan Chambers, was an architect in the '60s and I do find that I see design through his eyes. Having worked creatively for years in high-end fashion and interior design, I've always had an eye for detail. This can be a blessing and a curse. This combined with years of extensive travel—I now live in Singapore, my 9th country of residence—I noticed a gap in the market for world-traveling jet-setters who are rightfully demanding of more privacy, exclusivity, and personal attention, with all the services of a five-star hotel. In 2007 we made this a reality with the launch of Luna2 Private Hotel and it seems to be working.
What led you to set up camp in Bali? What attracted you to Indonesia? My husband, Stewart Hall, was a former banker and I had my own interior design firm in Jakarta. We lived [in Jakarta] for 12 years until 2010 when we moved to Bali to establish Luna2 headquarters and to kick-start the construction of Luna2 studios. Until we moved to Singapore last year, my three children had only ever lived in Indonesia. Frankly, we are Indonesiaphiles. We loved living in Jakarta, and Bali was a blissful two-year stint.
What is your go-to restaurant in Bali? We do love going to Metis (Jalan Petitenget no. 6; 62-361/4737-888), and consider the owners great friends. Metis operates like a well-oiled machine, and is one of Bali's best success stories. The food is always exceptional, and I adore their signature foie gras dishes. Oh, and the restaurant manager treats me like gold. You see, it's that personal attention that we all like.
Best place for a cocktail on the island? Ku De Ta (Jalan Kayu Aya no. 9; 62-361/73-6969), it's a Bali institution and the cocktails are great.
Your favorite Balinese beach? Seminyak beach is really my stomping ground, as it's 'close to home.' It's by no means the most beautiful, but it has huge amounts of community spirit. Frequented by locals and expats alike, it's well-used as a place for fitness and family fun. Having grown up in the Caribbean, I normally escape elsewhere for my beach experiences. Bali does however have some incredibly beautiful spots though.
Where do you like to shop in Bali? Who are some notable local designers? Makassi (Jalan Basangkasa no. 31; 62-361/733764) is great for ultra-cool accessories and kids stuff. 69 Slam (Jalan Raya Legian no. 58; 62-361/960-4173) has superb brightly patterned board shorts and boxer shorts for my boys. Kiki's Closet (Jalan Raya Seminyak no. 57; 62-361/735755) is an uber-cool girls' clothes shop for my daughter. I always find great evening dresses last minute at the Farah Khan boutique in the W Hotel (Jalan Petitenget; 62-361/473-8106).
How do you escape the tourist bustle in Bali? The Canggu Club (Jalan Pantai Berawa; 62-361/848-3939) is an ideal oasis from the chaos of Seminyak. We have spent many an afternoon there, with the kids, working out with personal trainers, or lounging by the pool. We haven't done too much tourist travel in Bali, but we do love to visit Amankila in Candi Dasa (Manggis; 62-363/41333). I once went there for the day for my birthday with friends by helicopter. Of course, we do nip off to Lombok fairly frequently or Moyo Island or the Gilis once or twice. It's nice to travel such short distances and arrive somewhere completely heavenly.
What facet of Balinese culture has surprised you in setting up Luna2? The Balinese do place value on their family and work/life balance. It's a lesson to all of us, and something I am working towards.