Winners will be eligible for a year's worth of free flights and complimentary stays across 345 Accor hotels.
The Qantas Group has just launched a reward campaign for Australians who have been inoculated against Covid-19 to recognize their role in helping the country get out of lockdown. Fully vaccinated Australia-based Frequent Flyers who are 18 and over can now claim their reward through the Qantas App by choosing either 1,000 Qantas points, 15 status credits to help them move up between Silver, Gold, and Platinum tiers, or a A$20 discount for any Qantas or Jetstar flight.
Members will then be automatically entered into a mega prize draw to win a year's worth of flights, accommodation, and fuel. Ten mega prizes will be up for grabs with a winner selected from each state and territory and two mega prize winners as part of a national TV campaign.
Winners of ten mega prizes will receive a year's worth of flights to take off to more than 60 destinations around Australia, with free accommodation across 345 Accor hotels, resorts, and apartments (including properties by brands such as Sofitel, Pullman, Mercure, Mövenpick, Novotel, and Ibis) and top up their cars with free fuel from any of BP's 1,400 service stations across the country. Winners will also be able to take off to any Qantas and Jetstar international destination when borders start to open.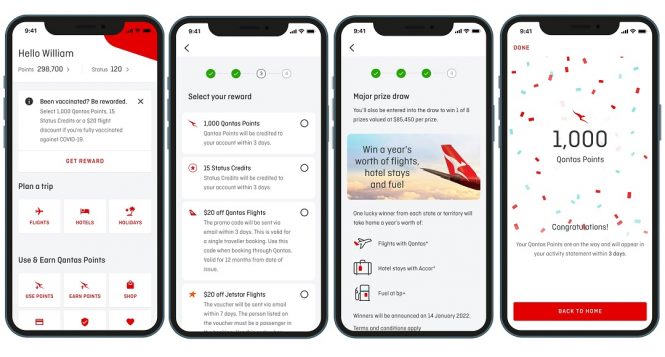 "Getting vaccinated is an important step that every Australian can take that brings us that little bit closer to life as we knew it," said Qantas Group CEO Alan Joyce in a statement. "This is one of the biggest giveaways we've ever done. The impact of the pandemic on the travel industry and our own Qantas Group team members means we have a clear vested interest in the success of the vaccine rollout."
Australians can claim their points, status credits or flight discounts and be automatically entered in the mega prize draw by downloading the Qantas App (via the App Store or through Google Play), using their Medicare app to access and upload their Covid-19 digital vaccination certificate, and then selecting their reward choice. Reward prizes can be claimed until December 31 this year, and winners of the mega prize packages will be announced in January 2022.
More information here.