A heritage artifact for some and a place of residence for others, Singapore's last village, Kampong Buangkok, faces impending eviction by the city-state's development arm
By Rachel Will
Photography by Dimas Anggakara
It took a few tries to convince a cabbie to take us there the first time.
"Kampong Buangkok? So far, lah!" they would all say, before speeding away.
Exasperated by failure, we crammed ourselves into the next cab with the silent promise of not leaving until we got somewhere.
"Kampong Buangkok? So far, lah! …Are you sure you want to go there?"
It seemed we had finally gotten through.
We drove in silence through the perfectly paved highways and gentle inclines of Singapore. Though strangers, we shared some semblance of a connection with the driver as he was the only one who would take us from our central digs to the outskirts of the city-state, 14 kilometers away.
"Oh you want to go to the kampong?" he asked, clearly amused. "Not many people in Singapore know about that."
As we neared our destination, it was clear that not even our cabbie knew quite where Kampong Buangkok was. After a few U-turns and frustrated glances, we found a small side street that brought us to a green respite cloaked by a canopy of trees and residual junk.
As if by way of apology when we exited the cab our driver mused, "All the roads they build, build, build and the trees they cut, cut, cut. The kampong, it's somewhere in there."
***
Kampong Lorong Buangkok, more commonly known as "Singapore's Last Kampong", occupies the size of three football fields in the city-state's northeast area. After decades of rapid development on the 710 square kilometer territory supporting more than 5 million residents, every inch of Singapore's space is valuable, and this plot of underutilized land creates a quandary.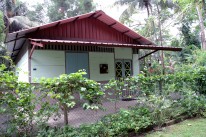 In Malay, "kampong" means village and "buangkok" means united, an all too-fitting denotation for the sleepy, green community. The kampong was established in 1956, while the country still remained under British colonial rule. Sng Teow Koon, a traditional Chinese medicine seller, bought the land and began lending to a mix of Chinese and Malay families whose tight-knit bonds brought them through the nation's race riots of the 1960s and to modernity.
Today, many of the same families still inhabit the homes: from the Chinese medicine seller's youngest daughter, Mui Hong, who has assumed the role of landlord, to Awe Bin Ludin, who has lived in the kampong since its conception. These families have found an alternative to the 82% of Singaporeans who live in government housing, instead choosing dirt paths and modest single story homes to characterize their existence.