JetBlue and Southwest airlines have been ranked as the top domestic carriers by American consumers. A new study by the American Customer Satisfaction Index ranked individual airlines and industry benchmarks according to survey data. In overall satisfaction by industry, airlines ranked in third to last just over the subscription television services and internet service providers industries.
About 70,000 consumers were interviewed about airline satisfaction, scoring US Airways and United airlines the lowest out of the brands analyzed. The two airlines received 64 and 62 points out of 100, respectively, while leaders JetBlue and Southwest received 83 and 81.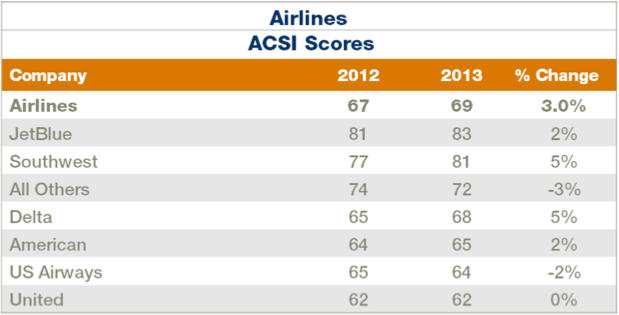 Some factors used to calculate airline satisfaction included crew service, ease of website navigation, and boarding experience. Consumers were most pleased with ease of check-in process and the reservation process. Most trying are quality of in-flight services including food and entertainment, as well as seat comfort.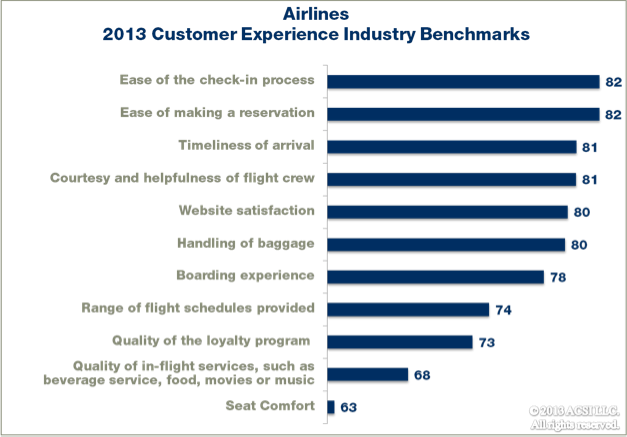 The American Customer Satisfaction Index is an independent national benchmark of customer satisfaction for products and services available to household consumers in the United States. The data collected creates a model that benchmarks customer satisfaction with more than 230 companies, 43 industries, and 10 economic sectors.
For more information visit theacsi.org