Hotels open by the hundreds every year, but only a few open your eyes. For the 16th installment of DestinAsian's annual Luxe List, we checked in at dozens of newcomers around the Asia-Pacific region and ultimately selected 38 properties as the ones you'll want to train your sights on next. From a low-slung New Zealand lodge to a Shanghai addition by hotel czar Ian Schrager—and a couple of revamped old favorites thrown in for good measure—read on to discover our picks for the best new hotels of 2019.
AUSTRALIA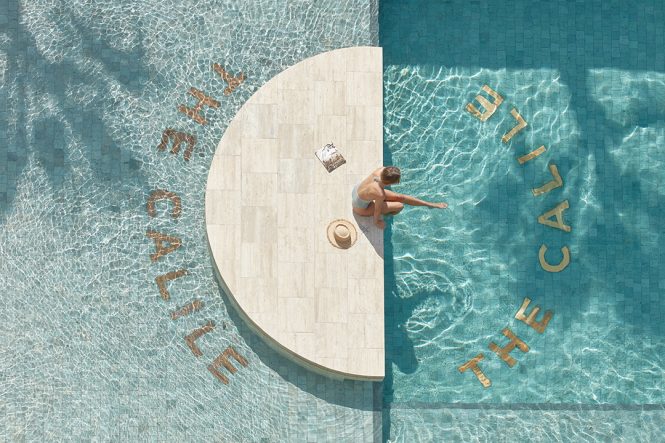 The Calile cuts a dramatic form across Brisbane's skyline, its self-described "soft brutalist" building of white curves and arches designed to celebrate the balmy weather and tropical vibe for which this part of the country is known. Locally based architectural studio Richards and Spence crafted breezy hallways with open-air nooks to link the 175 guest rooms, which come in a trio of pastels: blush, eggshell blue, and mint. Textural touches complement the calming colors, from timber paneling and cork flooring to sisal mats and brass trim. All accommodations sport scallop-shaped balconies—be sure to book one that overlooks the 30-meter pool, which is lined with palm trees, striped jade-green umbrellas, and covetable cabanas. You'll be spending a lot of time here, or wandering through the ground-floor boutiques by local brands like Baasike, Dion Lee, and Love Stories. Step out, and you're on James Street in the heart of Fortitude Valley, an ever-buzzy suburb packed with achingly cool restaurants, bars, and gourmet grocers. But don't miss the hotel's own eatery, Hellenika, which—like its highly awarded sister on the Gold Coast—dishes up mod-Greek dishes such as veal dolmades and orzo pasta with spanner crab.
—61-7/3607-5888; doubles from US$160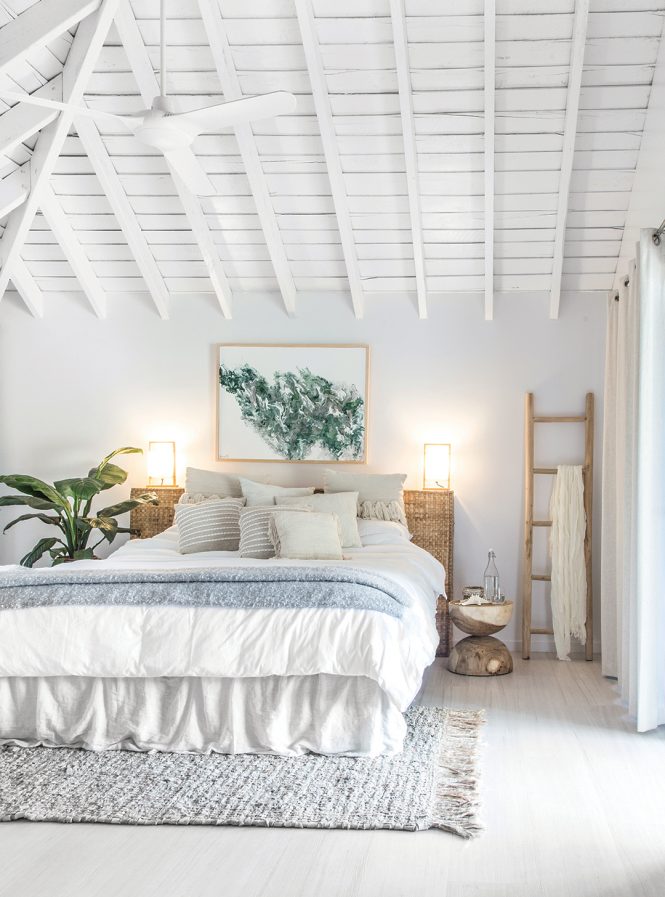 Cyclone Debbie left a path of resort destruction when it hit Queensland's Whitsunday Islands in early 2017. This year, three of the damaged properties have reopened, none more spectacularly than Elysian Retreat. A redux of the storm-ravaged Paradise Beach Resort, the new incarnation occupies a rain forest–cocooned cove on the southern fringe of Long Island. Aside from just 10 bungalows and a communal lodge, there's absolutely nothing else on this three-hectare slip of land. Which means, of course, that you'll have the verdant jungle—and the Coral Sea that surrounds it—almost entirely to yourself. Guest quarters offer a cozy union of style and sustainability: everything operates on solar power; floors and furniture are fashioned from recycled hardwoods; and hammocks on private patios are positioned for optimum sea views. At the lodge, a free-form pool is filled with stress-relieving magnesium water, while a breezy restaurant captures the essence of tropical Queensland through dishes favoring sustainably caught seafood and vegetables grown in the kitchen garden. Arrival is via helicopter from nearby Hamilton Island; when your feet hit the sand, the hardest decision you'll have to make is whether to explore the Great Barrier Reef in a glass-bottomed kayak, or grab a snorkel and dive right in.
—61-1800/765-687; doubles from US$745
Mt. Mulligan Lodge
A working cattle ranch in the remote far north of Queensland seems an unlikely location for a luxury retreat, but this eight-room lodge manages to take everything iconic and adventurous about its Australian outback setting and give it a stylish twist. A three-hour drive—or 35-minute helicopter flight—northwest of Cairns, the intimate property is dwarfed by the 28,000-hectare spread of sun-scorched land it calls home, not to mention the towering red-sandstone escarpment of Mount Mulligan, a sacred Dreaming site known to the Djungan people as Ngarrabullgan. Melbourne-based architectural studio Dubois designed the four solar-powered accommodation pavilions—each housing just one room and suite—to reference their surrounds, layering rustic elements like stone and corrugated iron with soft leather and polished reclaimed timber. Also on hand: deep soaking tubs fashioned from rainwater tanks that sit on private patios overlooking a eucalyptus-fringed reservoir. Golf buggies are at the ready to zip guests to the pool (heated naturally via black tiles) or to the main lodge building, where wine is poured around an open fire and chef Amanda Healey creates hearty, daily changing meals that might include local grass-fed beef with lemon myrtle, or kangaroo tataki drizzled with miso cream. But it's the remote and rugged landscape that's the real draw, with diversions ranging from kayaking or barramundi fishing in the reservoir to exploring the property by 4WD: itineraries include a visit to the historic Tyrconnell goldmine or an eerie drive through a long-deserted coal town. If your timing is right, you can even take part in that most quintessential of outback activities—a cattle roundup.
—61-7/4777-7377; doubles from US$1,115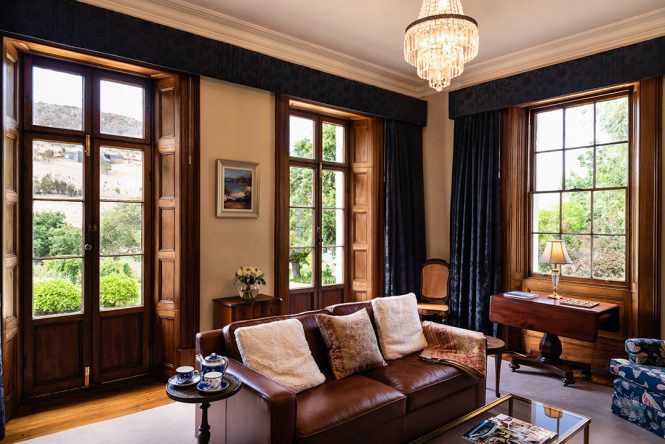 Prospect House Private Hotel
Tasmania's already impressive cache of luxury boutique hotels now counts this handsome Georgian country house among its ranks. Set on the outskirts of the historical village of Richmond—a 20-minute drive from downtown Hobart—the 1831-built sandstone mansion served as a family residence, guesthouse, and farmhouse before John and Libby Pooley, the owners of nearby Pooley Wines, purchased it and poured US$3.4 million into renovations. The upper story of the main house is now occupied by just one suite, complete with its original fireplace and views of vineyard-cloaked hills. Ten more guest rooms inhabit the former coach house and stables that wrap around a courtyard out back, each lushly appointed with locally made fabrics. The cellar where the convicts who built the mansion were chained up at night now houses an impressive wine collection and—somewhat incongruously—can be used for dinner parties. More genial is the dining room, where chef Kurstin Berriman turns ingredients sourced mainly from the surrounding Coal River Valley into delicacies like eel mousse with saltbush and braised wallaby. Her farmhouse breakfasts are also outstanding, an extravaganza of home-hung yogurt with preserved plums, freshly toasted granola, foraged field mushrooms, and thick slabs of cured ham.
—61-3/6205-9740; doubles from US$240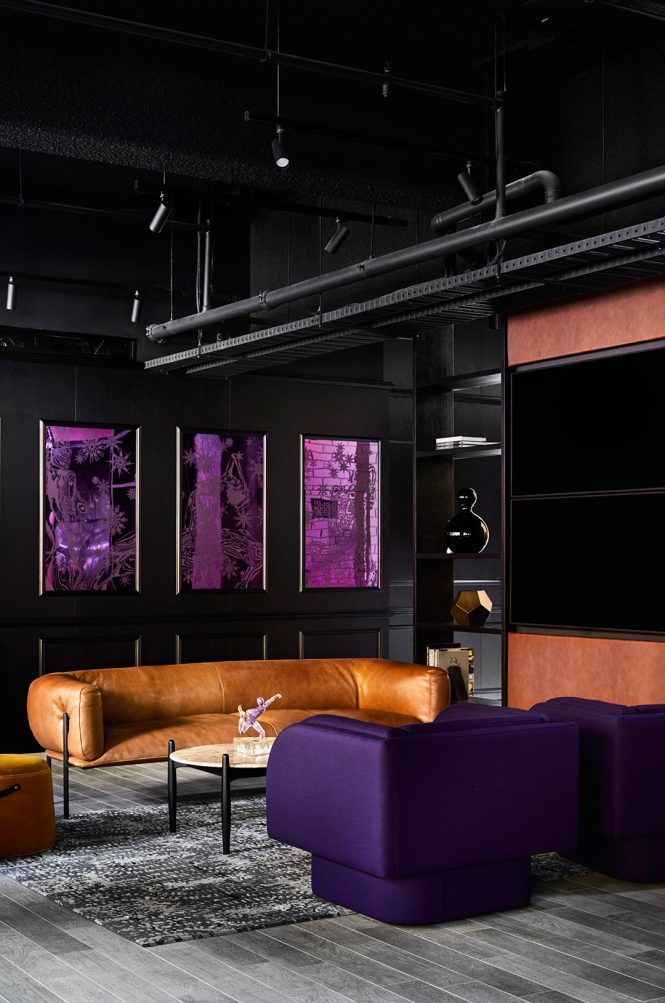 When your hotel consults a feng shui guru to ensure the perfect flow of qi and optimize rooms for a good night's sleep, you know you're destined for a restful stay. Welcome to Zagame's House, a design-driven bolt-hole on the cusp of Melbourne's Little Italy precinct in the inner-city suburb of Carlton. Renowned for its family-focused Italian restaurants, the Zagame Corporation's first foray into upscale accommodation is at once high style and homey. The lobby is more like a living room than a reception area, with plush sofas arranged around a wood-burning fireplace and a big communal dining table where breakfast (hemp-seed hotcakes; sweet-corn fritters) is served. Come cocktail hour, ground-floor wine bar Lord Lygon steals the show with light bites like duck san choi bao and truffled-cheese toasted sandwiches. Australian artists were commissioned to outfit public spaces with original works, from eye-popping elevator murals to brass bulldog sculptures—a reminder that the property is pet friendly. But these aren't the only local collaborations: fashion label Robb & Lulu designed the staff uniforms, while minibars include Mansfield Coffee Merchant brews alongside Everleigh Bottling Co. cocktails and Moon Dog beers. All rooms come with velvet armchairs, Marshall speakers, and amenities courtesy of U.K. brand Cowshed; book the Neon Suite to elevate your stay with a rack of dangerously drinkable wines and complimentary movies.
–61-3/9084-7777; doubles from US$160
BHUTAN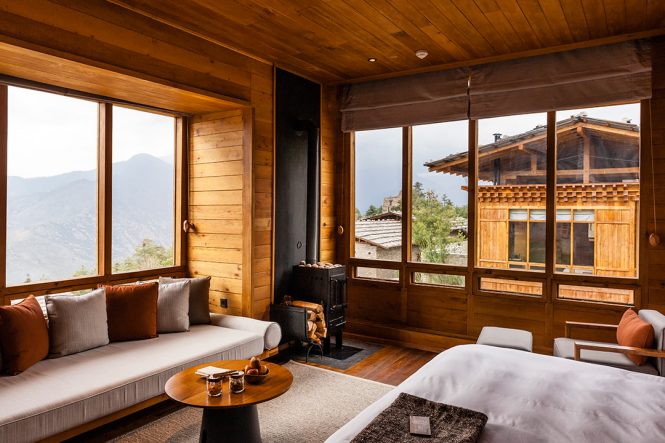 Aman may have pioneered the luxury lodge circuit in Bhutan, but Six Senses, which had opened three of its planned five lodges at the time of this review, has taken the concept and run with it, applying the brand's own distinct approach to food, sustainable design, and wellness. Thimphu, the Bhutanese capital, is home to the largest property, with just 20 suites and five villas ensconced in pine and apple trees. Two winding hours away by car in Punakha, a second lodge has walls rendered in the pastel-gold hue of ripening rice stalks, and a lounge that juts out over an infinity pool in a nod to the cantilevered bridge at the valley's 17th-century dzong, or monastery-fortress. Six Senses Paro is the closest one to the airport, and a well-positioned base for treks up to the cliff-side monastery of Tiger's Nest. Extensive wellness offerings are headlined by signature treatments at each of the lodge's spas—think traditional hot-stone baths at Thimphu or massages preceded by a walking meditation in Punakha. And the depth of environmental practices is impressive. Each lodge has its own reverse-osmosis plant and water refinery, while produce is grown in-house as much as possible. Make sure to request the "feudal ruins" dinner at Six Senses Paro: at a tent set up at the ruined dzong next door, folk dancers perform as you dine on local fare and sip egg-laced ara moonshine.
—975-2/350-773; doubles from US$1,750, half board
CAMBODIA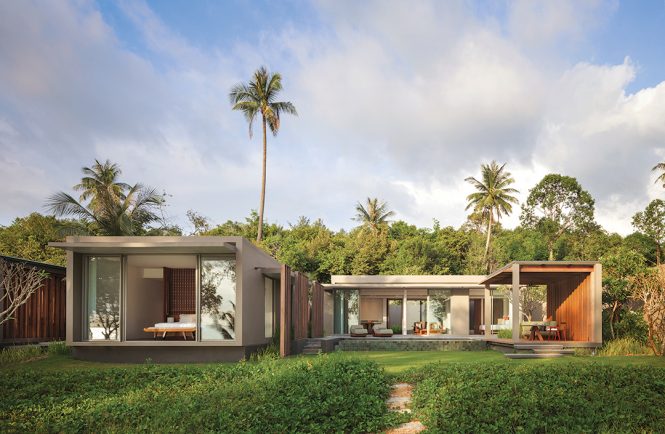 Once a seafront playground for French-colonial administrators and then local elites in the early decades of independence, the compact Cambodian Riviera now finds itself back in the spotlight thanks to the emergence of offshore luxury. Occupying a 25-hectare slice on the western shore of Koh Russey, Alila's first Cambodian property sprawls along a honey-colored beach dotted with pine, coconut, and ironwood trees, strung with hammocks for lazing by the jade-green Gulf of Thailand. Singaporean architecture firm Studiogoto imbued the resort with a sleek tropical modernism; buildings are painted gunmetal gray, with clean lines and simple geometry inspired by the krama (Cambodia's ubiquitous checkered scarves). The 63 indoor-outdoor rooms and pool villas sport a neutral color palette so as not to compete with the verdant surrounds and ocean views. Come mealtime, fresh seafood and tapas beckon at the sand-floored Beach Shack restaurant, while Horizon specializes in Asian-influenced European fare. Free hatha yoga is offered at the spa most days, but if it's off-island pursuits you're after, the Alila can organize cycling tours, mangrove boat rides, fishing excursions, and a full-day trip to visit the pepper farms of Kampot and the crab market at Kep.
—855-86/800-732; doubles from US$315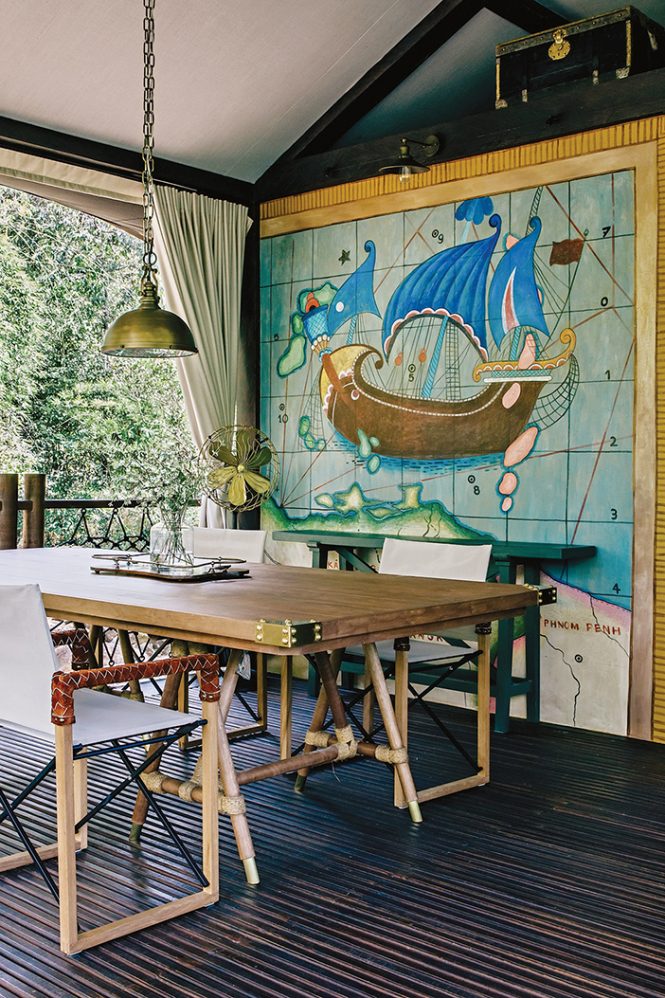 Your arrival by zip line over a waterfall is the first clue that Shinta Mani Wild is no typical hotel. With just 15 tented suites strung out along a boulder-strewn stretch of river on the doorstep of Southern Cardamom National Park, this ambitious jungle camp is the brainchild of Bangkok-based architect Bill Bensley and his Cambodian business partner Sokoun Chanpreda, who acquired the 375-hectare concession a decade ago to keep it out of the hands of loggers. Conservation is at the heart of the operation; guests can explore the surrounding forests with a resident naturalist or join local wildlife rangers on anti-poaching patrols. But luxury is taken just as seriously. Supremely comfortable, the tents are flamboyantly appointed with retro hand-painted murals, animal-print sofas, and sexy alfresco tubs. Daily-changing menus showcase the best available produce and ingredients—lemongrass-cured salmon with green papaya salad, say, or curried mud crab. There's a fabulous iron-sided swimming pool perched above the waterfall, and a nearby spa that's perfect for post-trek Khmer massages and a host of other treatments. Sangjay Choegyal, the camp's charismatic young manager, is another asset. Having grown up at a Nepalese jungle lodge, he's the ideal companion (schedule permitting) for a spot of tenkara fly-fishing, bird-watching, or just a drink at the Landing Zone bar, where the cocktails are botanically inspired and the playlist favors 1960s Cambodian pop.
—855-12/223-782; tents from US$1,900, full board, for a minimum three-night stay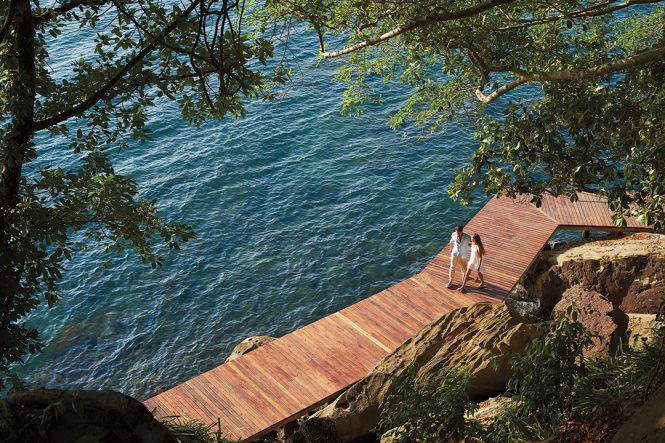 Just months after the opening of Alila Villas Koh Russey (also on this year's Luxe List), Six Senses debuted a private-island escape of its own on a neighboring kaoh off the Cambodian coast. Krabey Islandis a12-hectare hump of rocky coves and thick, bird-filled jungle into which the resort has discreetly tucked 40 modernist villas. Invisible from each other, they have private pools, slate terraces, egg-shaped tubs, and glass walls with electronic blinds that open up to tropical views at the push of a button. Once you've worked up a hunger snorkeling or kayaking in the surrounding waters, head along the shoreline-hugging boardwalk to one of two restaurants overseen by Australian chef Todd Adams (seafood and finely spiced curries are highlights). This being Six Senses, there's also a big focus on wellness. The hilltop spa spans 2,000 square meters and features a glass-fronted gym, steam and sauna rooms, and a rooftop deck where you can try aerial yoga with the resort's Kerala-born naturopath, Anand Peethambar. Also on hand is the Alchemy Bar, a bright, apothecary-like room with a large wooden table around which guests can learn how to make lip balms, face lotions, and other body products from ingredients plucked from the on-site herb garden.
—855-69/944-888; villas from US$663
CHINA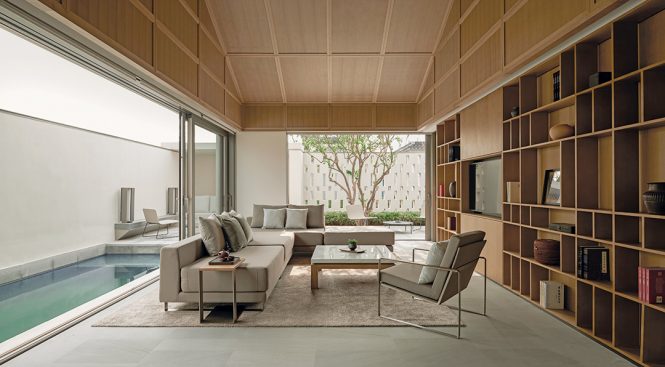 Alila Wuzhen
For its third property in mainland China, Alila has chosen the 1,300-year-old water town of Wuzhen on the lower reaches of the Yangtze River, a 90-minute drive from Shanghai. Befitting its classical surrounds, the picturesque resort by Chinese architectural firm GOA exudes contemporary serenity and minimalism while also paying tribute to the water town's intricate maze of canals and ancient alleyways. Reflection ponds and water features dissect the hotel's indoor and outdoor spaces, and floor-to-ceiling windows bathe the dramatically proportioned public areas in sunlight. Each of the 125 generously appointed suites, villas, and pool villas wrap around private courtyards with natural woods, muted lighting, and garden-view bathtubs adding to the sense of relaxed luxury. Guests can savor local delicacies like wok-fried river shrimp at Chinese restaurant Si Shui, and gain insights into local culture through a selection of Alila Experiences, from artisan workshops in bamboo weaving and indigo-print fabric making to crafting cocktails using local spirits and herbs. Or simply kick back at the delightful Spa Alila with a signature Dream Water treatment, another feel-good interpretation of the resort's calming water theme.
—86-573/8871-2222; alilahotels.com; doubles from US$290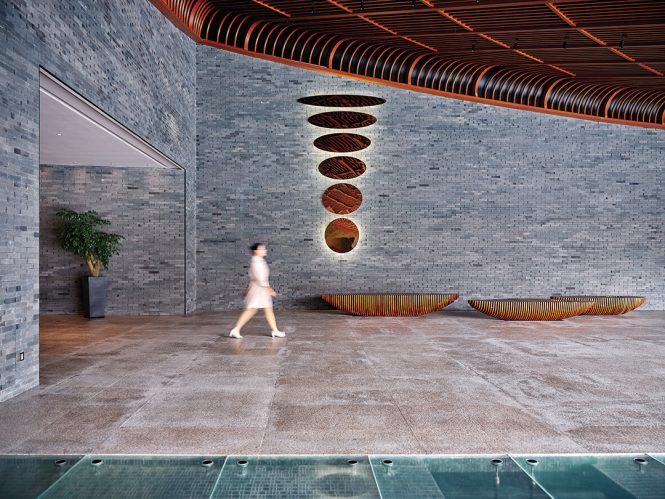 Visa-free entry for tourists from 59 countries (including most ASEAN citizens) is one reason to consider Hainan Island for your next beach break. Another is the new Capella Sanya. Tucked away in Tufu Bay beyond the high-rise resort strip of Haitang, the Jean-Michel Gathy–designed property (with landscaping by Bill Bensley) has 190 rooms and villas spread across 14 hectares of palm-studded grounds, making it the largest hotel in the Capella fold. Rooms in the main building, dubbed The Manor, begin at a generous 88 square meters; the villas, arranged in gated clusters, are much larger still and come with good-size pools as well as the Diptique bathroom amenities and ultra-soft Italian bed linens that are standard throughout the resort. Gathy's take on contemporary Chinese design is perhaps best showcased by the lobby, where a grand oculus punched through the roof directs a curtain of water into a central pool—all very feng shui. (Be sure to pass by at 9 a.m., when a tai chi master wades into the pool to begin his morning ritual). The spa, Auriga, could well be the island's best, with a hammam, a "snow cabin," and treatments tailored to the cycles of the moon. Hainan's place on China's ancient Maritime Silk Route is celebrated nightly in the Library Bar with complimentary tastings of bespoke cocktails themed to the route's various ports of call. The food is particularly good at Lan Ting, the Capella's Cantonese dining room. Order the poached Wenchang chicken—the free-range poultry comes from the same area that inspired the island's most famous culinary export: Hainanese chicken rice.
—86-898/8309-9999; doubles from US$282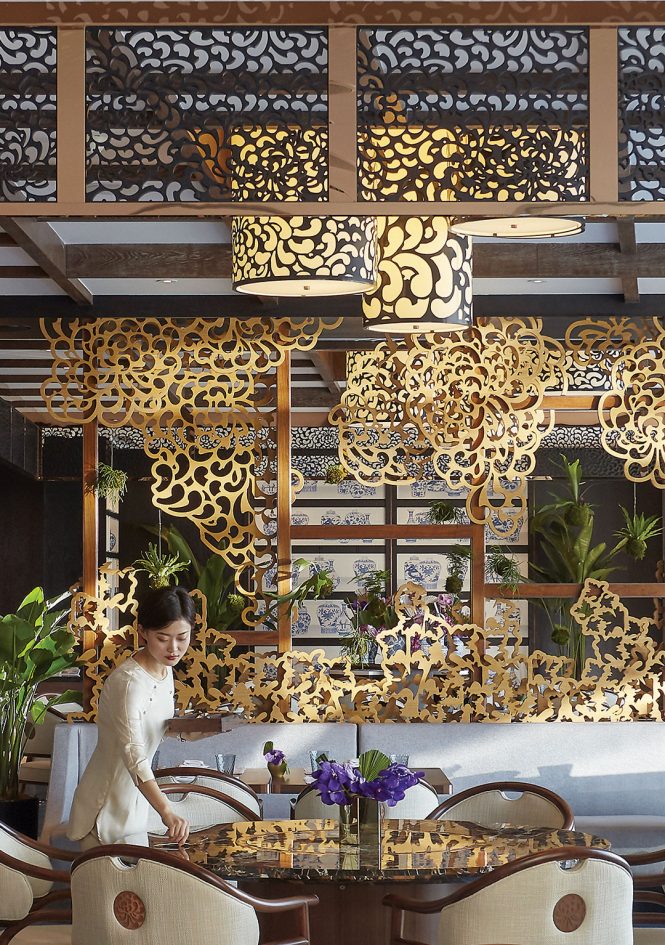 Mandarin Oriental Wangfujing
Mandarin Oriental has had a rocky entry into the Chinese capital: its first under-construction hotel literally went up in flames in 2009, while a hutong property announced in 2015 has yet to materialize. It seems the third time is the charm with the arrival of this 73-room lodging off the pedestrian shopping street Wangfujing. Set within a slick new mall, the hotel's discreet side-lane entrance transports guests from the thronging pavement outside into a hushed and intimate refuge where Frank Gehry koi fish lamps circle above the reception desk and staff in draping silk blouses skim through sun-dappled corridors and courtyards, evoking a contemporary Forbidden City vibe. This twist on the classic continues in the guest rooms, which are styled in a refreshing palette of jade and violet, with four-poster beds and large circular bathtubs. Dyson hairdryers and silk pajamas are among the thoughtfully curated amenities that elevate your stay. Breakfasts at porcelain-encrusted Café Zi feature dim sum and mini muffins; the art-deco ambiance at Mandarin Grill sets the tone for superb steaks; and the seductive MO Bar pours sophisticated Beijing-inspired cocktails like the Time Lapse, made with milk-washed baijiu and jenever. The latter also opens out to the hotel's pièce de résistance: a large tulip-dotted rooftop terrace with blissful views across the golden rooftops of the neighboring Forbidden City.
—86-10/8509-8888; doubles from US$430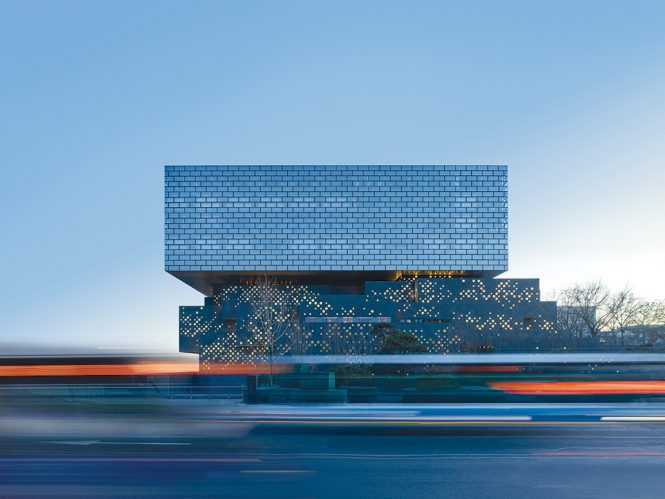 The PuXuan
The PuXuan makes an impression from the get-go thanks to its prestigious location opposite Beijing's National Art Museum. That the angular building it's housed in is the brainchild of starchitect Ole Scheeren only enhances the statement being made—but it's not a brash one. On the contrary, the hotel's exterior pays homage to the ancient hutong laneways surrounding it, while interiors merge traditional and modern seamlessly. Those familiar with The PuXuan's Shanghai sister hotel, The PuLi, will be pleased to note the same dedication to creating gorgeous spaces in which you immediately feel at home, from the lobby lounge that invites you to marvel at a perfectly framed view of Jingshan Park, to the small but lovely outdoor courtyards and terraces. With the Forbidden City and other attractions right outside, guests will enjoy retreating to the UR Spa at the end of a day of sightseeing. Another pleasure is the truly creative fare at Cantonese restaurant Fu Chun Ju or buzzing bistro Rive Gauche. Executive chef Ivan Miguez's previous stint at Ultraviolet by Paul Pairet in Shanghai shows through in the artful delivery of dishes such as bone marrow with tendon crackling and steamed cuttlefish with strawberry, coriander seeds, and squid-ink gel.
—86-10/5393-6688; doubles from US$320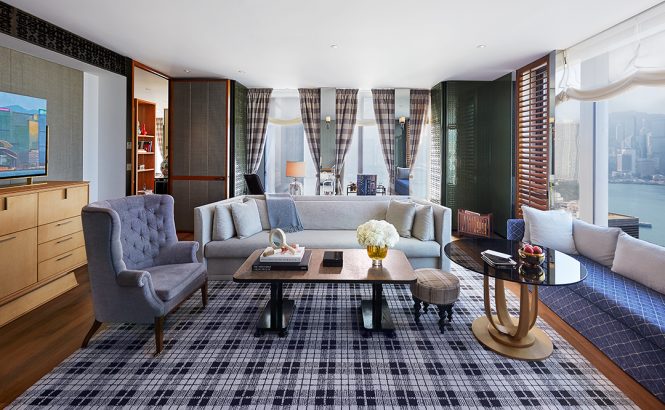 Rosewood's return to Asia in 2014 with the debut of the Rosewood Beijing turned plenty of heads, and so have its subsequent openings in the region. But the brand's towering new Hong Kong flagship outshines them all. This is CEO Sonia Cheng's hometown, after all, and no expense seems to have been spared in creating a property that both celebrates the Cheng family's legacy (the 413-room hotel rises from the former site of the New World Centre, a waterfront complex in East Tsim Sha Tsui built by her grandfather, Cheng Yu-tung) and anchors the burgeoning Victoria Dockside development. New York–based designer Tony Chi has crafted some of the most lavish guest rooms in the city (starting at 53 square meters, they're also among the biggest)—a lavish blend of patterns and textures that extends to cashmere wall coverings, lacquered panels, Giorgetti armchairs, and, in the bathrooms, hammered copper sinks and twin showers clad in richly veined arabescato marble. A small fortune has also been spent on artwork, from the life-size elephant by Indian sculptor Bharti Kher displayed off the lobby, to the Damien Hirst butterflies on the walls of the nearby tea lounge. Chi designed all the public spaces as well; these include The Legacy House, which specializes in the refined cuisine of Shunde, the Cantonese town where grandfather Cheng grew up; and DarkSide, a sultry bar with live jazz and a fine stock of dark spirits. Look up, and you'll see a ceiling installation of rotating hourglasses. Perhaps they mark that this waterfront's time has come.
—852/3891-8888; doubles from US$575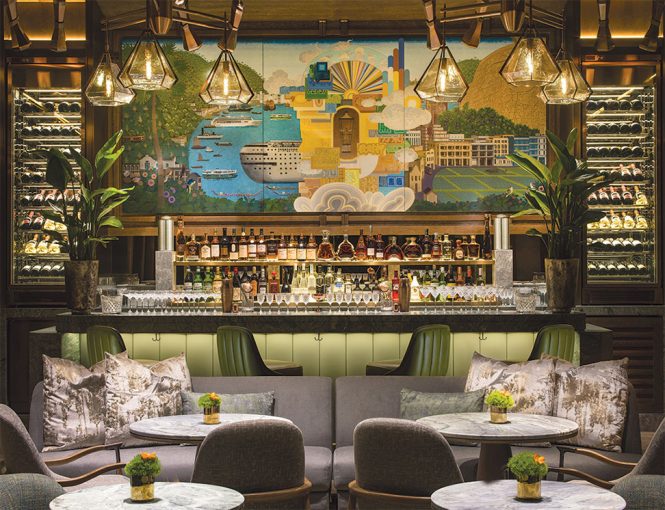 The St. Regis Hong Kong
The long-awaited arrival of the St. Regis marks a serious injection of luxury for Wan Chai, a bustling area of century-old tong lau and modern office blocks that may finally be ready to shake off its reputation as Hong Kong's red-light district. All the brand's hallmarks are here—the 24-hour butler service, the posh St. Regis Bar with its bespoke mural and local twist on the Bloody Mary—but the clear standout are the interiors by André Fu, whose work on the Upper House in neighboring Admiralty a decade ago cemented his reputation as a local design wunderkind. The second-floor lobby is bedecked in cool gray Italian marble, deco-like bronze frames, and calming moss-green furnishings. Rooms and suites—129 in total—are equally warm and soothing; a discreet celebration of Hong Kong culture with wooden floors, geometric lanterns, and rich lacquer paneling echoing the city's old shop fronts. Elsewhere, there's an outdoor swimming pool fringed by cabanas, an impressively equipped gym, and a small but sensational spa. Elevating the property further is its superb dining. Flit between the romantic pearl-and-gold-toned L'Envol, with its eight-course French tasting menus and synchronized service, and the more subdued Chinese restaurant Rún, which resembles a modern-day teahouse and is already being hailed for serving some of the best dim sum in town.
—852/2138-6888; doubles from US$450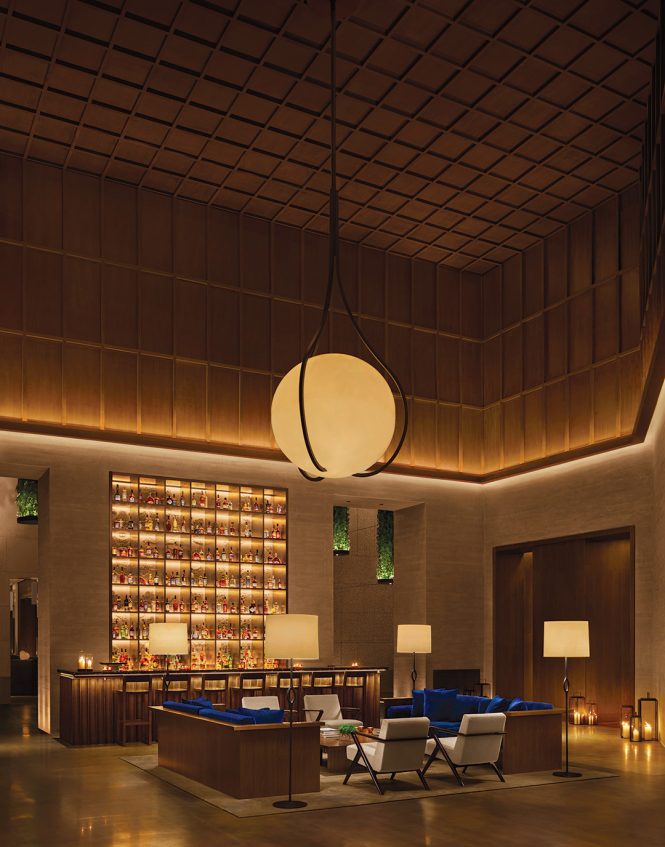 The Shanghai Edition
Scoring an enviable location on one of Shanghai's busiest thoroughfares, a block from the riverfront Bund, The Shanghai Edition feels more hub than hotel. Spread across the 1929 art deco former headquarters of the Shanghai Power Company and an adjoining 27-story tower built in the 1980s, Ian Schrager's vision of new-age hospitality features 145 guest rooms accompanied by a whopping nine dining and entertainment venues, including several cool local collaborations. Even if you aren't a staying guest, there are plenty of reasons to end up at the Edition, which has quickly become a social hot spot. London-based chef Jason Atherton oversees English brasserie Shanghai Tavern and izakaya-inspired HIYA on the 27th floor, while Jowett Yu (of Hong Kong's Ho Lee Fook) brings his irreverent take on Cantonese cuisine to the very loud Canton Disco. A slew of bars and clubs—including reservations-only Punch Room and Electric Circus, which riffs off Schrager's notorious 1970s New York City nightclub Studio 54—draw Shanghai's party set. Another favorite is the aptly named rooftop lounge ROOF, whose whimsical ivy grotto opens out to one of the city's most dazzling riverfront vistas. Compared to the public spaces, the light-oak guest rooms feel rather low-key, though luxe touches like Le Labo bath products and Anichini bed linens ensure that if you really must rest, you can do so in style.
—86-21/5368-9999; doubles from US$280
INDONESIA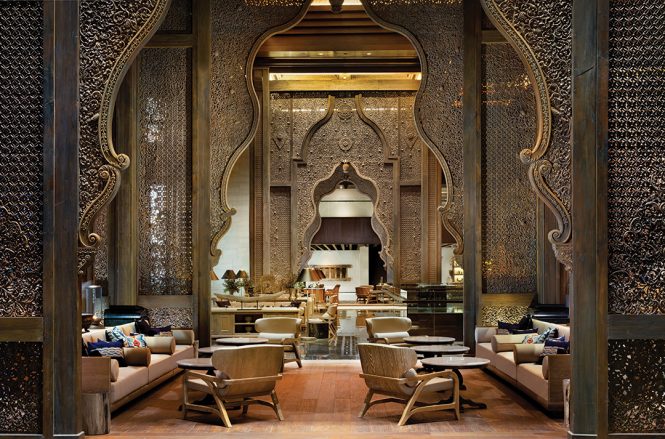 In hotels, first impressions are everything. And the impression you get when you walk past the intricately carved gebyok doors that flank The Apurva's reflecting pool and step into the soaring cliff-top lobby is: Wow! It's a stunning space capped by a stepped copper-sheathed ceiling (an allusion to Mount Meru, the sacred mountain of Hindu cosmology) and anchored by four eight-meter-tall pavilions paneled in more intricately carved woodwork, the labor of hundreds of Javanese craftsmen. Then there's the shimmering Mongolian marble floor, the miniature terra-cotta temples, the artfully placed handicrafts and textiles from Sumba and Lombok and other islands of the Indonesian archipelago. It's almost enough to distract you from the sweeping Indian Ocean views. To savor those views in private, book one of the suites that terrace down the cliff side like Balinese paddy fields; with elegant, understated interiors and frangipani-shaded plunge pools, they also come with access to a club lounge and its hydro-jet pool. Some 256 other rooms are located at beach level in stone-clad guest wings that border the central gardens and swimming pools. This is where you'll find Pala, a glass-walled all-day diner and rooftop bar; and soon-to-open Koral, a subterranean seafood restaurant built around an enormous saltwater aquarium. Back at lobby level, there's an excellent spa and the very un-izakaya-likeIzakaya by Oku for fusion-y Japanese; nearby, breezy Selesar Deli hits the mark with Indonesian "soul food" (think corn fritters, deep-fried tempeh, banana-leaf-wrapped rice), traditional pastries, and herbal jamu tonics.
—62-361/209-2288; doubles from US$178
INDIA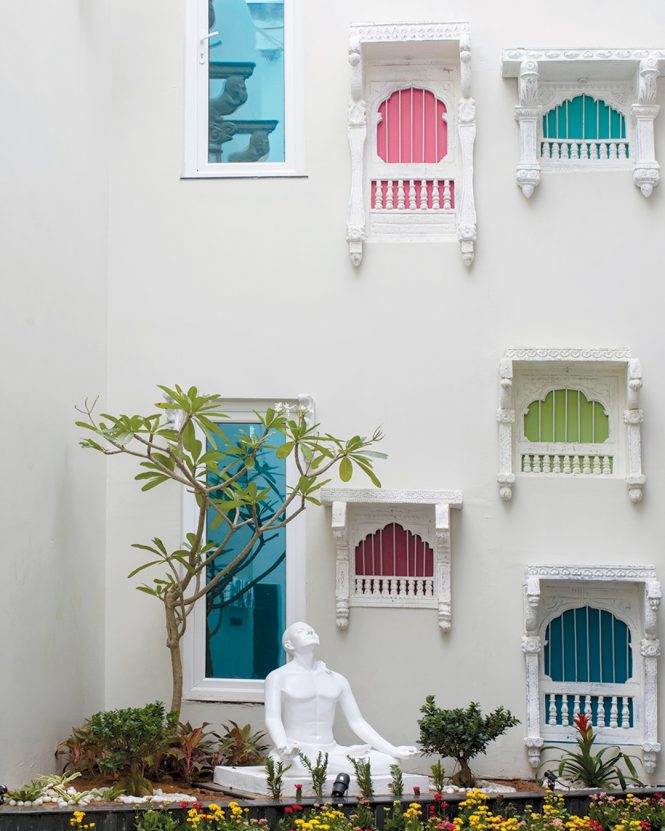 More excitingly original than conventionally luxurious, this live-in museum in Andhra Pradesh nevertheless stands out as a showcase for the coastal state's four famous craft traditions: tholu bommalata shadow puppets, Budithi brass work, Kalamkari pen art, and Etikoppaka lacquerware toys. Each of the 24 richly textured guest rooms—designed by local artists and craftsmen—has one of these as its theme (Budithi rooms, for instance, are decked out with brass bells and traditional swing beds called uyala), with flamboyant headboards as their centerpieces. All told, there are 70 sculptures and 50 art installations around the property, including the four sphinx-like yali that watch over the swimming pool and its breezy dining terrace. That pool is actually part of the adjoining Palm Beach hotel, which also shares its Masala Mafia buffet restaurant and Dusk, where indulgences include unexpectedly good cocktails and the best cheese-and-corn balls you've ever had. The beach out front is accessible through a private gate and empty for the most part. For exploring farther out, trips can be organized to the marvelous hilltop temple of Simhachalam or to Araku Valley, a hill station in the Eastern Ghats where the hotel sources its coffee and chocolate. You'll return to find cooling face packs and body scrubs awaiting you in your bathroom.
—91-891/273-1036; doubles from US$120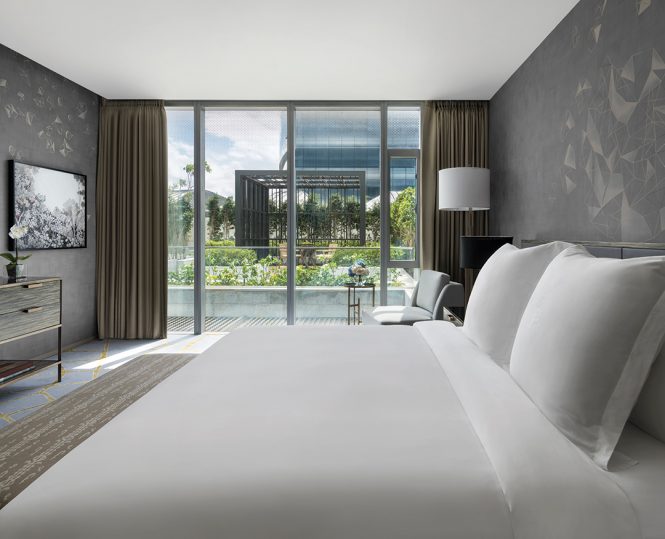 Four Seasons Hotel Bengaluru at Embassy ONE
Four Seasons' second hotel in India is the sexier of the two (sorry, Mumbai). Suave rooms in sophisticated hues are fronted by floor-to-ceiling windows that capitalize on the verdant views, which encompass the hotel's own garden and the greenery of Bengaluru beyond. The resort-like pool area leads to Infuse Spa, whose entrance is hidden behind a cascading water feature. It's an exceptional facility, with treatments to match: try the Mocha Mantra scrub (made with coffee from the plantations of nearby Coorg) or the Flower at Four Seasons massage, a fragrant 60-minute rubdown that eases out the knots with oil infused with the essences of marigold, rose, geranium, and jasmine. Aside from producing flowers, the temperate climate here (Bengaluru, the cosmopolitan state capital of Karnataka, sits on the Deccan Plateau at an elevation of 900 meters) also sharpens the appetite, so it's a good thing that the Four Seasons' restaurants are first-rate too. Overseen by a French chef, they include what has quickly become one of the city's most coveted culinary addresses: Far & East, a chic pan-Asian brasserie on the 21st floor. For a post-prandial cocktail, head next door to Copitas and order a zingy Masala Dosa, which is muddled with south Indian ingredients like rasam and podi. It's a classic in the making.
—91/80-4522-2222; doubles from US$220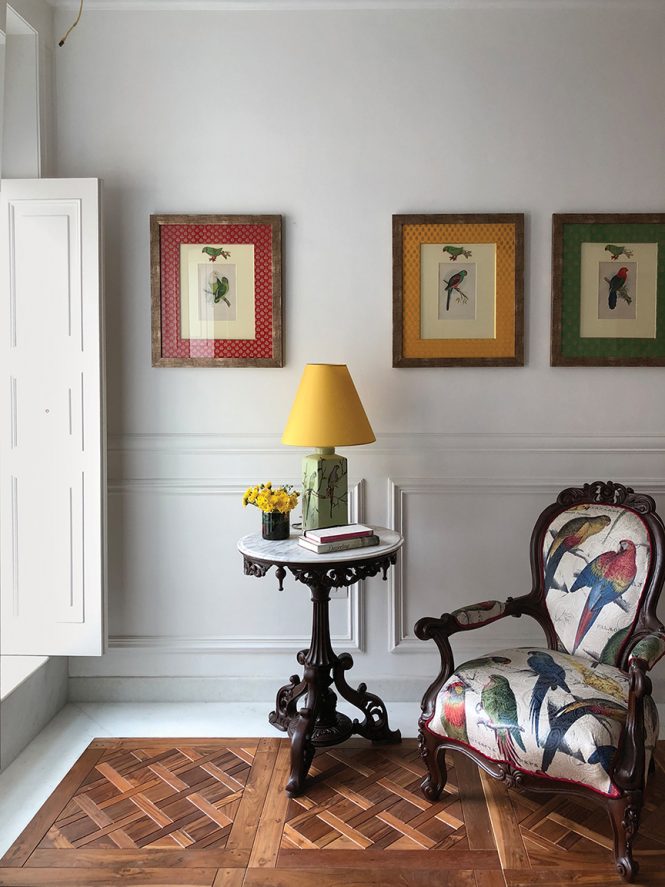 Is The Oberoi's reign as Kolkata's favorite luxury digs finally over? After a years-long gestation, The Glenburn Penthouse opened in January as the epitome of genteel living in the onetime imperial capital of British India. Owners Husna-Tara and Anshuman Prakash, together with flamboyant Melbourne-born designer Bronwyn Baillieu-Latif, sourced the finest local craftsmen for the hotel's plaster moldings, inlaid-marble furnishings, Venetian mirror work, and teak parquetry, all of which lend an air of old-world elegance to this thoroughly contemporary property. The nine suites are arranged over the top two floors of an eight-story office building—an odd location to be sure, but the Penthouse exists in its own fabulous world. The delight is in the detail: a lady walking her leopard in the lavishly whimsical "Hindoostan" wallpaper, custom made in Paris; the Burmese-teak beds carved with flowers, horses, lions, and dancing girls; the pink chandeliers and cherub sconces in the dining room. Everything, from the ceramic-handled cutlery to the elephant-motif crockery, has been chosen for character and aesthetics. Then there are the views, especially from the rooftop infinity pool. At this height, the 19-million-strong metropolis is laid bare in its smog-smudged glory: the Victoria Memorial, Eden Gardens, Howrah Bridge, the racecourse. Just extraordinary.
—91-33/4604-5267; doubles from US$335
The Roseate Ganges, Rishikesh
Aside from an almost monkish minimalism, there's nothing here to suggest that you are in Rishikesh, one of the most sacred sites of Hinduism. Indeed, the "private white-sand beach" included among The Roseate's amenities evokes a much farther-flung (and tropical) destination. But instead of bikini-clad blondes, you get the august grandeur of the Himalayas rising above the strikingly green-blue waters of the Ganges. The views are equally dramatic from the valley-side infinity pool or the terraces of the 16 villas—sleek, compact units appointed with slate-gray walls, fireplaces, and black-marbled bathrooms. At the main restaurant, Chidya Ghar, chef Chetan Singh Rana crafts regional specialties rarely found outside the state of Uttarakhand; you can also arrange to have a private meal on the banks of the Ganges. The spa, too, is excellent, showcasing all-natural Ayurveda treatments alongside a variety of wraps, scrubs, and massages. But what distinguishes The Roseate is that "wellness" extends beyond the spa and infuses every aspect of the experience, from the service to exhilarating hikes, rafting, and, if you're a Beatles fan, guided visits to the ashram where the Fab Four studied transcendental mediation in 1968.
—91-931/990-3388; doubles from US$190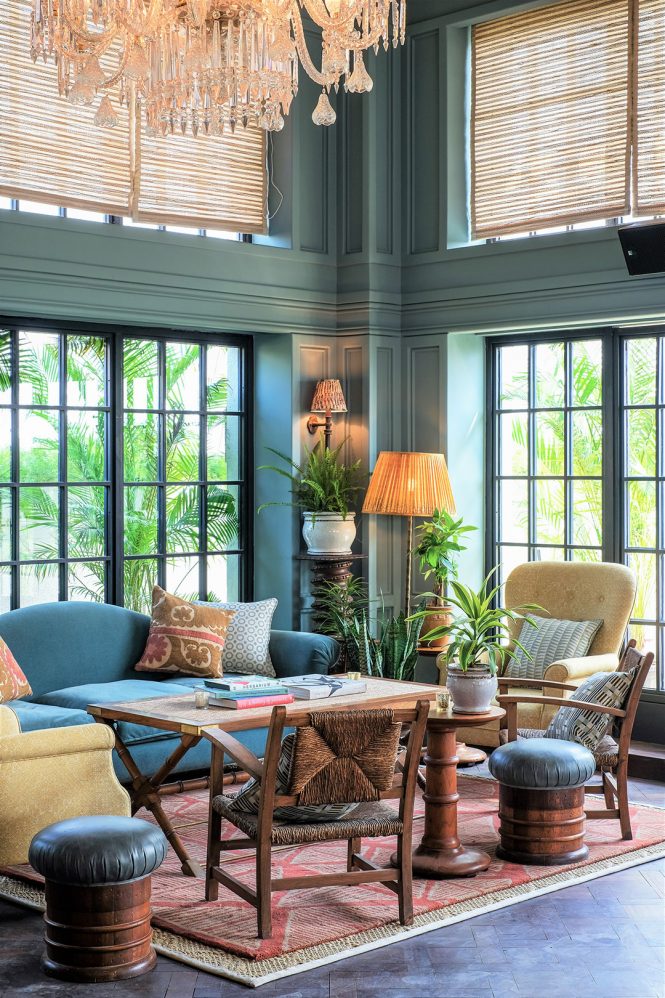 The first Asian outpost of British-born members' club Soho House, whose 22 locations across Europe and North America are a magnet for globetrotting creative types, this 11-story beachside property in the affluent Juhu neighborhood melds Indian-inspired style with the ambiance of a boho-chic London townhouse. Members flock to the rooftop bar, where excellent cocktails—masala vermouth sours, anyone?—come with views of the glittering Arabian Sea, and enormous beds in the poolside striped cabanas are an invitation to linger. Downstairs, the 38 individually decorated rooms (book those with a sea view) feature a charming mix of antique timber and bone inlay furniture, woven-cane chairs, block-printed Rajasthani fabric, and lampshades made from saris. Dining here isn't just a members-only affair: ground-floor Allis café welcomes the public, as does Italian restaurant Cecconi's, which serves cicchetti small plates and signatures like lobster spaghetti. If you can, choose a table on the breezy, Venetian-style seafront terrace open for dinners and sumptuous Sunday brunches. Soho House also has a 32-seater private cinema kitted out with plush velvet armchairs, and though it might be located in Juhu where the film stars live, the place has wisely distanced itself from the city's Bollywood scene.
—91-22/6213-3333; doubles from US$180
JAPAN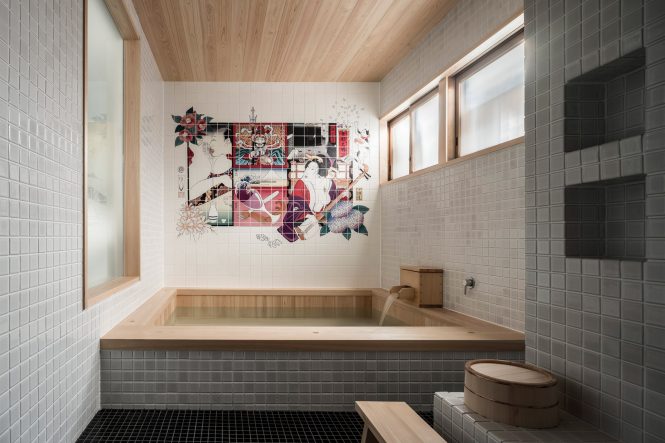 Often referred to as Tokyo's "Little Kyoto," the historic Kagurazaka district is on the up thanks to a slew of heavyweights like Noma offspring Inua and the Yayoi Kusama Museum setting up shop here in recent years. Trunk (House) is the latest buzz-worthy addition: an ultra-luxurious one-bedroom boutique stay tucked away between hidden sake bars and izakaya in the neighborhood's warren of cobblestone streets. Here, the team behind Shibuya's hipster hangout Trunk (Hotel) has restored a 70-year-old okiya (geisha house) and kitted it out with a professional kitchen, tatami-floored tearoom, and minimalist upstairs bedroom. While much of the original structure was left intact, its interior has been spruced up to pay homage to 21st-century Tokyo: globally influenced, but inherently Japanese. Modern classics such as a Prouvé Potence wall lamp and Eames side tables stand alongside shoji paper screens and Noguchi lanterns, while the bathroom centers on a hinoki-wood tub backdropped by a cheeky sento bathhouse–inspired mural, with amenities created in collaboration with French cult beauty brand Buly 1803. Nights here don't come cheap, but they include the services of private chefs and dedicated butlers who can whip up modern Japanese fare and fresh matcha tea upon request. Other perks include Tokyo's tiniest karaoke parlor (complete with a state-of-the-art sound system, fully stocked cocktail bar, and a riot of disco lights); leather trays and slippers handcrafted by Tokyo-based menswear label Hender Scheme; and a brilliant collection of Japan-inspired artworks by contemporary artists from around the globe.
—81/3-3268-0123; from US$4,650
MALAYSIA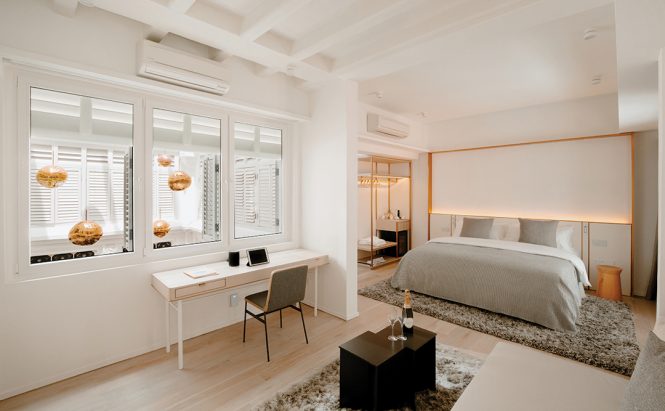 88 Armenian
This meticulously restored three-story shophouse on George Town's Armenian Street has put a modern spin on the raft of heritage hotels to open here in recent years. The design pays homage to the street's 19th-century trade in copper, with gorgeous Tom Dixon copper pendant lamps and just six guest rooms named for historic artists and craftsmen who worked with the reddish metal (American patriot Paul Revere among them—who knew?). Arranged around a skylighted air well, guest quarters have been sumptuously fitted with deep freestanding bathtubs, power showers, super king-size beds, complimentary minibars, and a gamut of Aesop toiletries; it's just a pity the smallish, shuttered windows don't allow in more natural light. 88 Armenian's compact ground-floor restaurant and bar—named, not unexpectedly, Copper—dishes up sharing plates influenced by ingredients and cooking styles of Straits Chinese cuisine: think grouper with keluak nut in green curry, claypot crab, or roselle-glazed beef short ribs. The service is swift and sharp and the plating picture-perfect, though the seasoning can be hit or miss. Still, the dark moody tones and copper-topped bar counter make for an alluring setting; if nothing else, stop by for a cocktail before heading out on the town.
—60-4/261-1188; doubles from US$180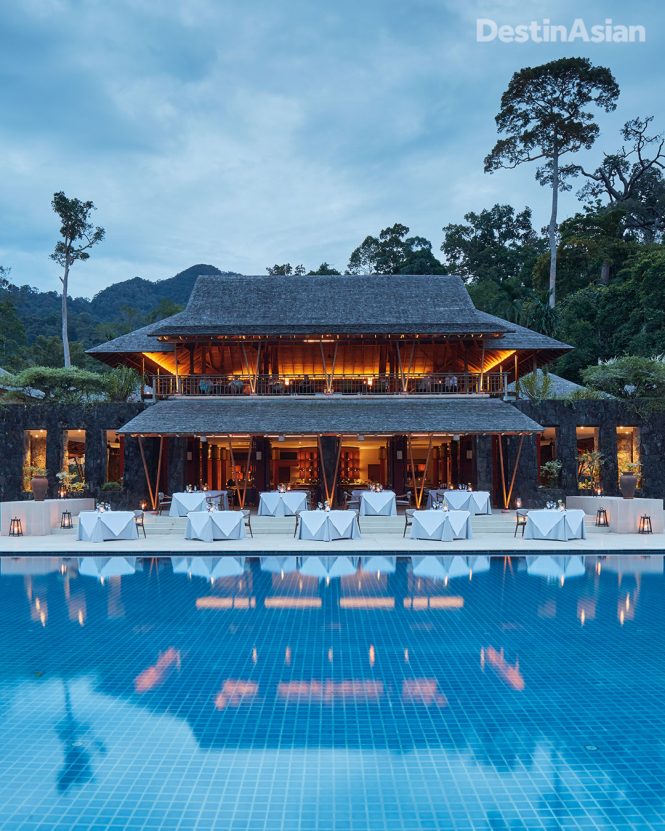 This is the resort that turned Langkawi into a bona fide luxury destination when it debuted back in 1993; a Kerry Hill–designed classic of low-slung, timber-clad buildings embraced by ancient rain forest. Now, following a US$60 million refurbishment that kept its doors closed for a year, The Datai is making waves once again. Didier Lefort, the French architect and designer responsible for the interiors the first time around, was brought back to update the rooms and villas in line with their original spirit, for which he reinstated brass-studded wooden panels and added freestanding composite-stone tubs. Three new pool villas have joined the mix, as has the Datai Estate, a private five-bedroom complex. The gym has been relocated to a thatch-roofed pavilion near the beach, with floor-to-ceiling windows that look out to the Andaman Sea; the revamped spa sports a Bastien Gonzalez mani-pedi studio; and the beach club has been expanded and improved. Nature-loving guests will appreciate The Datai's enhanced menu of activities—everything from reef walks and guided kayaking excursions to bug hunts for kids. Resident naturalist Irshad Mobarak (a legend in is own right) now works out of a purpose-built nature center that features a small laboratory and a "tea corner" serving medicinal infusions made from foraged herbs. Also new is a nature trail that winds through the 26-hectare property, complete with a mangrove boardwalk and an observation deck nestled 20 meters up in the trunk of a strangler fig.
—60-4/950-0500; doubles from US$610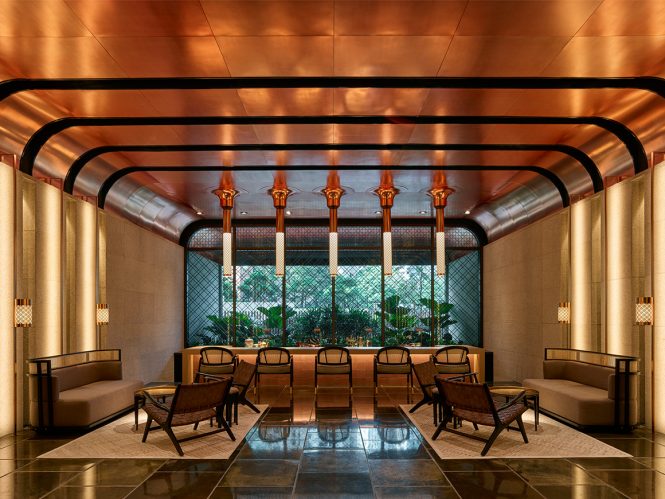 The RuMa
Amid a clutch of big-brand hotel openings in Kuala Lumpur last year, The RuMa debuted discreetly in November inside a 37-story tower flanking the KLCC—and it may just be the city's classiest address to date. Shanghai-based British interior designer Andy Hall drew from Malaysia's tin-mining and rubber-tapping heritage to create a number of intriguing elements in the public areas, starting with the entrance foyer, where six wooden columns salvaged from an antique house lead to a bronze water fountain surrounded by a terra-cotta "birdcage" that nods to the canaries once used to detect gas leaks in mines. In the lobby, two spiral staircases appear to "drill" through a luminous pressed-copper ceiling, while the landing between them displays a shimmering gold kebaya installation created by Malaysian fashion icon Bernard Chandran. The 253 guest rooms are minimalist by comparison, done up in a contemporary colonial style that features wicker-backed chairs, ceiling fans, headboards of woven rattan, and blond-wood wall paneling. Canadian-born chef Tyson Gee oversees the lobby lounge (which serves a very decadent afternoon tea spread with glasses of bubbly and scones with homemade jam and clotted cream), pool bar, and modern-Malaysian restaurant Atas, where the menu features an all-star lineup of sustainable ingredients and an interesting—albeit expensive—wine list with obscure bottles like Moët Hennessey's Ao Yang, a cabernet blend from the Himalayan foothills of China's Yunnan Province. Another highlight? The glittery cantilevered pool.
—60-3/2778-0888; doubles from US$156
MALDIVES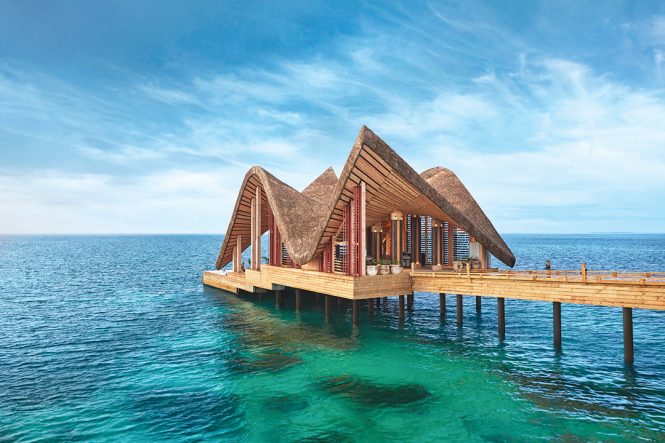 Joali
Joali sure knows how to make an entrance. Perched ecclesiastically on clear blue waters, the undulating thatched-roof pavilion on the resort's arrival jetty makes for an impressive welcome that's indicative of what's to come. The palm-studded island it calls home—Muravandhoo, in the Maldives' northern Raa Atoll—is interspersed with bars, restaurants, a spa, and a handful of secluded beach accommodations, while the remaining villas (there are 73 in all) line a snaking boardwalk that stretches into the ocean as far as the eye can see. Most of the interiors are the work of Istanbul-based outfit Autoban (Jaoli's owner is Turkish), which has layered the property in a Mediterranean palette of neutral tones with aqua-blue accents, revealed through timber, bamboo, terrazzo flooring, curvaceous custom-made furnishings, and delicately carved wooden panels. The seven drinking and dining outlets cover all the bases from Italian to Chinese; among them is Saoke, an overwater Japanese restaurant that serves up fresh sushi and teppanyaki dishes against fiery sunset backdrops. Another highlight is the resort's immersive art collection, which includes a colorful, mosaic-tiled table and stools by New York sculptor Misha Kahn and a rattan swing in the shape of a heron's head by Cape Town-based Porky Hefer. Pieces are scattered across the island, providing unexpected diversions for those not content to spend their days sunning themselves beside their private pool.
—960/658-4400; villas from US$1,962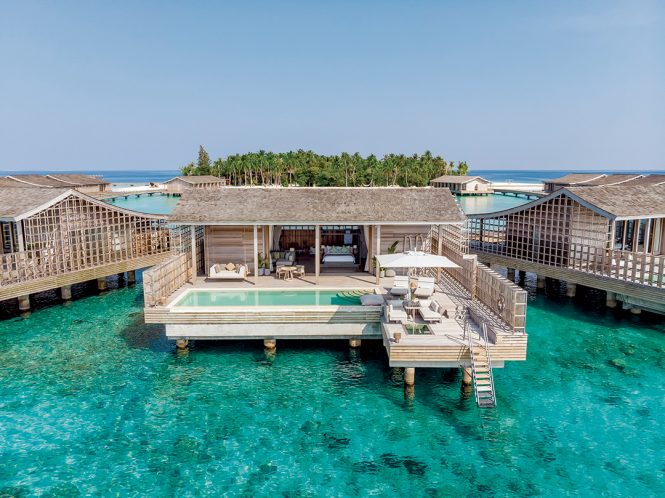 Kudadoo Maldives Private Island
What sets this Maldivian resort apart from all the others? Just about everything. First, there's the location. Set on a pancake of white sand 40 minutes by seaplane due north of the capital, Kudadoo resides in one of the few atolls to have come through the 2016 coral-bleaching event almost entirely unscathed. The reefs here are teeming with confetti bursts of colorful reef fish, bright healthy soft and hard corals, and swaying beds of seagrass (important habitats for green sea turtles). Then there's the design: just 15 enormous overwater villas and one central building for socializing, all by New York–based Japanese architect Yuji Yamazaki—think calming straight lines, unvarnished woods, and a beautiful interplay of light and shadow. It feels more like a private members' club that just happens to be fully sustainable, thanks to 300 kilowatts of rooftop solar panels. But the biggest standout is that stays at Kudadoo are all-inclusive, at a jet-setter level unmatched elsewhere in the archipelago—no exceptions, no limits, no … "no's." There's Ruinart champagne on tap, fine-dining any way you want it, unlimited watersports (manual and motorized; try the X-Jets jet boots), and a spa that could be a destination in its own right, offering everything from sage-burning healing rituals and meditation in a Himalayan salt chamber to turn-back-the-clock facials.
—960/662-6000; villas from US$3,100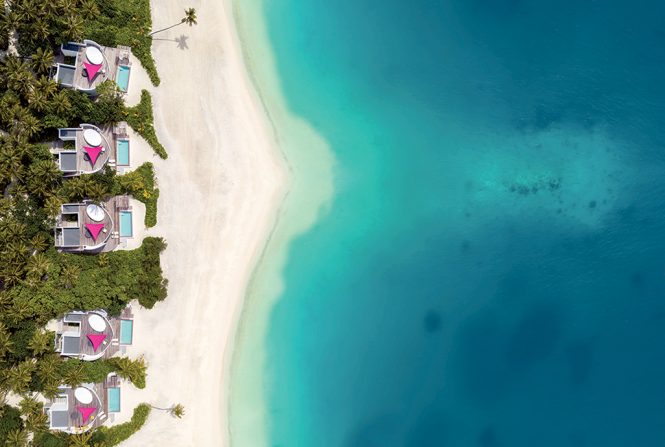 It's a credit to the designers of LUX* Resorts & Hotels' second Maldivian property that it stands out against the raft of other big-name openings in the archipelago this year. The vibe is contemporary South Beach, with 67 white-walled, deco-esque villas that curve and gleam like the hull of a luxury yacht. There's not a thatched roof in sight. Isabelle Miaja, the Franco-Spanish interiors maven who helped realize the project, says she wanted it to feel like the sort of place James Bond might stay were he to visit the islands. That translates to sexy bespoke furnishings and cheeky pops of color, plus huge bathrooms equipped with tubs that look like a bisected dinosaur egg. Villas are either on the beach or perched above the lagoon; either way, you'll get a private infinity pool and rooftop sundeck. Inti, the resort's Peruvian-Japanese restaurant, serves incredibly fresh ceviche and potent pisco sours; across the island—it's a short walk—is a beach club with a more casual menu and DJ beats. Massage tables at the overwater spa are positioned above glass panels, but if it's fish you want to look at, book Barium, a subterranean private dining room with an aquarium along one wall. 007 would no doubt approve.
—960/668-2600; villas from US$1,112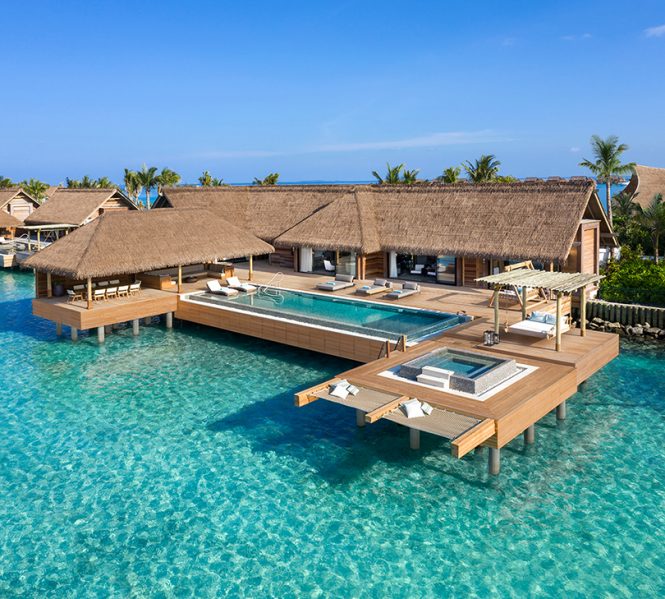 Waldorf Astoria Maldives Ithaafushi
The bigger, the better — that seems to be the MO for Hilton's Waldorf Astoria brand as it joins the recent flurry of luxury resorts opening their doors in the Maldives. Spread across a 3.5-kilometer stretch of three islands (one of which is a private oasis with its own spa, gym, entertainment center, chef, and concierge team) in the South Male Atoll, the 122-villa hotel has no less than 11 drinking and dining options, including a series of tree-top dining pods, contemporary Chinese restaurant Li Long (which delivers crisp Peking duck straight from a traditional wood-fired oven), and The Ledge by Australian chef Dave Pynt, whose menu of deliciously slow-roasted, grilled, or smoked meat and vegetable dishes lives up to the Michelin-starred status of his Singapore restaurant Burnt Ends. Diversions are, of course, dominated by the resort's abundant marine life, though relaxing in your villa's infinity pool will be just as tempting. At sunset, take a stroll along the sand to the sprawling spa, where the "wellness concierge" service will devise a personalized itinerary that can include anything from caviar-and-algae facials to beach boot camp. Just be sure to end your day under the twinkling night sky with a Starlight Ocean massage at the seaside spa pavilion.
—960/400-0300; villas from US$2,000
MYANMAR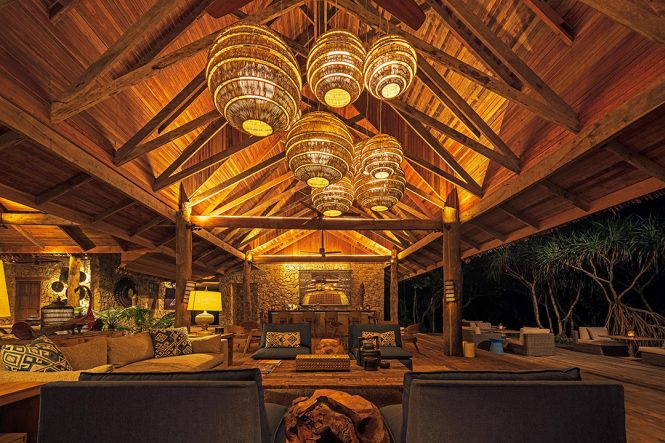 Wa Ale
The sole occupant of a 1,600-hectare island in Myanmar's off-radar Mergui Archipelago, Wa Ale rethinks the beach holiday. With 50 shades of blue waters, powder-soft sand, and lots and lots of sunshine, it has all the ingredients for a classic tropical-isle getaway. Yet this is the anti-Maldives. Instead of overwater villas and underwater restaurants, owners Christopher and Farina Kingsley have created an intimate, hand-built resort using reclaimed materials, one that eschews infinity pools, spas, and even air-conditioning in its 11 beautifully outfitted tented suites and trio of tree houses. What you get is wild luxury of the highest order, with philanthropy and conservation at its heart. Macaques skip across the sand during breakfast, pythons curl up in branches above a riverside lounge, and turtles nest just meters from your deck. Between jungle hikes at dawn, kayaking through mangrove forests, and scuba diving among reef sharks, there's plenty of time for massages and dips in the Andaman Sea. The food, by Englishman Ray Wyatt and Burmese sous chef Aung Soe, is superb, with daily-changing menus that might include Thai papaya salad, wood-fired pizza, fish baked in banana leaf, and Burmese pork curry, all accompanied by a good glass of wine. After all, splendid isolation shouldn't mean joyless deprivation.
— 95/950-18269; from US$400 per person, full board
NEW ZEALAND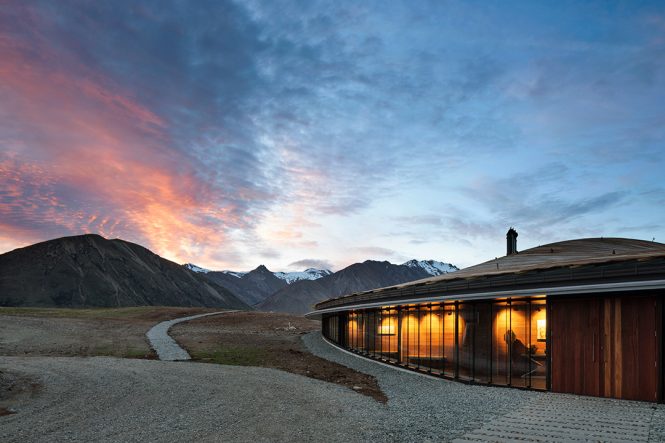 The Lindis
Rock and timber star at this remote five-suite lodge in the high country of New Zealand's South Island. Accessed via a 2.5-hour drive from Queenstown through the dramatic scenery of the Lindis Pass, The Lindis is situated on Ben Avon Station, a 2,400-hectare sheep and cattle farm surrounded by the hills of the Huxley Range, whose contours are mirrored in the building's low-slung, undulating roofline. Outdoor adventure is a major draw here: guests can cast a line in the trout-filled Ahuriri River (it's ranked among the world's best for fly-fishing) or go horseback riding, mountain hiking, electric biking, heli-skiing, or even gliding. But there are plenty of on-site diversions as well, from soaking in an outdoor hot tub to dining on Italian-accented dishes—dukkah-crusted Te Mana lamb rack; crayfish ravioli—in the high-ceilinged Great Hall, which comes complete with a bluestone fireplace and a wine list featuring some of New Zealand's best labels. The wood-paneled suites are designed for lazing and gazing, with cozy throws, timber floors, rain showers, and bathtubs with a view. Before turning in, venture outside to admire the star-filled sky: with virtually zero light pollution out here, the nighttime firmament is as dazzling as the setting is by day.
—64-3/976-1589; doubles from US$1,270, including breakfast and dinner
SINGAPORE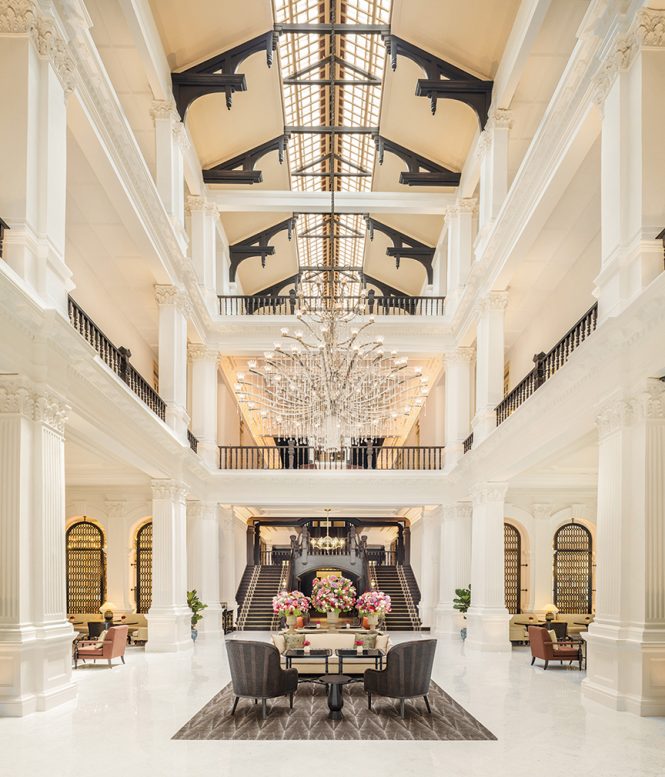 Raffles Singapore
It may sit securely in the pantheon of the world's grande dame hotels, but even this beloved Singaporean icon was looking decidedly faded by the time it retreated behind hoardings in early 2017 for a long-overdue restoration. The results of the two-and-a-half year makeover were unveiled in August to largely positive reviews, with the greatest applause reserved for New York–based designer Alexandra Champalimaud for walking that fine line between nostalgia and contemporary relevance. The soaring lobby—Joseph Conrad, one of many famous past guests whose image is now embossed on the rooms' leather key card holders, once described it as being as "airy as a birdcage"—shines once more, a white cocoon capped by a huge crystal chandelier that hovers over polished marble flooring and coppery screens. The 115 lofty suites are a particular treat. Here, Champalimaud layers creamy hues and Peranakan-inspired floor tiles with capacious four-poster beds and minimalist abstract art. An iPad controls all room functions and books restaurant tables, while a personal butler is on call 24/7 for everything else, including drawing the nightly bath. The culinary offerings do not disappoint either. The beloved Tiffin Room, Long Bar, and Writers Bar have been reimagined with handsome furnishings, but the greater buzz surrounds the arrival of restaurants by Michelin-starred Anne-Sophie Pic, Jereme Leung, and Alain Ducasse.
—65/6337-1886; doubles from US$605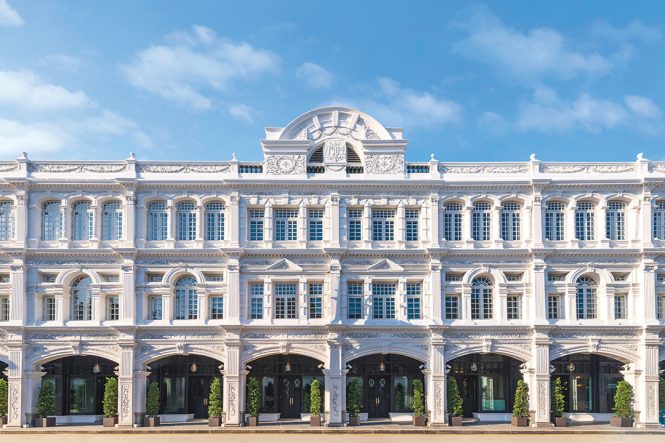 The Capitol Kempinski Hotel Singapore
This much-anticipated property was on the verge of opening in late 2015—albeit under a different name and different management—when an impasse between the original shareholders mothballed it for almost three years. But it was worth the wait. Occupying two adjacent heritage buildings—the Venetian Renaissance–style Stamford House, which opened as a department store in 1904; and the neoclassical Capitol Building, completed in 1930—in the heart of Singapore's civic and cultural district, it's a real gem, with an architectural restoration entrusted to Pritzker laureate Richard Meier and interiors by the late Jaya Ibrahim—this was the Indonesian designer's last project. The 157 rooms and suites come in a variety of configurations (some have outdoor terraces) and pay restrained homage to the buildings' colonial roots, with a muted cream-and-champagne palette, high corniced ceilings, and bathtubs set against scale-patterned feature walls or window-side in arched alcoves. There's Italian marble, travertine, and other elegant finishes everywhere, including at the AvroKO-designed 15 Stamford. Originally conceived as a Peruvian restaurant, it opened instead under the direction of Hong Kong celeb chef Alvin Leung, whose menu features a selection of his favorite pan-Asian dishes—think sous vide rendang short ribs, and Hokkaido scallop with shiso and soy jelly. Another nice touch is the hotel's 24-hour stay policy, meaning you can check-in or check out at any time of the day.
—65/6715-6871; doubles from US$290
TAIWAN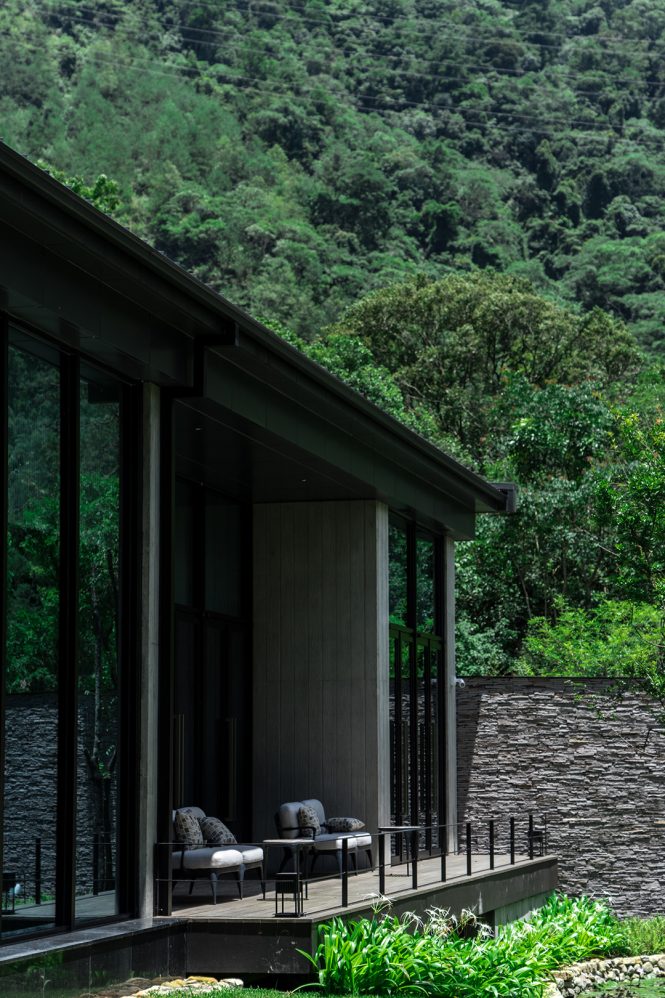 Given the abundance of natural hot springs in Taiwan, it is hardly a surprise that Japan's onsen-centric Hoshino Resorts chose to open its second overseas outpost here (the other is in Bali). Situated above a bend in the Dajia River as it courses through the western foothills of central Taiwan's Xueshan Mountain Range, this spanking-new addition to the picturesque hot spring town of Guguan is centered on its own onsen complex of indoor and outdoor thermal baths. The surroundings are suitably soothing, with a landscaped water garden of babbling streams and bamboo-clad pathways backdropped by forested hills—join a morning qi gong yoga session for an extra dose of zen. The resort's architecture has been kept muted and clean-lined so as not to distract from the natural beauty that envelops it, with floor-to-ceiling windows throughout the 50 guest rooms (each equipped with a private thermal soaking tub) providing sweeping views of the valley. Plush futon-style beds, tatami floors, and common areas sporting shoji paper screens leave no doubt as to the brand's Japanese roots, and neither does the restaurant. From breakfast to dinner, food is served kaiseki style, with chef Shunsuke Fujii creating a beautiful marriage between local ingredients (line-caught sturgeon; foraged mushrooms) and Japanese cooking techniques.
—81-50/3786-1144; doubles from US$575
THAILAND
The latest addition to Bangkok's ever-evolving skyline comes courtesy of Rosewood, whose new high-rise in the heart of ritzy Phloenchit is shaped like a wai, the prayer-like Thai greeting. It has all the trappings of an ultra-luxury hotel (an imposing lobby, fantastic spa, butler service), but stays here feel more like champagne-fueled sleepovers at your crazy rich Asian friend's swanky penthouse. The 159 cream-colored rooms come littered with stacks of coffee-table books, lacquered ceramic catchalls (some filled with Belgian chocolate candy), and brass mementos seemingly brought back from travels around the globe. Said friend has also spared no expense when it comes to amenities: all-marble bathrooms, Dyson hairdryers, and minibars stocked with crystal negroni kits and five types of sparkling water are just a few of the pampering touches. The building's atrium features a dazzling 10-story waterfall; at its source on the 19th floor, AvroKO-designed Nan Bei dishes out the best of China's southern (nan) and northern (bei) cuisines. Order the real-deal Peking duck, carved tableside, but don't miss the lacey minced-pork potstickers or juicy xiaolongbao stuffed with blue crab and truffle. Crowning it all is Lennon's bar, where guests sip music-inspired cocktails like the Purple Haze (butterfly pea tea, gin, and prosecco) amid a collection of 6,000 LPs and cassettes.
—66-2/080-0088; doubles from US$312
VIETNAM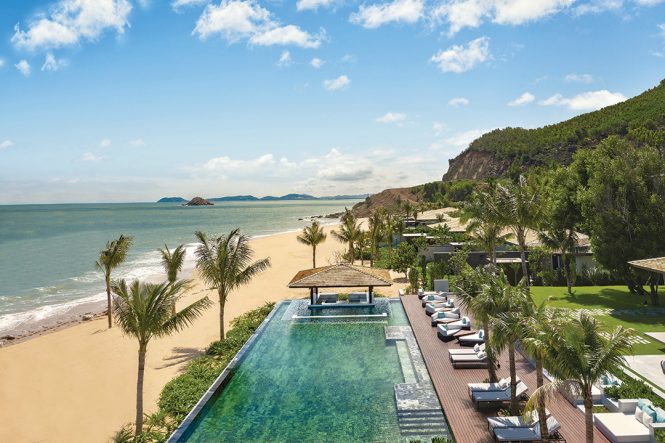 Anantara Quy Nhon Villas
Marooned between Da Nang and Nha Trang, the sleepy coastal city of Quy Nhon has so far remained off the tourist radar—which makes a stay at this months-old resort even more of a delight. Overlooking a private cove south of town, the Thailand-based Anantara brand's third property in Vietnam comes with just 26 one- and two-bedroom villas, each with private swimming pools, gauzy cabanas, whirlpool bathtubs, and sultry outdoor showers; be sure to book one with direct beach access. With little else to see and do in the immediate neighborhood, it's ideal for those looking to chill out and play spot-the-fishing-boat. That said, more restless types can join day trips to cinnamon-scented incense factories, photography tours to morning wet markets, or motorcycle excursions to see the crumbling ruins of 12th-century Cham temples. Outside food options are limited as well; next door sister property the Avani provides something of a change in scene, but getting to Quy Nhon's best seafood joints requires a 20-minute drive. So it's a joy to find the Anantara's bountiful breakfast spread and lunch and dinner menus continue to hit the mark for more than a few days' stay. As, for that matter, does the spa, where exceptional locally inspired treatments are delivered in cliff-side treatment pavilions.
—84-256/3840-077; doubles from US$442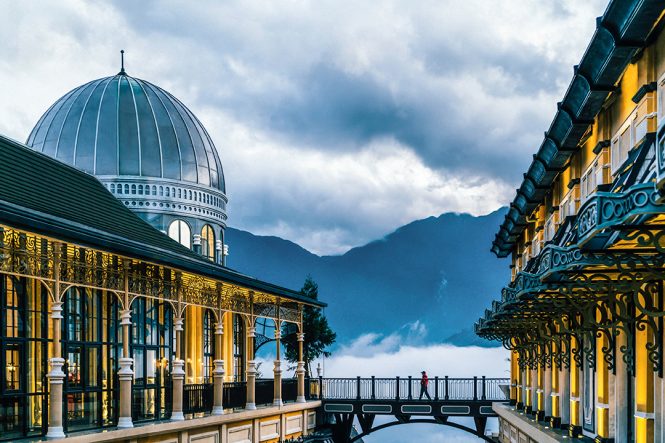 Leave it to Bill Bensley—the Bangkok-based architect and designer behind some of the most imaginative hotels in Southeast Asia—to bring a dose of much-needed razzmatazz to the highlands of northern Vietnam. Resplendent with domes, rooftop pavilions, and wrought-iron railings, Hôtel de la Coupole (part of Sofitel's MGallery collection) is an ode both to Indochine-era haute couture and the colorful textiles of the ethnic minorities—Hmong, Red Dao, and others—who inhabit the misty countryside around Sa Pa, a former French hill station. Bensley's signature whimsical-maximalist style is everywhere, from the grandly glamorous lobby with its plush velvet banquettes and red silk chandeliers, to Le Grand Bassin, an art nouveau–inspired indoor swimming pool complete with green marble pillars, mosaic tiles, and bronze statuary. All told, there are more than 1,000 pieces of original art and antiques (most collected by Bensley at Parisian flea markets) scattered throughout the 249-room property. Considerable attention has also gone into the menu at Chic, the rooftop dining room, where sweeping mountain views are matched by classically plated French-Vietnamese dishes such as Sa Pa trout meunière and Hmong-style air-dried beef with mango salad. For a change of perspective, the hotel also shares space with a little train station where guests can hop aboard an old-fashioned carriage for the two-kilometer ride up to the cable car on Mount Fansipan, Vietnam's highest peak.
—84-21/4362-9999; doubles from US$108
This article originally appeared in the October/November 2019 print issue of DestinAsian magazine ("The Luxe List 2019").