A wunderkind from Dublin was among the guest chefs at Singapore's recent World Gourmet Summit. Here, he talks about modern Irish food and the joys of cooking.
"Always keep tasting. Any chef that doesn't taste his food is crap." Twenty minutes into a cooking workshop led by Mark Moriarty, and the small group of paying guests was warming to the irreverence of this tall, red-headed, ruddy-faced young Irishman (he's only 24). Moriarty was showing us how to prepare the menu—mussels with potatoes cooked in seaweed, barbecued lamb rump—while deploying pithy gems like "I don't want to hear about heart or health, you need loads of butter in everything," and "when you make the food, if it's not tasty, it's not my problem."
The Dublin-based chef was in Singapore in April for the annual World Gourmet Summit, part of a whirlwind tour that's been going nonstop since he won the S. Pellegrino Best Young Chef award in Milan last year. During the four-hour class at the At-Sunrice cooking academy, Moriarty's humor, humility, coolness, ease of cooking style, and laddish charm shone through as he crafted dishes inspired by his family roots in County Kerry on Ireland's rugged southwest coast. "It's hammered by winds and storms. The weather and soil are crap. The farmers gather seaweed that washes ashore and mix it with the soil to grow potatoes in it." As he talked, his rangy body and limbs moved efficiently around the test kitchen. But what was most striking was the way he handled the food: workman-like, as though it were hard labor not haute cuisine.
He sliced and seasoned, boiled and baked, constantly wiping down the countertops, requesting utensils, spices, pots to be brought or removed, his form controlled and confident, his workspace spotless. "I'll coat the potatoes in wakame seaweed, and then fry them with polenta," Moriarty said. "That makes them really good. You can throw them at the wall and they'll smash, they're that crispy." He flipped slabs of lamb on a grill and kneaded dough with chunks of rock salt and strands of seaweed, rolling it out before placing the potatoes in it. "After it comes out of the oven, it will look like something you find on the beach. Or a dinosaur egg." When he plated the dishes, his touch was delicate, the raw builder transformed into meticulous artisan. "Everything has to be there for a reason, the flavors must go together." That day he melded salty and sweet, citrus and yeast—simple yet scintillating.
In Milan, Moriarty beat 2,999 other competitors with a dish of pure Irish ingredients—celeriac baked in barley and fermented hay. "Ask most people what Irish food is and they'll say potatoes, stew, alcohol," he told me. "But Ireland has the best lamb, beef, and dairy in the world. What I'm doing is modern Irish cuisine. I take a classic dish, pull it apart, and put it back in a different way. I don't do magic tricks, just good, solid cooking." It's food like this that he's been serving in pop-up restaurants around Dublin for the past year.
Moriarty's background has been widely published, but it's worth recounting. His food interest started at age five, during summer fishing trips with his father in County Kerry. Learning to cook the catch was a natural progression, and before he hit his teens he'd been weaned on a steady diet of Hugh Fearnley-Whittingstall's weekly River Cottage cooking shows. At age 15, he landed his first kitchen job at the Chart House in the Kerry town of Dingle, and he continued to moonlight at restaurants during his culinary arts program in Dublin.
Fast-forward to today, and those hours of toil have paid off. Winning the S. Pellegrino title "is an unbelievable opportunity. I was the youngest chef in the competition; some of the
others had six or seven years more experience
than me. I am using the award as a springboard to travel and to work with great chefs at places like Jaan [Singapore's acclaimed modern-French restaurant where Moriarty guest-cooked during the World Gourmet Summit]. But it also brings great pressure. Every time I go away,  I'm keenly aware that I'm representing Ireland." He's also aware of the ephemeral nature of fame and the pitfalls of the industry, which he says helps him remain grounded. "This chance will probably never happen again so I am trying to enjoy it. Winning an award gives you confidence in what you're doing." I asked him if he thinks Irish food will become a global phenomenon. "It's gaining more of a worldwide profile, sure. But will it get the recognition of Spanish or Nordic food? I don't know."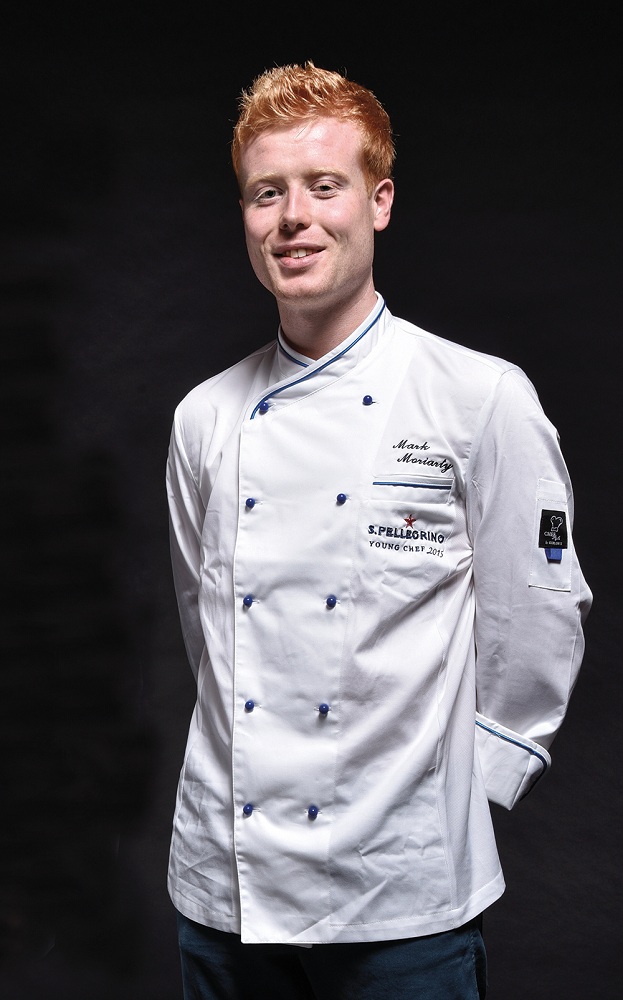 Moriarty's boundless enthusiasm, evidenced by his patter and energy in the kitchen, undoubtedly helped in the Young Chef competition and serves him well today in his role as an Irish food ambassador. "Cooking is endlessly creative and rewarding. Raw ingredients come in every day, and by lunch and dinner you've turned them into a dish. It's not like an office where you might be working for something that's five years away."
In the At-Sunrice kitchen, Moriarty weaved among the participants as they labored on their facsimile of his dish. He'd fetch missing ingredients, taste a reduction, add a touch of salt or a dash of lemon, and throw in words of encouragement like "Great sauce, chef," or "Good flavor, chef, mmm." He also recounted a story from earlier in his career, when a tray of molten foie gras burned the arm of a fellow chef, who stayed on to do five hours of dinner service before going to the hospital for six hours of treatment. The class waited for insightful remarks about dedication and courage, but Moriarty surprised with the kicker, "Stupid of him to stay, really." Equally unexpected was the reply when I asked him about his favorite food. "Thai. When I have friends over and make comfort food, I make a big green curry."
With any luck, that means he'll be back on this side of the world more often.
This article originally appeared in the June/July print issue of DestinAsian magazine ("Making His Mark").