The carrier is dramatically ramping up its flights from Istanbul in anticipation of easing border controls.
Turkey's national airline has just released ambitious plans to rebuild its global network next month. International flights from its hub at Istanbul resumed only on June 11, and the carrier is now operating a reduced schedule to 33 overseas destinations. Among the cities on the roster are Hong Kong and Seoul—both served with twice-weekly flights—and Shanghai, where a Boeing 777-300ER is touching down once a week.
According to the aviation blog Routesonline, Turkish Airlines will be adding 15 Asian destinations back to its schedules over the coming weeks. On July 1, twice-weekly flights to Jakarta as well as Tokyo's Haneda airport will resume, alongside four-times-weekly services to Islamabad, Karachi, Lahore, Mumbai, and Delhi. The following day, it will once again fly the Istanbul–Dhaka route three times a week. Meanwhile, July 4 will see the resumption of weekly flights to Beijing and Guangzhou. Turkish aims to fly to four more Southeast Asian cities in the middle of the month; services to Manila and Singapore will restart on July 15, with those to Bangkok and Kuala Lumpur following suit on July 18. All four cities are being served with twice-weekly flights. That said, the Bangkok route will likely be axed if Thailand's civil aviation authority decides to extend its ban on international flights for another month.
As for the carrier's existing services to East Asia, the frequency of flights to Seoul will remain unchanged, while those headed to Hong Kong will increase to three times a week. The Istanbul–Shanghai service is set to be temporarily dropped.
Within the Asia-Pacific region, Turkish Airlines plans to serve the following destinations this July:
Southeast Asia: Bangkok, Jakarta, Kuala Lumpur, Manila, Singapore
East Asia: Beijing (Capital), Guangzhou, Hong Kong, Seoul (Incheon), Tokyo (Haneda)
South Asia: Delhi, Dhaka, Islamabad, Karachi, Kabul, Lahore, Mumbai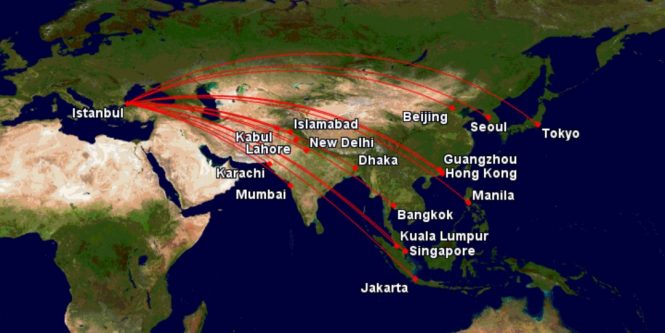 Turkish Airlines' July destinations outside the Asia-Pacific region are as follows:
Central Asia: Almaty, Ashgabat, Bishkek, Dushanbe, Nur-Sultan, Tashkent
Middle East and North Africa: Algiers, Amman, Baghdad, Beirut, Cairo, Casablanca, Doha, Dubai, Erbil, Ercan, Jeddah, Khartoum, Kuwait City, Manama, Riyadh, Tehran (Imam Khomeini), Tel Aviv, Tunis
Sub-Saharan Africa: Abuja, Accra, Addis Ababa, Bamako, Conakry, Dakar, Freetown, Johannesburg, Kinshasa, Lagos, Libreville, Nairobi, Niamey, Nouakchott, Ouagadougou
Southern Europe: Athens, Barcelona, Bologna, Lisbon, Ljubljana, Madrid, Malaga, Milan (Malpensa), Rome, Sarajevo, Skopje, Venice, Zagreb
Western Europe: Amsterdam, Basel/Mulhouse, Bremen, Brussels, Cologne, Copenhagen, Dusseldorf, Frankfurt, Geneva, Hamburg, Hannover, Luxembourg, Lyon, Marseille, Munich, Nuremberg, Paris CDG, Salzburg, Sofia, Stuttgart, Toulouse, Vienna, Zurich
Northern Europe: Birmingham, Dublin, Edinburgh, Helsinki, London Gatwick, London Heathrow, Manchester, Oslo, Stockholm Arlanda
Eastern Europe: Belgrade, Bucharest, Budapest, Chisinau, Krasnodar, Kiev Borispil, Lviv, Minsk, Moscow Vnukovo, Odessa, Prague, Pristina, St. Petersburg, Tbilisi, Warsaw
North America: Chicago (O'Hare), Houston, Los Angeles, Miami, Montreal, New York (JFK), San Francisco, Toronto, Washington (Dulles)