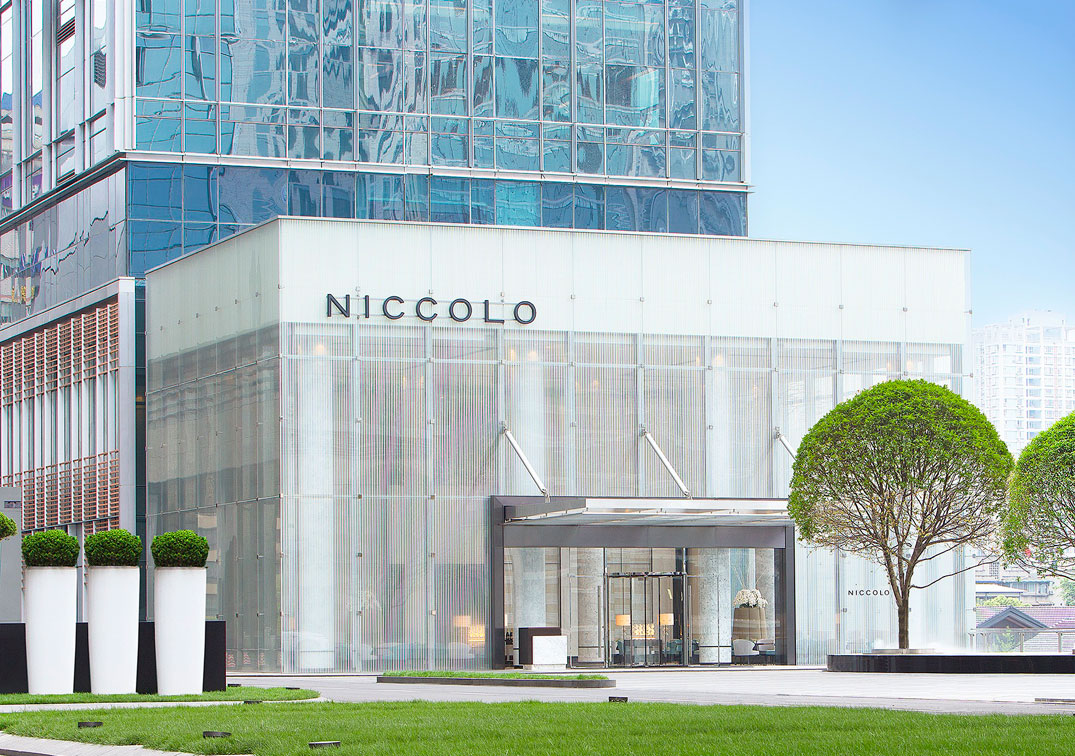 Thanks to a fashion industry blossoming not just with luxury brands but also with concept boutiques, Chengdu has some of the most sophisticatedly eclectic street style in China. We talked to Alex Wu, chief "City Insider" at the ultra-stylish Niccolo Chengdu (pictured above),  about where to find the stores that are doing something different. All walking distance from the hotel, here are four.
Dressing for Fun
A showroom-like space designed by a former OMA architect, Dressing for Fun was opened in 2012 by Stephy Ai and Sophie Xiong, strong believers that style shouldn't be taken seriously—as indicated by the store's core brand, London's boundary-pushing wunderking J.W. Anderson, whose exclusive DFF collection is only stocked here. The store is filled with some 20 designers, all of whom march to their own offbeat drums. Minju Kim's rabbit-eared shoes sit next to racks of Keisuke Kanda's Chanel-inspired A-line suits made of sweatshirt fabric, and by the register, a white carousel spins with jewelry lodged in light bulbs hung like ornaments from the tent top. Nearby, a Murakami plush pillow smiles, its rainbow petals mirroring the shop's rainbow-colored logo (24 Ganhuishu St.; 86-28/8760-9477; dressingforfun.com).
Sihe Four
Hard to find but worth the search, this womenswear boutique only stocks high-end Chinese designers, many of whom are making waves in the international fashion scene. From Ran Fan are pieces of exclusively natural fabrics, such as shiny silk covered in pointillist dots; Ricostru, meanwhile, focuses on high-tech fabrics such as sheet-thin, while Chictopia frocks incorporate laser-cut embellishments, 1970s-esque tropical motifs, and classic Chinese silhouettes for a look equal parts girly and Shanghai dame. There's an air of perfectionism about the whole place—the could-be-models staff included—with an undercurrent of a woman who's never quite satisfied. No one, after all, dons one of Evening's corset-top black dresses if they aren't aiming for something more (Xiao Ke Jia Lane 1, Top City No. 2; 86-28/8113-4501).
Triple-Major Chengdu
It speaks volumes that China's most famous concept store decided to open its third outpost after Beijing and Shanghai here, on a shady street lined with noodle shops and teahouses. Look for textured silk pieces gracefully splattered with multicolored ink by Anntian and Walter van Beirendonck pullovers sporting the designer's Picasso-like self-portraits (13 S. Sishengci St.; 86-28/8695-0521; triple-major.com).
Fang Suo Commune
Best known as a bookstore, Fang Suo Commune is also the brainchild of clothing designer Mao Jihong, with a wealth of space devoted to accessories, lifestyle goods, and fashion. An entire afternoon could be spent examining the tables lined down the center of the main space, gathering grounds for cultish small brands from around the world. There are the sculptural cowhide bags from Côte & Ciel; gorgeous fountain pens from Simplex to use with those distinctive orange Rhodia notebooks; and neutral-toned, loose-fitting wears from Jihong's own brand Exception de Mixmind (Taikoo Li, 8 Middle Shamao St.; 86-28/8658-6858).
This article originally appeared in the August/September print issue of DestinAsian magazine ("A Cut Above").