Looking to celebrate the new decade in style? These beach clubs on the Island of the Gods promise a lively New Year's Eve party that you'll remember long after it's over.
1. Woo Bar
Dance your way to 2020 at this beachfront bar at W Bali Seminyak, which will feature headliner DJs Paul T, Nanda, and JT—all members of the Unadulterated Disco group. Equally exciting is the after-party held at Woobase and helmed by DJ Andreas Seider, for guests to party until dawn. This party starts at 6 p.m., with tickets priced from US$57.
2. Omnia Bali
Set on the edge of the scenic Uluwatu cliff, the first Omnia beach club in Southeast Asia looks set to take things up a notch this New Year's eve. Following last year's headliner, DJ DjRuckuz from Hakkasan Las Vegas, this year's soirée will see Marlo, Australia's top DJ and music producer. The party kicks off from 4 p.m. until the next morning, with tickets starting from US$53.
One of Canggu's newest beach clubs, Café Del Mar, will be debuting its first New Year's Eve party. Grammy award-winning American DJ and record producer David Morales will be taking the decks with hits from musicians such as Mariah Carey, Britney Spears, and others. At the end of the night, DJ Dimitri from Paris will be taking over and regaling guests with funk and disco beats.
Its last NYE party was reportedly attended by a whopping 12,000 guests. Looking to top that number this year, Finns Beach Club will be bringing in an unbeatable music line-up, including international DJs like Camelphat, Duke Dumont, and Lost Frequencies. Best of all? Guests can enjoy the party from across the beach club's four swimming pools, nine bars, and five restaurants. Tickets are priced from US$128.
5. Potato Head Beach Club
The place to be seen, Potato Head Bali is one of the Indonesian island's most popular beach clubs. This time, guests can look forward to ringing in the new year with international DJs, Harvey and Peggy Gou. The party will also be enlivened by fireworks and gamelan players. Get there by 4:30 p.m. so you don't miss anything. Tickets start from US$107.
6. Manarai Beach House
The first beach club by Ismaya, the same lifestyle company behind Indonesian musical festival Djakarta Warehouse Project, Manarai Beach House will be celebrating NYE with a Carnival of Rhythm party. Expect musical entertainment that will transport you from Latin America to Nusa Dua, with performers including percussion musician Yaala Kon and local musicians such as Mistral, Adrian Giordani, and DBRA. Tickets start from US$35.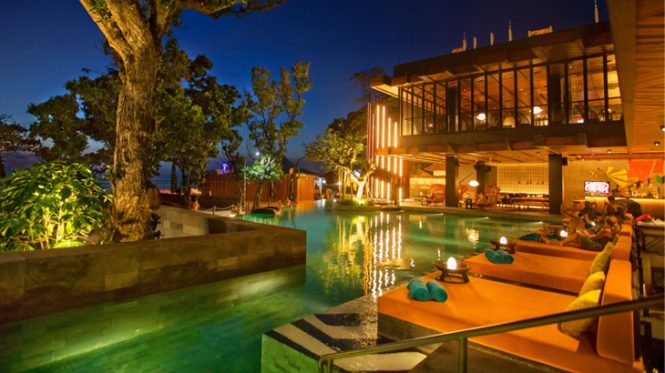 7. Sugar Sand
Located on Seminyak beach, the newly opened Sugar Sand offers a sumptuous five-course champagne dinner this NYE. Priced at US$57, the celebratory dining package includes entry to the NYE party, featuring music by DJ Doctor Yez, as well as DJ Kembar Bulan.
8. ARTOTEL Beach Club
The first beach club in Sanur will be presenting an NYE party titled  Into the Future – DNA Party, Daytime, Nighttime. Instead of starting the party right before sunset, like most beach clubs in Bali, ARTOTEL will be kicking start the festivities at 11 a.m. Guests can expect to dance all night to music by DJs Toi & Moi and Candice Halliday. Tickets start from US$10, inclusive of a cocktail.
9. Da Maria
Featuring a quirky Disneyland theme, Italian restaurant Da Maria will be presenting great music and delicious food at its annual NYE party. Guests looking to go all out can purchase the Platinum package at US$107, inclusive of unlimited pizza and cocktails. Then, prepare to party all night with Love Frequency on the decks.
10. Mexicola Motel
For US$107, guests can wine and dine to their hearts' content at the restaurant and bar's Balexico Party, which will feature Mexican specialty cuisine, as well as entertainment by DJs and musicians from around the region.
This article has been adapted from ("Pesta Tahun Baru 2020 Di 10 Tempat Di Bali"), which originally appeared on DestinAsian Indonesia.