Whether you're in Manila, Hong Kong, or Singapore, we've made sure that you're ahead of the curve and compiled our picks of the best things to do in Asia this week.
Comprising of hundreds of artworks from up to 30 galleries and spread over two days, Hotel Art Fair is back for its fourth year at the Volve Hotel. Held on June 24 and 25, this massive art showcase will feature numerous Thai artists and their works. Hosted by the creative powerhouse Farmgroup, they aim to make contemporary art more widespread throughout the country's art scene with this exhibition. Head over to the hotel and find that every step you take, you'll be greeted with an eclectic presentation of each piece.
Located in the Woof Pack Building in Soi Sala Daeng 1, a unique art exhibition awaits. Brought to life by local Thai talent Pod Moderndog, or otherwise known as Thanachai Ujjin, his abstract paintings were solely used to express his feelings in his daily life. His emotions can be felt in each and every piece of his work. In unison with the venue's soft opening, you can expect to find a selection of entertainment that includes music and food to accompany your time there until June 26.
"Lucie Masters: A Group Exhibition of Lucie Awards Honorees"
Founded by Hossein Farmani, House of Lucie in Ekamai is the sister gallery of the New York-based Farmani Gallery. House of Lucie will showcase its latest photography exhibition that features over 200 works by 130 artists—all of whom are its former honorees—from now until September 15. Head over and find the works of artists such as Mary Ellen Mark, Lillian Bassman, and Melvin Sokolsky among many others in the House's goal of creating a connection between established photography masters and aspiring young photographers.
Renowned luxury fashion brand Chanel has finally graced Hong Kong with its eclectic pop-up café—making every fashionista and beauty maven's dream come true. Get fragrant coffee, mini makeovers, and a sampling of perfumes! Head over to Coffee Academics on Staunton Street, where this pop-up will last until June 25.
"Visual Dialogue: Hong Kong Through the Lens of Fan Ho"
Fan Ho, one of Hong Kong's most prominent street photographers, has always been known for his romantic photographs that feature a distinctive amount of play between light and shadow. His works are now showcased in the prestigious Sotheby's Gallery on Queensway until June 30, giving attendees the chance to purchase his vintage works that date back to the 1950s.
See Hong Kong through his lens as his photos capture its street scenes, wet markets, and picturesque skyline. Alongside the exhibition, the photographer is also launching his new visual book Fan Ho: Portrait of Hong Kong, which showcases some of his best works throughout the years.
For those craving a little dose of foreign culture, Iranian artist Fereydoun Ave has just revealed his newest art exhibition at Rossi & Rossi on Wok Chuk Hang. The exhibit, happening until July 29, will showcase eight large quilts that were each stitched together from Tehran's bazaars, with each of them having its own story. These fabrics provide a glimpse into Iranian history and civilization, with hints of abstract expressionism and colorful pop collages. Ave will also be exploring the wonders of Persian culture, and the extent to which it affects an individual's private or public life.
Toruk: The First Flight by Cirque du Soleil
Renowned Canadian-based circus entertainment group Cirque du Soleil has come to Manila with their dazzling Avatar-inspired show. Head over to the Mall of Asia Arena, and enjoy a fascinating night of skillful circus performers hanging from the skies. Make sure to get your tickets and be apart of their mesmerizing journey, which will be staged until July 2.
Disney's Newsies: The Broadway Musical
Based on the 1992 Tony Award Winner movie Newsies, Disney has brought it to life in the form a live Broadway musical. Coming to Manila on July 7 and showing until the end of the month, be sure to mark your calendar and head over to the Bonifacio High Street Amphitheater in Taguig. Follow the story of two young New York-based teenagers who dream of moving to Santa Fe. Enjoy being serenaded with fantastic songs while witnessing their story as they each embark on their journey.
The State of Fun at Sentosa
This summer, head over to Sentosa with your loved ones and have a mega-fun day (or two). You'll never run out of things to do in this family friendly destination—you can get wet at Palawan Beach's pool, explore Butterfly Park, or watch the iconic Merlion transform color. If you're up for an adventure, head over to the newly renovated Fort Siloso and go on a heritage or gun trail and learn more about Singapore during World War II. Don't miss out on this magical getaway that will last until July 9!
Dreamworks Day
For the first time ever in Asia, this worldwide animation studio will be hosting a DreamWorks Run on June 24 at Gardens by the Bay. Its safe to say that most of the world is familiar with their movies such as Shrek, Kungfu Panda, and Madagascar – so make sure that you don't miss out on this exciting opportunity! The run will start at 4 p.m. until 8 p.m.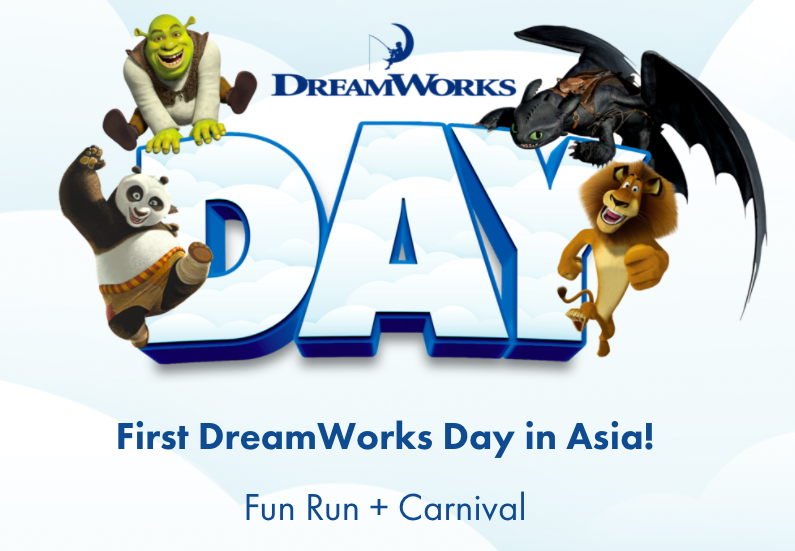 "Blue Beauties"
In celebration of Garden by the Bay's fifth anniversary, they've brought out a rare and special exhibition of color in their Flower Dome. Although the color blue may seem to be an ordinary occurrence, their newest exhibition "Blue Beauties" will be featuring a lush array of flowers with a rare "true spectrum blue" hue. Expect to find hydrangeas, agapanthus, and delphiniums among other flowers in their massive French-inspired garden. Get rid of your "blues" and head over to Gardens by the Bay for a dose of refreshing beauty before June 30.
As rainy season pours down in Japan this June, be prepared for the beautiful blooms that comes with it. For those planning to visit Tokyo this summer, make sure to head over to Hakusan Shrine's Ajisai Matsuri, where you'll find a massive garden that features more than 3,000 of the ajisai (Japanese hydrangea) flower that grows only in the land of the sun. Indulge your eyes with its striking blue hues, and spoil your senses in the sweet fragrance that hangs in the air. The shrine hosts a selection of different events every weekend until August, so make sure to check the lineup in advance.
"Primordial Line"
Situated in the Misa Shin Gallery in Minato-ku, Arata Isozaki, one of Japan's most renowned architects will be showcasing his latest exhibition that was inspired by the Qing Dynasty of China. Shown in the title of his exhibition, Isozaki pays tribute to the Theory of the Single Brushstroke that was developed by landscape painter Shi Tao. His works will be exploring man's multi-facets through drawings that interpret his understanding of architecture. The exhibition will be on display until July 8.
"Traces of the Future: Contemporary Art from Southeast Asia"
Leading up to this summer's festivities, Tokyo's art scene is flourishing with an exciting line-up of events. Starting on June 21 and until July 5, Mizuma Gallery in Shinjuku-ku will be featuring the works of six Southeast Asian artists, as curated by Hermanto Soerjanto. The exhibition will be featuring works from artists that include Roberto Zhao Renhui from Singapore, photographer Angki Purbandono from Indonesia, and magic realist-artist Mark Justiniani from the Philippines.