Rooftop and terrace bars are elevating Hong Kong's dining and drinking scene not only with their inventive menu but also with their spectacular views. In a metropolitan city like Hong Kong where space is always at a premium, these trendy spaces are ideal spots to sit, drink, and watch the world go by.
The industrial area of Wong Chuk Hang in Aberdeen is slowly transforming into an arts district. What better way to take in all the sights than in ABOVE, a bar and restaurant located on the 23rd floor of Ovolo Hotel. The hotel itself occupies a repurposed industrial building and its rooftop bar showcases an edgy street-style décor as a nod to Wong Chuk Hang's past and present.
Cabana
Fancy a beach retreat in Hong Kong? Let Cabana work wonders for you. This open-air rooftop venue with Japanese-style onsen baths, lounging beds, fantastic music, and champagne will get you in a party mood in no time! Start early to catch the sunset, enjoy the breeze and expect to get wet. With plenty of Instagram-worthy spots, it's no wonder this slice of urban paradise is frequented by a younger crowd.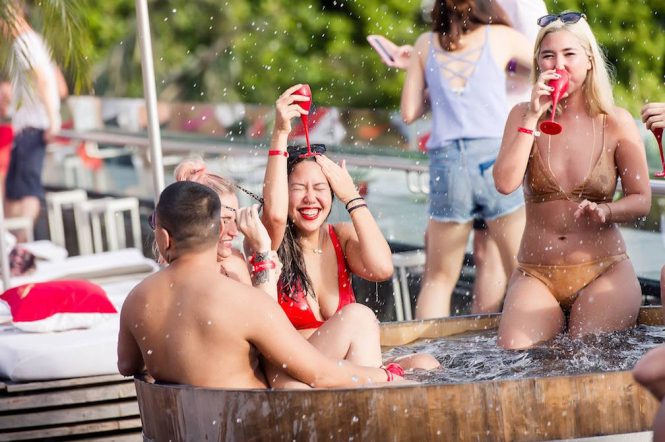 Like its sister properties in Singapore and Bangkok, Cé La Vi Hong Kong has been designed with that top-of-the-world feeling in mind—luxurious dining, inspired mixology, and a modern Asian cuisine. Located on the 25th floor of the newly refurbished California Tower in Lan Kwai Fong, this Hong Kong favorite has been drawing crowds for its views, celebrity DJs, and glitzy theme parties.
The nightly "Symphony of Lights" over Victoria Harbour is a not-to-be-missed spectacle in Hong Kong. Coloured lights, laser beams, and searchlights dance graciously to synchronized music to bedazzle tourists and locals alike. The well-placed Eyebar on the 30th floor of iSquare has one of the best vantage points, and is definitely one of the top places to watch the dancing lights.
Ozone Sky Bar at the Ritz-Carlton
You simply can't go wrong with this sky bar perched high on top of the tallest building in Hong Kong (and ranked ninth in the world)—the International Commerce Centre or ICC. Ozone Sky Bar at the Ritz Carlton on the 118th floor elevates the out-of-this-world experience with its blue-hued surroundings and mesmerizing views. The outdoor terrace is also a popular venue for weddings and themed parties.