Above: Views and a ceiling of sea urchin shells at Nobu.
The InterContinental Hong Kong has a convenient location – steps away from dozens of restaurants on Nathan Road – but come meal time there's actually no need to leave the premises. With its selection of world-class dining outlets, all with dramatic views of Victoria Harbour, diners are spoiled for choice. Of course unless you plan to make the InterCon your home for a while, it's unlikely you'll have time to fully explore all the options. With that in mind, here's a quick guide to help you make the best of your time. (And check out our video on the restaurants, too.)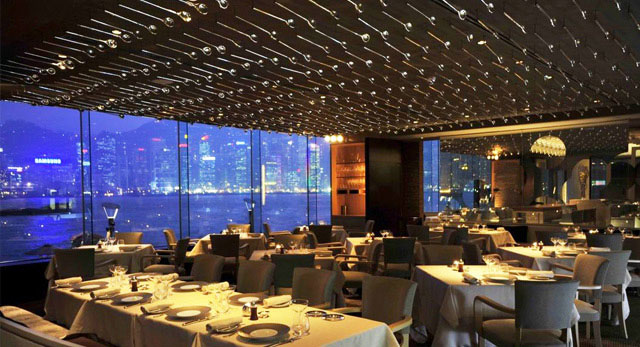 SPOON
Fronted by the renowned chef Alain Ducasse, SPOON (above) takes a sophisticated yet contemporary approach to French cuisine. The two-Michelin-starred restaurant showcases Ducasse-inspired delicacies in a casual-chic setting, including pan-fried beef tournedos with herb tortellini, black trumpet mushrooms, and white grapes; and stuffed and roasted suckling pig with potato gnocchi and artichokes. Be sure to grab a table next to one of the floor-to-ceiling windows for a panoramic view of the harbor and passing boats. And in case you're wondering where the restaurant's name comes from, look up and be amazed by the 550 hand-blown mercury glass spoons that decorate the ceiling.
Nobu
One of the world's most acclaimed Japanese chain restaurants, Nobu prides itself on dishing out innovative new-style Japanese cuisine. Showcasing signature dishes of the highly influential chef (and the chain's proprietor) Nobuyuki Matsuhisa, this was the sixth Nobu to open internationally and the first in Asia outside Japan. Sample Matsuhisa's innovative dishes, such as black cod saikyo taki, toro tartar with caviar, or yellowtail sashimi with jalapeno. Or feast on a more local creation such as Hirame XO salsa and oven-baked black cod cooked in lotus leaf topped with dried miso and yuzu. And when you get a moment between bites, be sure to look up at the ceiling here as well: you'll find not spoons, but thousands of sea urchin shells.
Yan Toh Heen
The one-Michelin-star Yan Toh Heen serves sophisticated Cantonese delights such as steamed crab meat with green vegetables and black truffle dumplings, and golden frog legs with spicy salt, as well as glorified versions of the humble dim sum. All come from the pot of renowned chef Lau Yiu Fai. Accented with traditional gold and red hues, the restaurant's interior is elegant yet simple; the restaurant is famous for its jade place settings.
The Steakhouse Winebar and Grill
Be sure to come on an empty stomach because this joint serves some of the primest cuts of meat from around the world, seared on Hong Kong's only charcoal grill. Not a fan of beef? Don't worry, the extensive menu also features seafood, duck, and even soup. There's also a huge list of accompaniments for those who like to mix and match, including 12 types of mustard and eight exotic rock salts. In terms of decor, be prepared for clean lines and the rustic textures of wood, stone, and leather. Make sure you check out the high-back red leather booths at the wine bar and sample some of what's on offer (around 480 labels of wine from around the world).
Harbourside
Making the most of the InterContinental's location, Harbourside sits (you guessed it) at the water's edge. Well known for its tempting array of seafood and sushi, and a roast carving station, Harbourside features both a la carte and buffet options (for both lunch and dinner). An imaginative 'ihealth' menu with tempting but nutritious dishes is also available. Bookings are essential for non-guests.
InterContinental Hong Kong; 18 Salisbury Road, Kowloon; 852/2721-1211; room rates from US$773 to US$12,500