Above: The Grand Langham Room.
Property name: The Langham Hong Kong
Where: Tsim Sha Tsui, Kowloon
Street address: 8 Peking Road
Phone: 852/2375-1133
Rates: About US$470 to US$1,283
The 'Grand Hotel'
Established in 1989, the Langham Hong Kong exudes timeless elegance one wouldn't normally expect from a non-heritage hotel. Not to be confused with its sister property, the Langham Place, which opened in nearby Mong Kok in 2004, Langham Hong Kong captures the classic charm of different periods in European history – but not at the expense of more modern touches.
The hotel's European-influenced aesthetic is apparent as soon as one enters its over-the-top Baroque-style lobby. The 17th-century-style domed ceiling, extravagant chandeliers, and inlaid marble floors are just some of the lobby's unique features (the signature Langham brand scent of ginger lily wafts through the lobby, reception area, and even the elevators). Modern sculpture and art pieces (all for sale) add a contemporary accent to the romantic period setting.
Highlights
Langham Hong Kong is located in the heart of a bustling shopping district close to Canton Road – the "Rodeo Drive of Hong Kong." Nearby are designer label stores (Louis Vuitton, Christian Dior, Gucci, Prada, Chanel) and the Harbour City mall with its 700-plus shops.
Don't miss the quirky interiors of the 11th-floor Langham Club, a stylish club lounge (free for suite guests, optional for others) that features enough variety to satisfy any mood. Masterminded by the firm Three Wise Monkeys, the club is modeled on a traditional Georgian house and boasts seven rooms, each with a unique character and style. For instance the Ante Room features chairs upholstered in Chanel-inspired tweed and floor-length curtains cut from Savile Row suit fabric. The Library boasts a selection of antique books and eight whimsically designed chairs (each covered in different fabric), while the opulent Lounge Room features hand-painted gold and purple leather wallpaper, blue sofas, and turquoise pouffes. Other rooms include the Bureau, Butler's Pantry, the Salon, and the Dining Room, each extravagantly fitted out with chic extras such as a marble table with mother-of-pearl inlay and a purple chair with corset details.
The club also features complimentary afternoon tea and many other little perks — definitely worth paying a bit extra for.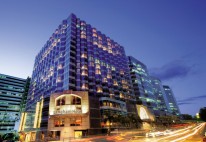 Trivia
The Langham brand dates back to 1865, when the flagship Langham hotel, billed as Europe's first "Grand Hotel," opened in London. With 10 floors, three underground floors, and more than 600 rooms, the hotel was housed in the largest building in London at the time. The hotel was also famous for transporting guests in the first "rising rooms" – or hydraulic lifts – in the world.
Today, Langham Hong Kong (and every other Langham hotel) commemorates the first ever Langham brand hotel each evening at 19:05 when cocktails are served to the guests in the lobby.
The Lowdown
Langham Hong Kong boasts 495 guest rooms, including 269 rooms and 26 suites. Decorated with framed photographs of 1920s Hong Kong punctuated by contemporary art pieces, the rooms are a tasteful blend of the older and modern elements of this cosmopolitan city. A striking feature of the Grand Langham Room, where we stayed, is the wooden shutters between the bedroom and bathroom that can be opened for a more open-plan feel. The floor-to-ceiling windows, which overlook the city skyline or the neighboring park, add to the feeling of space. While the rooms don't have harbor views, park scenes like a morning Tai Chi session are interesting in their own right.
On the tech front, the rooms are equipped with 37-inch-flat-screen TVs, DVD players, and complimentary Wi-Fi (some also feature an iHome docking station).
Be warned the hotel's check-out time is 11 a.m. sharp, a bit stingy considering the check-in is at 3 p.m.
The hotel's attractions include a rooftop swimming pool surrounded by bougainvillea, a 24-hour fitness center, a business center, a ballroom, and numerous function rooms. While there is no in-house spa, pampering can be arranged at the Chuan spa at the neighboring Langham Place.
In terms of dining options, the hotel features two American-style restaurants (a tad unusual for a Hong Kong luxury hotel). These include Main St. Deli, which dishes out American-sized portions of authentic New York deli fare, and The Bostonian, a Boston-style steak and sustainable seafood restaurant. Almost like a mini gallery, the Bostonian features an extensive collection of modern Chinese art along its walls (all pieces can be purchased upon request).
For a more colonial experience head to Palm Court, which serves traditional English afternoon tea to the sounds of live music (hope you like piano, strings, and jazz). L'Eclipse, meanwhile, serves creative Western and Asian fare.
The jewel in the hotel's culinary crown, however, is the two Michelin-starred T'ang Court. Specializing in high-end Cantonese masterpieces such as abalone, bird's nests, and crab, the restaurant sports Tang Dynasty-inspired décor with lots of red and gold hued silks. A breathtaking spiral staircase leads up to five private dining rooms named after notable Tang dynasty poets.
Those at a loss for things to do after dinner can head to Tsar's Bar, which has an extensive vodka-based cocktail menu.
Verdict
Whether you're visiting the city for business or pleasure, the Langham Hong Kong makes for a pleasant, interesting stay. The location is right (you will always be within easy reach of the city's attractions), the décor is unique (refusing to stick to any particular theme), and the fare is varied and tasty (feast on a Cantonese crab one day and dig into a New York-style burger the next).
Check out our video of Langham Hong Kong here.