Above: A view from an InterContinental Hong Kong suite.
There's almost something wrong with having a spectacular view from your hotel room window. You should be out experiencing a place, not gazing at it (or photographing it) through a pane of glass. But if you stay at the following Hong Kong hotels, chances are you'll be putting in a lot of window time.
Below, our picks of the top five Hong Kong hotels in terms of spectacular views. Have your own thoughts on the matter? Let us know in the comments section below. Or, find us on Facebook or Twitter and tell us there.
1. The Ritz-Carlton Hong Kong Hotel
Higher doesn't always mean better when it comes to hotel views. Sometimes a straight-on shot is preferable. But height certainly takes the Ritz-Carlton to another level, so to speak. Soaring 490 meters above the West Kowloon waterfront, this five-star Hong Kong hotel breezed onto our 2011 Luxe List and boasts views of Victoria Harbor and the island that are not just spectacular, but vertiginous. Enjoy the thrill.
International Commerce Centre, 1 Austin Rd. West, Kowloon
2. InterContinental Hong Kong Hotel
Location, location, location. Of all the Tsim Sha Tsui hotels, this one has the best position for offering straight-across views of Hong Kong Island's world-class skyline. The property is right on the harbor's edge, so nothing obstructs the vistas. The Deluxe Suites offer incredible wrap-around harbor views, and the higher suite categories boost the wow factor even more. The hotel's award-winning restaurants (Spoon and Nobu among them; see our roundup) also take full advantage of the views. And the Lobby Lounge has some of the best views of all — what better spot for a sunset cocktail?
18 Salisbury Rd., Tsim Sha Tsui, Kowloon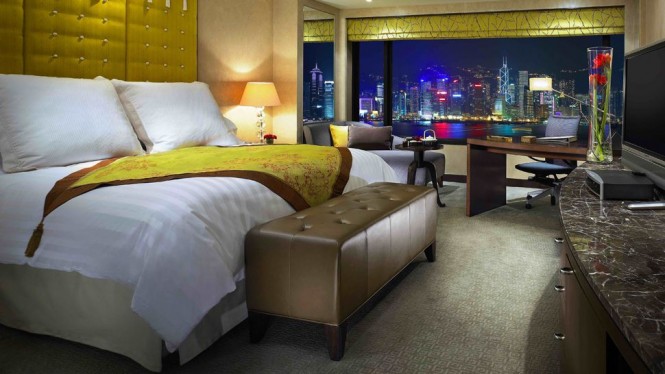 3. Four Seasons Hong Kong Hotel
Views of Hong Kong Island from the Kowloon side demand attention, but so do views in the other direction. Case in point: the Four Seasons Hong Kong hotel in the Central district. Head to its gorgeous outdoor pool area to see just how scenic Tsim Sha Tsui can be from across the water. The rooms here feature wall-to-wall windows exposing views that are either impressive or, in the case of the highest suites facing the harbor, jaw-dropping. Best of all, you sacrifice nothing in terms of convenience: The hotel connects to the IFC mall (where you can catch the Airport Express) and is within walking distance of the Mid-Levels escalator and much of Hong Kong's best shopping, nightlife, and restaurants.
8 Finance St., Central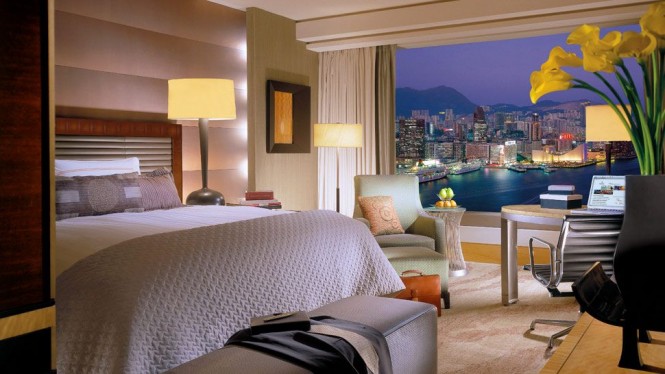 4. The Peninsula Hong Kong Hotel
The harbor-facing rooms and suites at this historically rich Tsim Sha Tsui luxury hotel (dating back to 1928) offer impressive views of Hong Kong Island across the water. Some of the suites have jacuzzis with picture-perfect harbor views, and some have observation areas with lounge chairs, telescopes, and floor-to-ceiling windows. Felix, a bar/restaurant on the 28th floor, is a must-try of Hong Kong nightlife with harbor views as outrageous as the glam interiors designed by Philippe Starck. (See our full hotel review.)
Salisbury Rd., Tsim Sha Tsui, Kowloon
5. Hotel Icon
You wouldn't expect a teaching and research hotel to command views that rival (or beat) those found at top-tier Hong Kong luxury hotels. True, this property was built for the School of Hotel and Tourism Management by Hong Kong Polytechnic University. But oh my, the views. The hotel, which made our 2011 Luxe List, is located in the Tsim Sha Tsui East neighborhood of the Kowloon Peninsula. It's a little ways back from the harbor, so get as high a perch as possible when you book your harbor-view room. Better yet, book a Club Room or Suite, which command the highest spots and best views. Particularly from Club Suite 80 with its panoramic views, the city skyline across the harbor looks nothing short of spectacular.
17 Science Museum Rd., Tsim Sha Tsui East, Kowloon