For quite some time, Jakarta's business and entertainment hub of Senayan has remained quiet, with no major changes to speak of other than the coming and going of dining venues and shops at the two shopping malls that call the area home. But as Fairmont Jakarta opened its doors last year, so arrives a new wave of exquisite lifestyle venues, meeting points, and, of course, luxury rooms and facilities that bring a breath of fresh air to the neighborhood.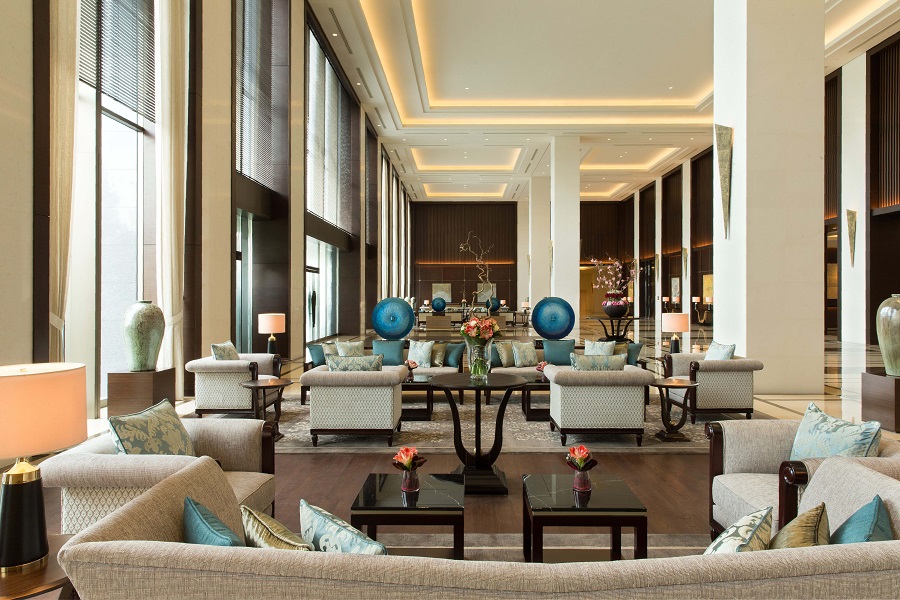 The Look
Designed by Tokyo-based Kajima Corporation, Fairmont Jakarta's look is one that seems to have been designed in perfect harmony with the neighborhood's air of youthfulness and business. From the lobby to the rooms, each space don a classic contemporary look that ooze sophistication and an understated sense of luxury. Paintings and art pieces by popular Indonesian and Japanese artists can be found on tabletops and on the walls, along with a display of exquisite Indonesian batiks that are part of an exclusive private collection.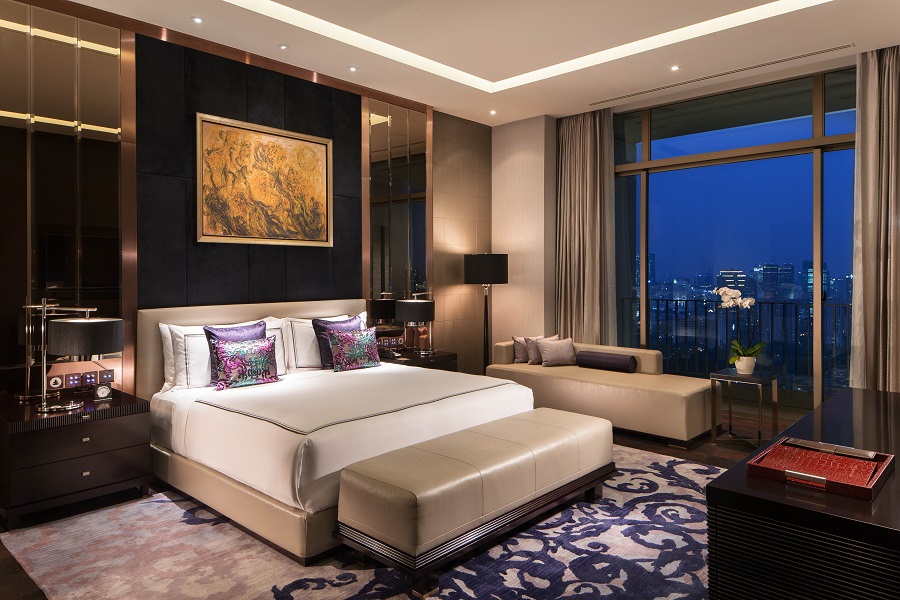 The Rooms
There are a total of 380 rooms throughout the property, all of which offer sweeping views of Senayan and have been meticulously created with the highest level of comfort. From the bedroom to the living area, darker shades of gray and brown add warmth to each space, balanced by colorful motifs printed on the custom crafted carpets that adorn the floor. Technology also plays a part in setting these rooms apart from others in the city, not just with the 42-inch flat screen LED TV sets and a high-speed internet connection, but also with simple touches like the motorized blinds that give guests full authority over how much sunlight should be in the room without having to leave the comfort of their bed, as well as heated toilet seats that come with different customization options. Bathrooms are also a highlight in each room, with sinks and amenities coming in pairs and big windows that allow plenty of natural lighting to add a sense of freshness when soaking in its Japanese-inspired tub.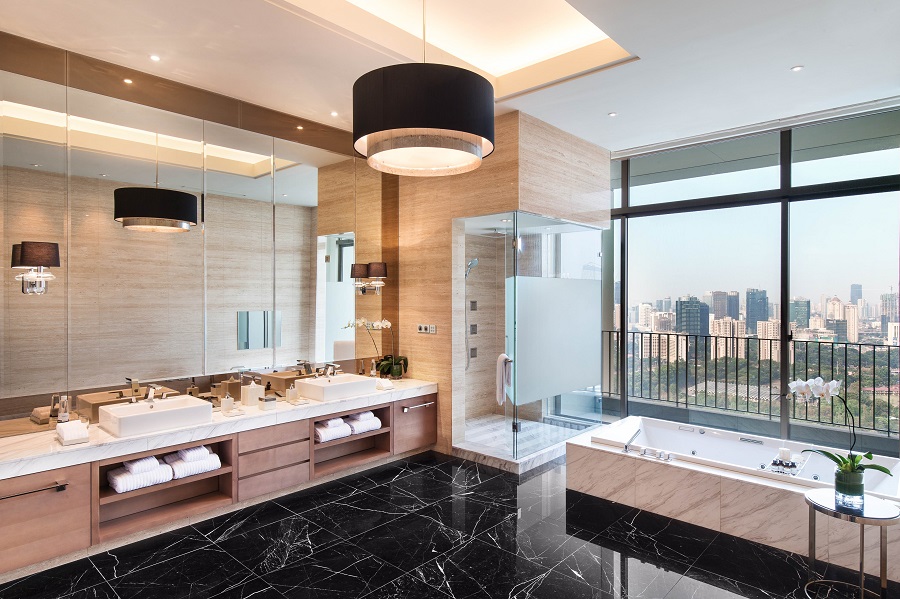 The Appeal
The facilities and services offered at Fairmont Jakarta extends beyond the comforts of its exquisite rooms. At the Willow Stream Spa, guests can take a break from the city's overwhelming hustle and bustle, with friendly and professional staff ready to offer a range of treatments that are cater to guests' different needs. If it's a swim or a run that's in order, a state-of-the-art gym facility and a serene outdoor pool area can also be found on the same floor. Guests are also spoiled with a plethora of dining options in the building, with up to 11 different venues from which to choose, ranging from Indonesian, Japanese, and Italian cuisine, to a cocktail bar and a gorgeous tea lounge.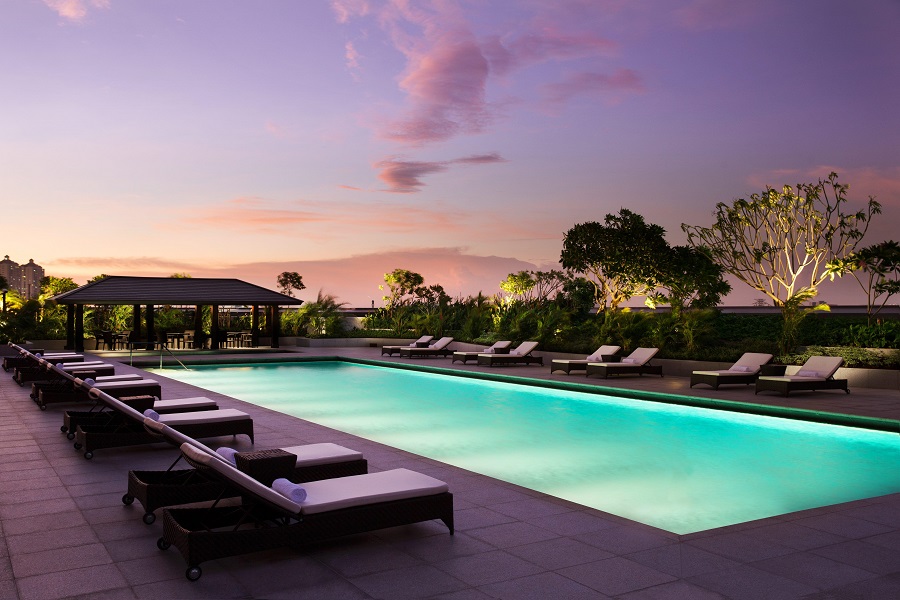 The Surrounds
Standing at the hotel's K-22 Bar, an elevated bar perched on the building's 22nd floor, makes it clear just how strategically located Fairmont Jakarta is. On one side is the Gelora Bung Karno sports compound, with the stadium being its most noticeable landmark, while on the other side are views of the expansive greenery that is the nearby Senayan Golf Course. A stay at Fairmont Jakarta also means being within close proximity to some of the city's most popular shopping malls, namely Senayan City and Plaza Senayan, both of which are home to some of the city's acclaimed restaurants and bars.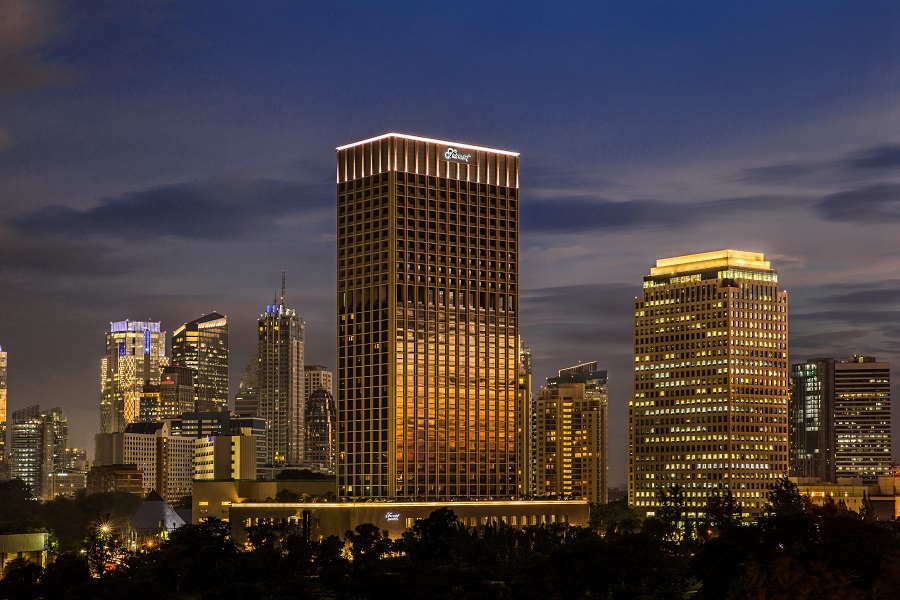 For Those in the Know
The hotel is designed with an underground tunnel which will easily take guests from Fairmont Jakarta to the next door Plaza Senayan, making the mall feel like an extension of the hotel itself and allowing guests to explore even more entertainment options without having to step outside.
Jalan Asia Afrika, Central Jakarta; 021/2970-3333; doubles from US$325; Fairmont Jakarta.