Melbourne's iconic maze of laneways are grimy, industrial shortcuts no longer—for Melburnians, they are the destination.
By Claire Knox
Melbourne's central business district—its rectangular network of streets, laneways, alleys, and labyrinthine passages seemingly woven and stitched together—is one of the world's largest city grids. City surveyor Robert Hoddle mapped out the city's wide, main streets in 1837 with a grand vision of tree-lined, European boulevards and simple geometry. But it was the city's rich trade history during the Gold Rush that literally paved Melbourne's iconic maze of laneways—originally set up for the cabinet-makers, jewelers, farriers, and fabric merchants to cart their wagons of goods through. These lanes are grimy, industrial shortcuts no longer—for Melburnians, they are the destination.
The limelight has traditionally shone brightest on Sydney's glittering bays, the architectural feat of the Harbour Bridge and the wonderfully abstract sails of the Opera House, but scratch the surface of Australia's southern belle and you'll unravel a slick, cutting-edge city teeming with hidden delights. Melbourne's city center is a heady, visual feast, and yet some of her most alluring features are tucked neatly just out of view.
Among cobblestone lanes, discover candlelit speakeasies, jazz bars, and quirky rooftop bars peering down at the city. In Melbourne's center you'll find the lion's share of critically acclaimed restaurants and hip bars hiding behind discreet doorways, and perhaps even catch a gourmet food truck setting up shop in an adjacent enclave. The CBD's creative pulse is laced through its lanes—especially palpable around Flinders Lane. Contemporary art galleries and fashion houses hide behind peeling terraces, beside luxurious Japanese basement bath houses, opulent boutiques, writers' studios, cutting-edge design workshops, and laneway walls adorned with vivid street art and esoteric murals. Hosier Lane, which runs past famed Spanish eatery Movida, features some of the most sophisticated graffiti art with several Banksy-adorned walls. Inner Melbourne's architecture is a delightful, eclectic jumble of tall, Gold Rush-era gothic Victorian mansions with Juliette balconies, domed roofs, curved Art Deco residences and shiny, gleaming modern structures. Here are five city hotspots set among it all that you shouldn't miss.
Brother Baba Budan
Melburnians take their coffee seriously. Religiously, even. And Mark Dundon and Bridget Amor may well be the city's own coffee gods. They're the brains behind arguably the best specialty coffee in the country, the roastery, café, and "engine room" Seven Seeds, which has its base on the fringes of Melbourne's CBD, Carlton. To satiate CBD cafenatics they opened petite espresso bar, Brother Baba Budan. The café was named after 17th century Islamic scholar Baba Budan—the story goes he smuggled seven seeds of fertile coffee, strapped to his waist, from Yemen back to Mecca where the seeds bloomed. Dundon, oft-described as eccentric—perhaps even obsessive—has a story now deeply entwined with Melbourne's coffee history. He opened one of the city's first coffee connoisseur hot spots, Ray, about 13 years ago and since then established St Ali, Seven Seeds, and a roastery and coffee farm in Honduras. The Seven Seeds team pride themselves on their commitment to high quality, single-origin beans, local roasting, and of course all of the tricks, gadgets, and elaborate methods of brewing and crafting the perfect cup.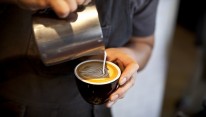 Brother Baba Budan, squashed between utility camping stores and with its peculiar aesthetic—clusters of chairs are nailed, upside down, to the ceiling—is a melting pot of hipsters, suits, Lycra-clad cyclists, students, and all coffee devotees in-between, queuing out the door for its house blends or single origin. And the coffee (in this instance, a Seven Seeds espresso blend, with hints of caramel, vanilla, and dried apricots) is perfect. While there are stools to perch oneself on and watch laneway life go by, this is for the most part a takeaway espresso bar. According to Amor, the idea was "to do something small, a bit different, without food [they serve delicious cakes and buttery pastries only]…which took a while for people to get their heads around," yet she's quick to reject the idea of the celebrity barista—staff are extremely down-to-earth and friendly. "People just want a good coffee with minimal fuss—customers like to be remembered, along with what coffee they order."
359 Little Bourke Street; 61-3/9606-0449; Brother Baba Budan; coffee of the day from US$3.50