Above: Josie Bones dishes out obscure treats like grilled duck hearts and rolled pig's head in sauce gribiche.
While it's well known Melbourne has become a foodies paradise, the city also serves plenty of quirky dining experiences as well. Here, a tour of some of the more notable ones.
By Anita Surewicz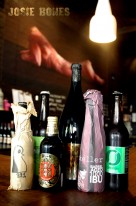 Josie Bones — Hot to Trot
Josie Bones (98 Smith Street, Collingwood; 61-3/9417-1878; josiebones.com) is famous for cooking up parts of animals one would normally never consider eating and its range of over 250 local and international beers. The offerings on the menu include such obscure delicacies as grilled duck hearts with cumquat and avocado salsa, 12-hour braised beef cheek, masterstock pig's trotter spring roll with mandarin salad, or rolled pig's head with sauce gribiche and crackling. Be sure to wash these morbid delights down with a glass of something malty and delicious. Josie Bones has won the accolade of Australia's Best Specialty Beer Venue in the Bartender Magazine bar Awards 2011.
Lentil as Anything — A Restaurant with a Conscience
What sets Lentil as Anything (41 Blessington Street, St Kilda; 61-4/3038-8984; lentilasanything.com) apart is the fact that it has no set prices for its range of vegan and vegetarian dishes. Instead customers can decide how much to pay for their order if they feel the food deserves it. Lentil as Anything first started as a not-for-profit organization just over 10 years ago in St. Kilda and the restaurant has since opened three other branches across the city. The restaurant is mostly staffed by volunteers — many of them new migrants or refugees — and relies on produce and products donated by local suppliers. The restaurant's hearty dishes range from lentil burgers and vegie lasagna to more exotic treats such as Sri Lankan pumpkin curry and Vietnamese salad. Any profits made by the restaurant are put back into community projects to help migrants and refugees.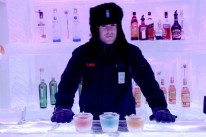 Chill on Ice Lounge and Ski Lodge — A Frosty Vibe
For an Antarctic adventure in the center of Melbourne, head to Chill on Ice Lounge and Ski Lodge (Southgate Complex, 3 Southgate Avenue, Southbank; 61-3/9663-1877; chillon.com.au). Everything here is made of ice (50 tonnes of ice to be precise) from the bar and couch to the décor and glasses. The venue is also fitted out with state-of-the-art lighting features and a fan-forced blizzard to help set the atmosphere. All guests are provided with warm jackets, gloves, and boots to keep them comfortable while they enjoy arctic-themed cocktails and finger food. Those ready to thaw out can head to the adjacent Ski Lodge, where they can feast on tapas while enjoying the view of the Yarra River.
Zingara Cucina — An Underground Adventure
This restaurant is so underground that some have even questioned its existence. Zingara Cucina (which translates to Gypsy Kitchen in Italian) has no fixed address, meaning that it frequently changes location (zingaracucina.com). "From car parks to laneways, bridges and galleries — Zingara Cucina is a fine dining experience housed in random, obscure locations," their website states. Zingara originally started as an experiment in a Melbourne apartment around three years ago. The cuisine is "deliciously creative casa-linga," but apparently the restaurant now also works with a variety of culinary professionals (you can offer your services through their website) so it has probably diversified its menu. Either way, you are in for a surprise.
Naked for Satan — Devilicious
You would be crazy to go past this seductively named restaurant and not go in. Not only does Naked for Satan (285 Brunswick Street; Fitzroy, 61-3/9416-2238; nakedforsatan.com.au) serve a bewildering range of pintxos (Basque equivalent of Tapas) and vodka, but the venue's cheeky décor alone is worth a visit. Try slices of baguette topped with delicacies such as salami, smoked salmon, anchovies, olives, and cheeses held together with a toothpick (take your toothpicks to the register at the end of the night to work out the bill). Copper distillery equipment is the most striking element of the venue's décor (vintage posters of half-naked men and women comes a close second) and for a good reason. According to a local legend, a Russian named Leon Satanovich — Satan for short — distilled illegal moonshine in the same building during the Great Depression. Because he worked in nothing but his underwear during summer months, thirsty punters came up with the code "Let's get naked for Satan" to gain access to the drink.
Titanic Theatre Restaurant — The Last Supper
Step back to April 1912 and contemplate Titanic's disastrous maiden voyage at the Titanic Theatre Restaurant (1 Nelson Place, Williamstown; 61-3/9379-5101; titanic.com.au). Choose from dining in the formal First Class or the neat casual Steerage Class. Alternatively, try the luxurious Captain's Table for some serious silver service. After passengers board the "practically unsinkable" ship and dinner is served, roving musicians take to the stage as the Titanic journeys through the Atlantic. Suddenly, ice warnings are heard and the ship starts its descent to the bottom of the Ocean amid some dramatic special effects. Fortunately the steamship Carpathia arrives in the nick of time to rescue all and transport them to the dance floors of New York. Bon Voyage!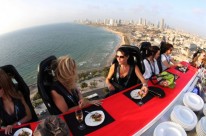 Dinner in the Sky — An Evening of Suspense
Dinner in the Sky (dinnerinthesky.com) is a recent worldwide phenomenon that has also recently hit Melbourne. To make a complicated story simple, the thrilling experience involves a dining table that is hoisted 50 meters into the air by a crane. The suspended table sits 22 guests, as well as three staff (waiter, chef, and entertainer) who host the unique dining experience. While this isn't a fixed restaurant, it is available for bookings as long as you have a thick wad of cash. Originating in Belgium in 2007, Events in the Sky is now available in 27 countries and has expanded to cater for various occasions such as breakfasts, cocktails, meetings, and marriages in the sky.
Pearl — iPad Heaven
Melbourne's highly rated restaurant Pearl (631-633 Church Street, Richmond; 91-3/9421-4599; pearlrestaurant.com.au) is one of the first eateries in the world to offer their wine list and menus on an iPad. Sophisticated yet simple to use, the digital menu allows guests to view not only the restaurant's contemporary dishes and extensive wine list, but also tasting notes, information about the winemaker and vintage, and food pairing suggestions. With over 10 years under its belt, Pearl is one of the city's most established restaurants, so even the tech-unsavvy are bound to find something of interest among the innovative, award-winning dishes.
After the Tears — Raise a Glass
The menu at After the Tears (9B Gordon Street, Elsternwick; 91-3/9523-0969; afterthetears.net) features typically Polish dishes such as borsch (beetroot soup), goulash, and pierogi (dumplings), but what really makes this restaurant stand out from the crowd is its huge selection of vodka. With over 100 offerings — many displayed at the backlit tableau — this atmospheric establishment may just knock you off your feet. Choose from a wide selection of clear vodkas, infused vodkas, nutty vodkas, fruity vodkas, creamy vodkas, and sweet vodkas. The bar also serves a range of absinthe styles, including eastern and bohemian (to drink straight up) or French (to be louched, or to drink with water). Bathed in atmospheric candlelight, the restaurant's décor includes antique lams, gilt mirrors, and grandiose paintings.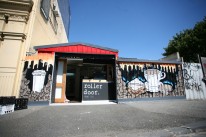 Roller Door Café — A Hidden Gem
Situated between an auto-wrecker and the back of the Railway Hotel, the pint-sized Roller Door Café (13 Stawell Street, West Melbounre; 61-4/4920-8681; rollerdoor-café.com.au) adds a breath of fresh air to Melbourne's pretentious café circuit. The entrance to the low-key café is marked by coffee-themed graffiti and outdoor seating for a handful of people. The Roller Door Cafe serves an assortment of fair trade coffee as well as organic wraps, sandwiches, salads, and gourmet pies. Some of the café's produce comes directly from the herb-filled courtyard and the rooftop beehive. At the moment, Roller Door Café is only open for breakfast and lunch.