5 Luxury Tent Accommodations from Around the World
With spa tents, gourmet meals, and teams to ensure that guests are in need of nothing, luxury tented resorts aren't exactly roughing it, but they do let you interact and experience some of the world's most beautiful landscapes. For those looking for an adventure with a massage afterwards, here are our five picks that span the globe.
-Christi Hang
Four Seasons Tented Camp Golden Triangle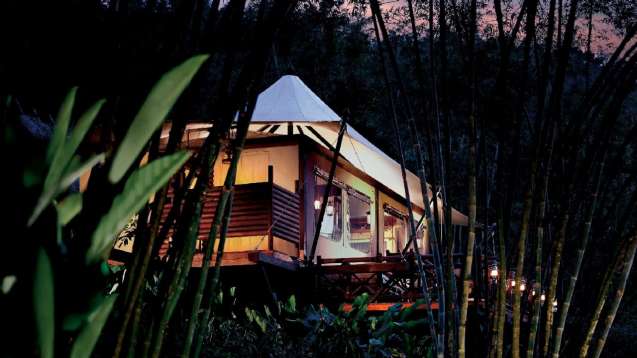 Get up close and personal with the jungle's gentle giants at the Four Seasons Tented Camp Golden Triangle in northern Thailand. Guests can receive basic mahout training and feed and bathe elephants while enjoying Four Seasons luxury in the area known as the Golden Triangle—where Thailand, Myanmar, and Laos meet. The resort was made for people who love adventure, nature, and culture. It offers activities such as sunrise elephant treks, day trips into Myanmar, cooking lessons, and bird watching. But the Four Seasons Tented Camp Golden Triangle is also good for inactivity. The 54-square-meter tents all feature air-conditioning, a hand-hammered copper tub for two, Internet access, and a huge deck area with a custom-made wooden hot tub—the perfect place to enjoy the panoramic views of Myanamar, Laos, or the Ruak River.
66-53/910-200; fourseasons.com/goldentriangle; doubles from $2,440
Clayoquot Wilderness Resort and Spa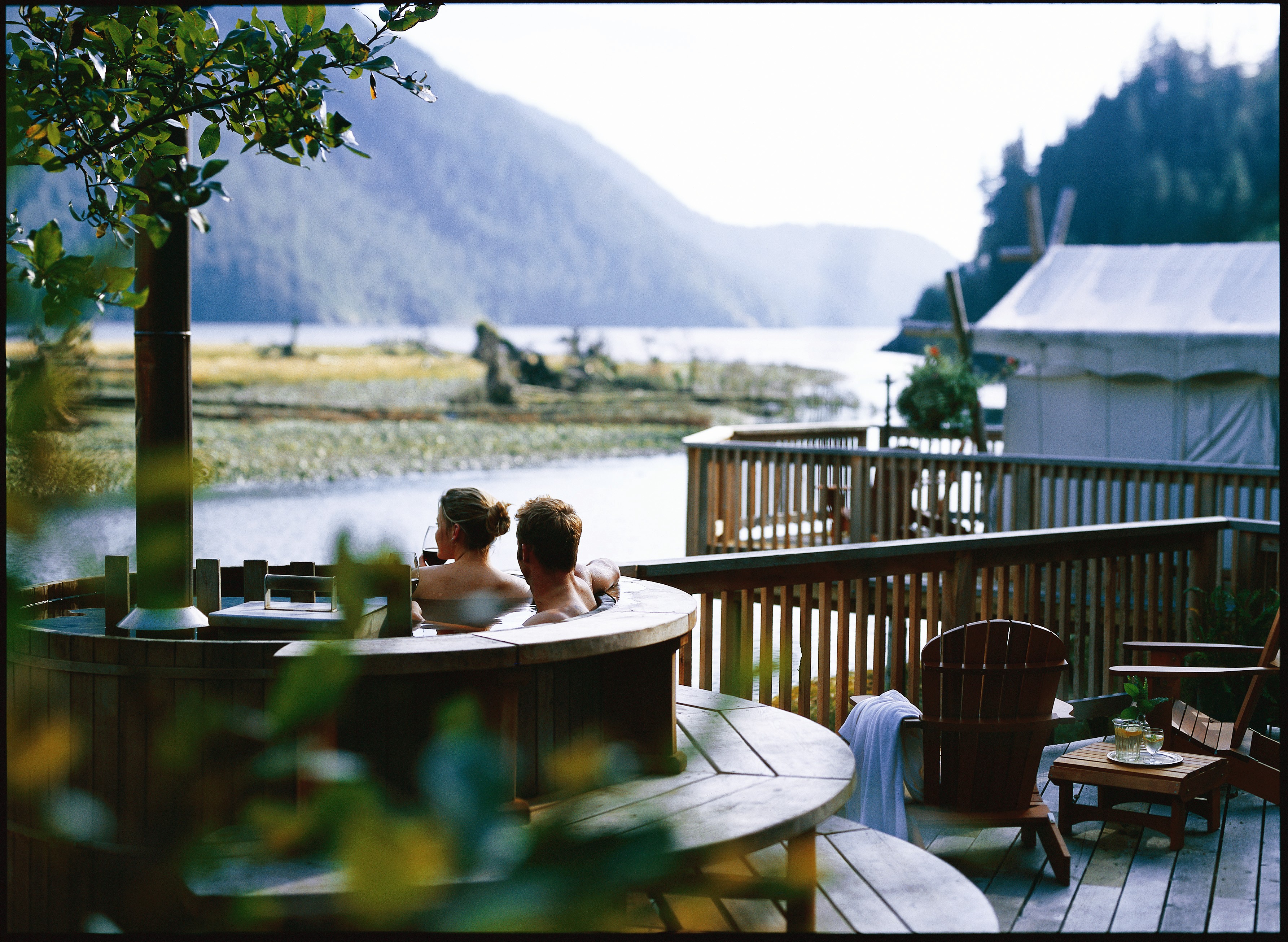 Experience some of North America's most untouched portions of the Pacific Northwest at Clayoquot Wilderness Resort and Spa, located near Tofino, Vancouver Island, and only accessible by a 45-minute private seaplane ride or a 30-minute boat ride. Clayoquot's 20 luxury tents don't come with telephones or TVs but they have a wide range of gear to help you make the most of your untouched landscape, including whale-watching suits, Western-style riding boots, chaps, and helmets, and state-of-the-art fresh- and salt-water fishing gear. The resort prides itself on its host of personalized outdoor activities including riding horses (the resort's specialty), wildlife viewing, hiking and climbing, and canoeing and sea kayaking. After a long day of adventuring, return back to the tents to enjoy complimentary massages or yoga classes, relaxing hot-tub soaks or saunas, or the lush king- or queen-sized beds in the your tent, which comes with floor heating, antique decorations, and thermostat-controlled propane wood stoves for a homey feel.
1-888/333-5405; wildretreat.com; US$4,661 per person for three nights
Mahali Mzuri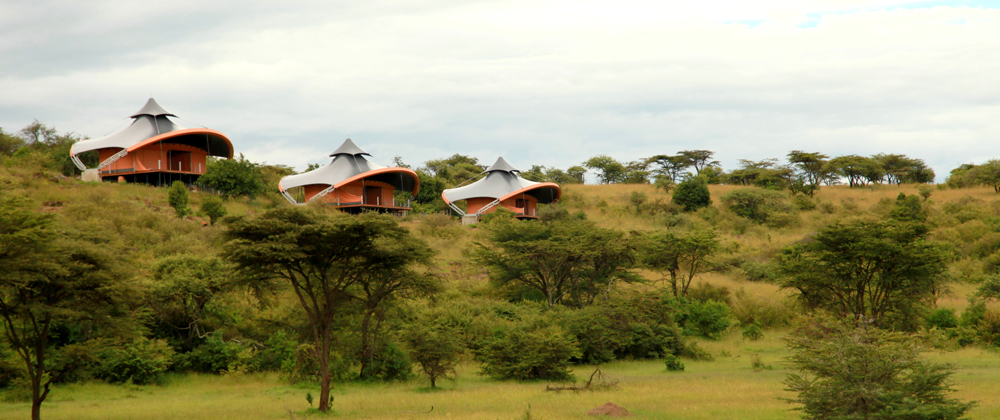 A maximum of 24 people are allowed to stay at Mahali Mzuri Sir Richard Branson's Kenyan Safari Camp at a time, but during the annual Great Migration, up to two million wild animals—mostly wildebeest but also zebras, gazelles, topi, lions and hyenas, and other predators—are more than welcome. Composed of 12 tents on the edge of the Motorogi Conservancy and overlooking the Olare Orok Conservancy, Mahali Mzuri allows guests to take a closer look at Kenya's diverse wildlife and the local culture. Mahali Mzuri officially opens on August 1 and is already taking bookings. Each of the 12 tents are situated on a raised platform and come with a spacious bedroom, en-suite bathroom, and generous terrace—a wonderful spot to hang out and spot animals from the conservatory. For a more in-depth experience, Mahali Mzuri also offers walking safaris; game viewing, where you can spot some exotic animals such as elephants, cheetahs, giraffes, and hippos; and cultural day trips to interact with local Masai tribes.
44-208/600-0430; mahalimzuri.virgin.com; doubles from US$590 per night
Whitepod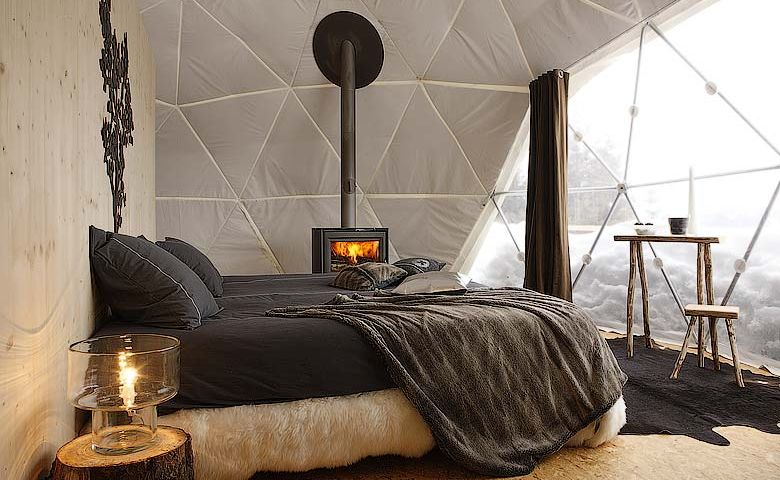 Camping trips don't have to stop when the summer does. During the colder months, Whitepod, located at the start of the Swiss Alps at the base of the Dents-du-Midi mountain range, has kitted out 15 domed tents, or pods, to ensure that guests enjoy a winter wonderland without the chill. This high-end ecotourism outfit is focused making the most of its picturesque location and providing quality skiing opportunities. Whitepod guests have access to seven kilometers of ski slope with 700 meters of altitude difference and a private ski lift.  The pods all have breathtaking views of Lake Geneva, measure 40 square meters, and are designed to keep guests warm and comfortable with touches including organic luxury bedding, wood stoves, and Scandanavian-designed bathrooms that are linked to a warmed spring-water source. To balance out the skiing and snowshoeing opportunities, Whitepod also has a number of ways to unwind such as enjoying a drink at the resort's 19th-century wooden chalet, a muscle-melting massage, and a steam or a dip in the Finnish sauna or Japanese bath.
41-24/471-3838; whitepod.com; doubles from US$430 per night
Patagonia Camp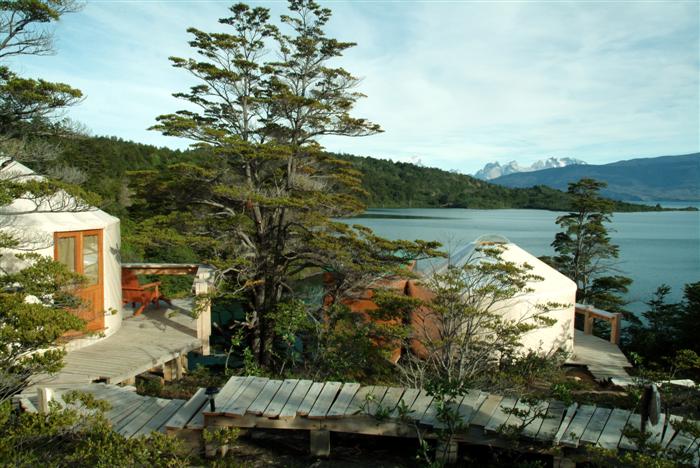 Patagonia Camp was set up with nature lovers in mind. The luxury Chilean retreat is located close to the Torres del Paine National Park giving guests spectacular views and opportunities to experience the park and its animal residents. Additionally, Patagonia Camp takes many steps to stay as green and eco-friendly as possible such as elevating the entire complex so that the native plants, bushes, and trees can continue thriving without interruption; two on-site water treatment plants to ensure that all water released from the resort is 100 percent free of residues; and use of low-energy-consumption appliances. But despite this natural approach, the retreat doesn't cut corners when it comes to the experience; guests are be spoiled by the beautiful yurt-like tents and gourmet offerings. Patagonia Camp has 18 tents nestled in a forest of beech trees with impressive views of Lake Toro and the Paine Massif. Inside, guests will find a spacious bedroom with either a king-size bed or two double beds, en-suite bathroom, comfortable heating, and locally made furniture and woven fabrics to complete the look. When it comes to cuisine, Patagonia Camp presents the best of Chile with a selection of the country's fine wines and a quicho, the famous Patagonia-style barbeque of slow-roasted Magellanic lamb.
562/334-9255; patagoniacamp.com; doubles from US$320 for two-night stays