Belgium-based and Korea-born chef Sanghoon Degeimbre of the illustrious L'Air du Temps (Rue de la Croix Monet 2, 5310 Éghezée, Belgium; 32/8181-3048) recently came to Singapore for the World Gourmet Summit. We caught up with the Michelin-starred chef about his culinary influences and thoughts on Singapore's culinary scene.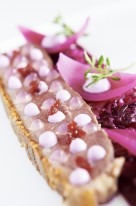 You recently moved your Michelin two-star L'Air du Temps restaurant to a scaled-down farmhouse. What were the reasons behind the move?
Our cooking philosophy is based on products from our own garden and products of our surrounding area. I define our cooking style as "contemporary terroir," and moving into a traditional farm surrounded by five hectares of fields is much more coherent with our philosophy.
You've spent most of your life living and working in Belgium. How much of your culinary technique is inspired by your native Korea?
My cuisine is largely influenced by studying the kimchi model and personalizing said fermentation techniques.
For the World Gourmet Summit, you prepared the Mackerel Jackson Pollock. Can you explain the meaning of the dish?
One of my inspirations is art, and one of the painters that intrigues and fascinates me is Jackson Pollock. I used his dripping technique on my plates with a backdrop of lemon mousseline. The different colors come from vegetables and create the taste associations.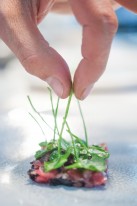 What are your impressions of the Singapore culinary scene?
To me, Singapore is a place of influences between orient and Occident. I think Singapore meets influences but still keeps a big attachment to Asia. Singapore meets the big European tendencies.
You started your career as a sommelier. Whose wine list do you recommend in Singapore?
Restaurant André has a really nice wine list of European varietals and naturals.
What was your favorite local hawker food in Singapore?
Laksa is a very interesting plate. Generally, street food reveals the gastronomic influence of a country. We found the real gastronomic soul of Singapore in its street food.