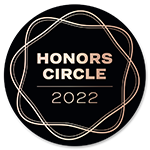 HONORS CIRCLE: MALDIVES
Partner Promotions
HONORS CIRCLE
Patina Maldives, Fari Islands
North Male Atoll, Maldives
---


The much-anticipated debut property of Capella Hotel Group's progressive Patina brand is set to open this spring in the Maldives' North Male Atoll, bringing new levels of sophistication and sustainability to the Indian Ocean archipelago.
Designed by renowned Brazilian architect Marcio Kogan, Patina Maldives, Fari Islands, offers 90 contemporary one- to three-bedroom Beach and Water Pool Villas, alongside 20 Fari Studios, all of which embody a harmony of sanctuary and stimulation.
A contemporary, minimalistic look sets the resort apart from most other Maldivian private-island properties. Delicate architectural lines remain respectfully low, never breaching the horizon, in deference to the exuberant, encompassing blues of both the sky above and the Indian Ocean below. The permeable, human-centric design of the island's buildings ensure that indoor and outdoor spaces flow seamlessly together.
Throughout the interiors, earthy color palettes, subtle textures, and matte surfaces are complemented by arcadian materials (including wood, rattan, stone, and natural fibers) to create a dialogue with nature. Uniquely for the Maldives, floor-to-ceiling Panoramah! sliding window systems allow the villas to be opened to the elements on all three sides, while custom-made blackout blinds offer cocoon-like coziness at the touch of a button.
Apart from sophisticated accommodations, guests can look forward to tailor-made wellness journeys, interactive music programs, and captivating culinary and art experiences. All these point to an enriching five-star stay unlike any other in the Maldives.
Socially and environmentally conscious travelers will applaud Patina Maldives' commitment to sustainability. From addressing waste in its supply chain and boosting the health of its guests, neighbors, and local environment to ensuring energy-positive operations — including becoming the first resort in the Maldives with 100 percent solar-powered kids' club, recreation, and dive centers — Patina Maldives is dedicated to making a lasting difference in everything it does.
That eco-friendly approach extends to the dining experience as well. The culinary concept on the island is based on the nose-to-tail, root-to-leaf principle, minimizing waste, while advocating the benefits of a plant-based diet. Roots, the signature restaurant at Patina Maldives, Fari Islands, will elevate vegan fare to new heights, delighting curious gourmands who seek high-quality nutritional food and drink without compromising on flavor and quality.
The resort has also built an on-island organic permaculture garden where fresh produce will be cultivated for various departments, reducing greenhouse gas emissions during the supply chain process. All off-island ingredients will be sustainability sourced and accredited by EarthCheck or the International Pole and Line Foundation, with local provenance a clear priority.
All drinking water on the island will be produced and bottled in-house at an on-island water bottling plant operated by Swedish-born company Nordaq. In addition, every cocktail and spirit served at Patina Maldives, including the Fari Beach Club, will eliminate 30 grams of carbon emissions in comparison to drinks made at beverage outlets with conventional labels.
Patina Maldives is also committed to implementing a comprehensive, long-term coral propagation project, and the resort will lead regular guest and team beach clean-ups both on the property and on neighboring local islands. For every stay, 10 kilograms of marine plastic will be collected, cleaned, and repurposed into usable material.
In addition to its impressive sustainability efforts on and off the island, guests will be able to enjoy the archipelago's communal heart, where the Fari Marina Village and Fari Beach Club serve as the backdrop to a vibrant social scene. The Fari Marina Village will attract guests from all three Fari Island resorts and features 20 berths for yachts up to 80 feet.
Here, guests will find alluring retail and 12 enticing dining options, including a menu curated by two-Michelin-star chef Nick Brill at Fari Beach Club. Guests can also bask in the light-filled Skyspace, a permanent installation by revered Californian artist James Turrell, as well as appreciate comprehensive artist-in-residence programs at Patina Maldives' permanent gallery.
Whether it be profound peace or shared experiences, Patina Maldives invites guests to dive into their new island destination and find their own flow.