The power of a vowel can mean a lot in the travel dictionary. Replace the 'u' in Fuji (the oh-so-famous mountain in Japan) with an 'i' and you will reach a splendid new island in Asia instead. Tucked far away in the Southern Pacific region, Fiji is an archipelago of more than 300 islands. Famous for its rugged landscapes, palm-lined beaches and coral reefs with clear lagoons, and unique culture; Fiji still remains an unknown paradise to the world at large.
Melting pot of South Asian cultures
People in the olden days migrated to the Pacific from Southeast Asia via the Malay Peninsula. The Melanesians (from Papua New Guinea, Tuvalu and Solomon Islands) and the Polynesians (from Tonga, Samoa and Hawaii) called Fiji their abode and the integration of their cultures is evident in Fijian food, language, traditions, practices, and political systems. Fijian Indians also make up a large portion of the current population giving the culture yet another interesting dimension.
Hello hinterland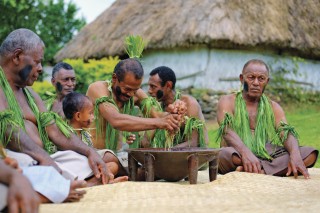 Over 80 per cent of Fiji's landscape consists is village-towns. Interesting cultural beliefs and traditions that these villages hold even today will add to the heritage value of your visit. Meet the locals and participate in their cultural festivals to get a close view of the village life that is prevalent all over the island.
Waters , volcanic mountains  and sand dunes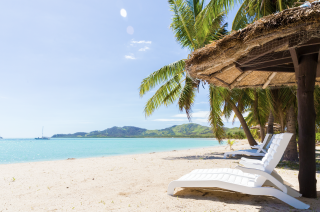 Although it is an island, Fiji has more than just endless blue waters and sandy beaches. The multiple islands encompass a rich natural environment full of waterfalls, lakes and volcanoes. The Sigatoka Sand Dunes are a hit with archeologists who have uncovered pottery and human bones more than two millennia old. Legend has it that those unfortunate enough to find a bone will be cursed for life!
Also read: Guide to Laucala Island  in Fiji
Time travel in Fiji
What if you could be in the past and present all at once? Fiji is located on the International Date Line which is the imaginary line in the Pacific Ocean that splits consecutive calendar days. There is a marker on the island of Taveuni where visitors can be in today and yesterday at one time. Now that is a strike off the bucket list.
Meet the rarest flower in the world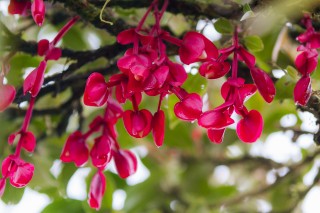 One of the most exotic and rare flowers in the world – the Tagimoucia is the national flower of Fiji thanks to its abundance here. The delicate red and white flower only grows on a specific hillside on Taveuni island. Local legend has it that a betrothed princess who was in love with another man fled to the Taveuni mountain lake where she fell asleep crying – her tears turned into the Tagimoucia flower. The flower's name alludes to this romantic legend as "Tagi" means cry, and "moce" means sleep in the Fijian language.
Flying to Fiji just got easier
With twice-weekly direct flights from Singapore to Fiji, this island nation is not too far behind. What are you waiting for? Book a trip to Fiji now at FijiAirways.com.