The luxury hotel giant is amping up its health and safety protocols worldwide.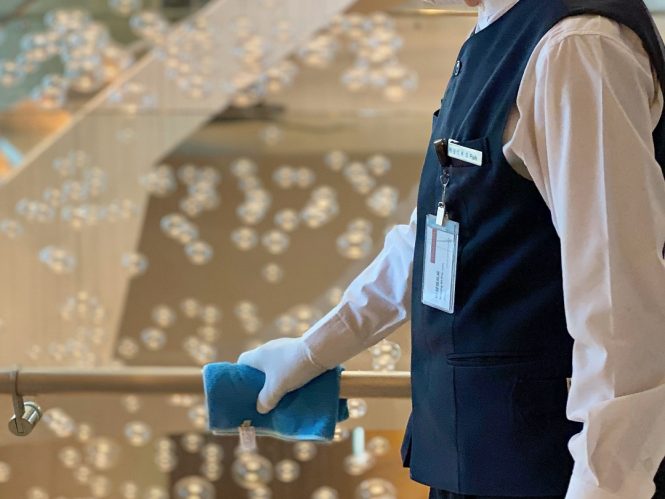 Stringent cleaning standards have long been a hallmark of the hotel industry, but following the Covid-19 outbreak, guest safety and peace of mind have become more important than ever. On April 21, Marriott International introduced its Global Cleanliness Council; hot on the heels of that news, Hilton announced the imminent launch of its own chain-wide cleanliness plan, "Hilton CleanStay with Lysol Protection," which is expected to be implemented in June. This month, it's Hyatt's turn as the company rolls out a Global Care & Cleanliness Commitment that encompasses Global Biorisk Advisory Council (GBAC) accreditation, hotel-level sanitization specialists, and a working group of trusted medical and industry advisors.
"The world as we knew it has been fundamentally changed by Covid-19 and when we are all ready to travel again, we want to make sure that every Hyatt colleague and guest feels confident that each aspect of our commitment is designed with their safety in mind, and that we're putting their well-being first," Mark Hoplamazian, Hyatt's president and CEO, said in a recent press release. "To do this, we must critically examine the hotel experience from every vantage point—from our rooms and our lobbies to our spas and dining—bringing in the latest research, technology, and innovation to make that happen."
To achieve the highest standards of cleanliness for colleagues and guests at all its 900-plus hotels globally, Hyatt will introduce GBAC STAR accreditation through a performance-based cleaning, disinfection, and infectious-disease prevention program that will focus on establishing hotel environments that are sanitary, safe, and healthy. GBAC is a division of ISSA, the leading trade association for the cleaning industry worldwide, and comprises leaders in the field of microbial-pathogenic threat analysis and mitigation.
The company will also continue to develop new work procedures and mandatory training in an effort to ensure safety for staff and guests. Daily surveys will be introduced to assess employee comfort, a hotel's cleanliness, working order, and customer service, enabling hotel leaders to address opportunities, make adjustments as necessary and meet colleagues' needs in real time. By September, every Hyatt hotel will have at least one person on property trained as a hygiene manager, who will be responsible for their hotel adhering to new protocols governing social distancing, enhanced food safety, and other areas of concern. This comes on top of Hyatt's ongoing collaboration with a panel of medical experts and leading industry professionals to provide guidance for specific needs and situations.
Additional Covid-19 relief efforts underway by Hyatt include the Hyatt Care Fund, designed to support employees who are facing financial hardship due to Covid-19. The program focuses on assisting Hyatt staffers around the world so they can meet their most pressing financial needs, from rent and utility payments to groceries and medical assistance.