Above: Jama Masjid in Delhi.
From the Old Delhi neighborhood to Bangalore's botanical gardens, these unique walking tours in India are as insightful as they are intimate.
Delhi: "Bazaar Walk in Old Delhi" by Delhi Magic
Brave Old Delhi's bustling Chandni Chowk bazaar with one of Delhi Magic's multilingual female guides. Witness  artisans and clothiers at work and visit the Jama Masjid, India's largest mosque, before refueling along Paranthewali Galli, "the lane of parathas." Other Delhi walking tours on offer include the Delhi Art Trail, the Story of Chai, and the People of Delhi. Also see the website of Delhi Magic for walking tours in other cities (among them Goa Magic, Mumbai Magic, and Pune Magic).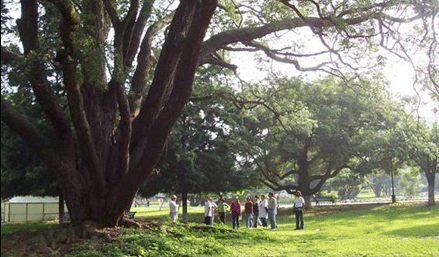 Kolkata: "Confluence of Cultures Walk (Bow Street to Burra Bazaar)" by Calcutta Walks
With a keen eye for detail, photographer and Calcutta Walks guide 'Explorer Manjit' sheds light on the city's melting pot of cultures, leading you from the busy Anglo-Indian Bow Barracks precinct to the Marwari neighborhood around Burra Bazar. Other Kolkata walking tours on offer include Dalhousie Square (in the Footsteps of the Raj), Sovabazar (the Old Town), and Park Street (Now That's Entertainment).
Bangalore: "Green Heritage Walk" by Bangalore Walks
Learn about the regal roots of the Lalbagh Botanical Garden with botanist and author Vijay Thiruvady. One of the guides working for Bangalore Walks, Thiruvady will take you from the historic garden's eye-opening greenhouse to its shimmering lake on this four-hour tour. Other Bangalore walking tours on offer include Victorian Bangalore Walk, Medieval Bangalore Walk, Traditional Bangalore Walk.
Mumbai: "Bookworming Tour" by Beyond Bombay
Follow in fictional footsteps on one of Shiriti Tyagi's Beyond Bombay tours, which explore the sites portrayed in books such as Shantaram and The Moor's Last Sigh. Other Mumbai walking tours on offer include Landmarking, Thali Tripping, Rasta Shopping, and Art Musing.
Chennai: "Peacock Trail" from Story Trails
Led by a motley group of college students, retired professionals, cultural trainers, and teachers (all of them professional storytellers), Story Trails takes you to Mylapore, an ancient town in the heart of modern Chennai. Pre-dating the city by at least 2,000 years, Mylapore has kept alive many interesting traditions and crafts. Other Chennai walking tours on offer from Story Trails include the Bazaar Trail, Steeple Chase, Jewellery Trail, and Mystic Trail.